December 14th, 2017
by Katie Roberts
The Starry First 'Ocean's 8' Poster Is Giving Us Major Coat and Sunglasses Envy
The upcoming "Ocean's Eleven" spinoff "Ocean's 8" just revealed its first poster, and the flick looks like it will be just as stylish as it is star-studded.
That makes sense, since the film centers around a heist at the annual fashion-centric Met Gala event. But based on this image, the titular thieves will be looking just as glamorous as the famous faces they're ripping off. Of course, it's hard not to notice that those thieves are played by a group of equally famous actresses, including a couple of Oscar winners (and one Grammy winner). Pictured on the poster, from left, are Sandra Bullock (playing ringleader Debbie Ocean, cousin of George Clooney's "Ocean's" character), Cate Blanchett, Anne Hathaway, Helena Bonham Carter, Rihanna, Sarah Paulson, Mindy Kaling, and Awkwafina.
We don't know too much else about the movie right now, but it's set to have a bunch of cameos, including Matt Damon (reprising his role as pickpocket Linus Caldwell), James Corden (reportedly playing an insurance investigator who catches on to the group's scheme), and Olivia Munn (playing herself, in a dress that cost her a lot of money). Also look out for plenty of big names from the fashion industry, too.
"Ocean's 8" is set to hit theaters on June 8, 2018.
[via: Ocean's 8/Twitter]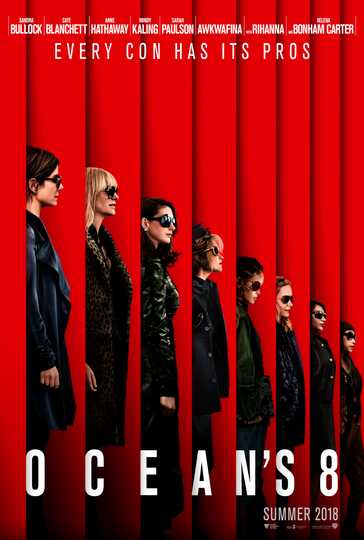 Ocean's Eight
Debbie Ocean, a criminal mastermind, gathers a crew of female thieves to pull off the heist of the century at New York's annual Met Gala. Read More