 Stephen Hawking, renowned theoretical physicist and author of "A Brief History of Time," has died at age 76.
The British scientist is being mourned around the world, and not just by fellow physicists and cosmologists.
Hawking was a household name, appearing on "The Big Bang Theory" and "Star Trek: The Next Generation," voicing his own animated character on "The Simpsons" and "Futurama," and inspiring the 2014 film "The Theory of Everything." And that's just the tip of the iceberg.
Eddie Redmayne won the Best Actor Oscar for playing Hawking in that movie, and he got close to the man himself during filming. Redmayne shared a statement with outlets after Hawking's death:
"We have lost a truly beautiful mind, an astonishing scientist and the funniest man I have ever had the pleasure to meet. My love and thoughts are with his extraordinary family."
Benedict Cumberbatch played Hawking in the 2004 BBC TV movie "Hawking," and shared a beautiful tribute (via Irish News):
"I feel so lucky to have known such a truly great man who's profundity was found both in his work and the communication of that work. Both in person and in books.

He virtually created the publishing genre of popular science. A heroic feat to bring the wondrous complexities of the universe to all outside of specialists in this field. But truly courageous when considering it was achieved by a man who lived a life trapped in his body from the age of 21 when he was diagnosed with motor neurone disease.

His support of the sciences, art, education and the NHS and charities such as the MND foundation will also live on, as will his wickedly funny sense of humour.

I will miss our margaritas but will raise one to the stars to celebrate your life and the light of understanding you shone so brightly on them for the rest of us. You were and are a true inspiration for me and for millions around the world. Thank you."
Others in the TV/film universe also reached out with memories and condolences:
In loving memory of Stephen Hawking. It was an honor to have him on The #BigBangTheory. Thank you for inspiring us and the world. pic.twitter.com/9rWoYqIToy

— The Big Bang Theory (@bigbangtheory) March 14, 2018
As we near Pi day (3.14) I join the global community in mourning the loss of the greatest physicist of our era. #StephenHawking is free from the physical constraints of this earthly condition we all exist in and he is soaring above us now marveling at it all. pic.twitter.com/o3V0TZrppj

— Mayim Bialik (@missmayim) March 14, 2018
Farewell to Stephen Hawking, the most intelligent guest star in the brief history of The Simpsons pic.twitter.com/po3fIHgEdh

— Matt Selman (@mattselman) March 14, 2018
Farewell Stephen Hawking. A great man. Honored to have spent time with him. RIP.

— Brent Spiner (@BrentSpiner) March 14, 2018
Stephen Hawking voiced himself on The Simpsons nearly a dozen times. After once making a bold scientific statement, Homer backed him up, saying "Larry Flynt is right!" Apparently, both Hawking and Flynt have gone on the record saying they found this incredibly funny. pic.twitter.com/Eus69emZfM

— Ted Geoghegan (@tedgeoghegan) March 14, 2018
I just heard about Stephen Hawking's passing. He was both a genius and my favorite Simpsons character. We'll miss you, buddy.

— Macaulay Culkin (@IncredibleCulk) March 14, 2018
We at Muppet Labs owe a great deal to Professor #StephenHawking. His brilliance was unparalleled and his sense of humor was highly hilarious. He truly was the future today! - Dr. Bunsen Honeydew

— The Muppets (@TheMuppets) March 14, 2018
Stephen Hawking appeared as himself on both The Simpsons *AND* Futurama. If that isn't legendary, well then I don't know what is.#StephenHawkingpic.twitter.com/XueZ8KGSVy

— Mitch Jones (@ComicMitchJones) March 14, 2018
His passing has left an intellectual vacuum in his wake. But it's not empty. Think of it as a kind of vacuum energy permeating the fabric of spacetime that defies measure. Stephen Hawking, RIP 1942-2018. pic.twitter.com/nAanMySqkt

— Neil deGrasse Tyson (@neiltyson) March 14, 2018
Hawking's death was announced early Wednesday by his children Lucy, Robert, and Tim:
"We are deeply saddened that our father passed away today. He was a great scientist and an extraordinary man whose work and legacy will live on for many years. His courage and persistence with his brilliance and humour inspired people across the world. He once said, 'It would not be much of a universe if it wasn't home to the people you love.' We will miss him forever."
Want more stuff like this? Like us on Facebook.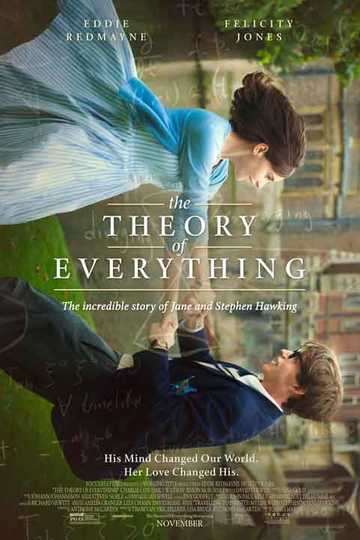 The Theory of Everything
The Theory of Everything is the extraordinary story of one of the world's greatest living minds, the renowned astrophysicist Stephen Hawking, who falls deeply in love with fellow Cambridge student Jane... Read More