 Want to own a piece of movie history? The house in "Pulp Fiction" where Jules (Samuel L. Jackson) and Vincent (John Travolta) lay low in "The Bonnie Situation" is now for sale.
In the 1994 Oscar-winning crime drama, the house where Quentin Tarantino's character Jimmie reluctantly accommodates the two blood-splattered hit men is in Toluca Lake. (Which, as, Jules tells Vincent is the only "friendly place" he knows in the "818" area code.) In actuality, the house is in Studio City, which is also conveniently located to Burbank Studios. The 3 bedroom, 2 bath house has been considerably redone since the '90s. The kitchen where Jules and Vincent memorably sip "serious gourmet" coffee looks recently remodeled. And, nice touch, images of the famous "Pulp Fiction" characters are up for the open house.
The house, which was built in 1936, is listed with real-estate brokerage company The Agency. They're asking a mere $1,395,000.
Very few of the L.A. locations for the 1994 film are still around, but you can still visit a few of them -- without shelling out millions.
Relive the house's cameo in this NSFW segment:
[Via The Wrap]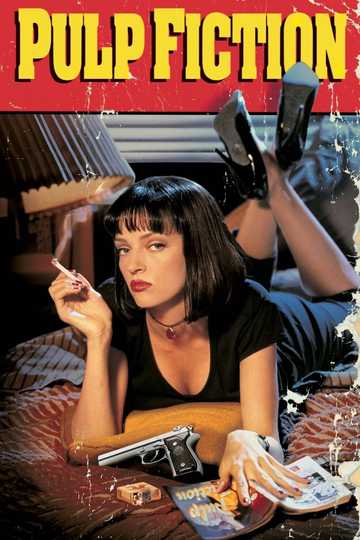 Pulp Fiction
A burger-loving hit man, his philosophical partner, a drug-addled gangster's moll and a washed-up boxer converge in this sprawling, comedic crime caper. Their adventures unfurl in three stories that ingeniously... Read More