 "I'm sorry, Jake. It was the turkey testicles!"
James Corden did his own version of "Plead the Fifth" on "The Late Late Show," putting Drew Barrymore in a tight spot. John Boyega was also forced to play "Spill Your Guts," but at least he didn't have to rank his costars.
Drew and John had to answer tough questions truthfully or eat the gross food in front of them. Interestingly enough, Drew started by choosing to drink bird saliva, rather than rank late night hosts Colbert, Fallon, and Ellen.
When Colbert put turkey testicles in front of her, she asked if anyone had ever thrown up on the show. James said yes, Charlie Puth came very close. Aiming to avoid her own "Puth," she felt compelled to answer this question:
"Rank your costars from most to least talented: Adam Sandler, Hugh Grant, and Jake Gyllenhaal." What would you have said? Here's how Drew reacted:
Drew: "OK. OK. Um, Jake Gyllenhaal so I don't have to eat a turkey's ball."

James: "No, no, it's a 1, 2, 3."

Drew: "And when I run into [Jake] next time, I'll be like, 'Dude, it was like selling you down the river or eating turkey's balls.' And by the way I don't even care if he hates me, I'm not... Oh god. OK. I literally am doing this because I won't make it. I'm going to Puth all over the place. I'll say Adam, Hugh, Jake?"

James: "In that order. Adam most, then Hugh, then Jake?"

Drew: "Yeah."

James: "It's an honest answer!"

Drew: "I'm sorry, Jake. It was the turkey testicles!"
Bless her for turning "Puth" into a verb. We never would've gone with Jake Gyllenhaal as the least talented out of any lineup (or Adam Sandler as the most talented). Guess "Donnie Darko" wasn't that great an experience? Hugh Grant recently said he thought Drew Barrymore hated him on the tense set of "Music and Lyrics," so Hugh could've been a safe choice.
Watch the full 12 minute game (Jake's name resurfaces around the 11:25 mark):John had a much easier time of it. And that's why you shouldn't drink, kids!
John Boyega's "Santa Clarita Diet" Season 2 streams on Netflix March 23.
Want more stuff like this? Like us on Facebook.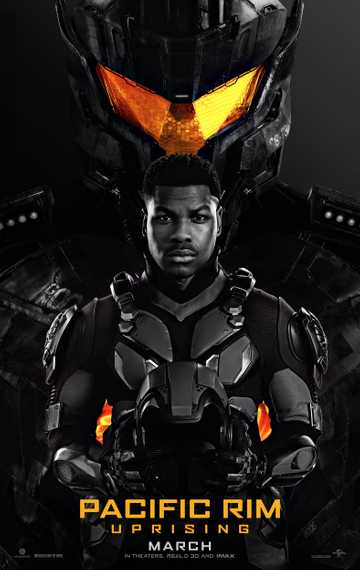 Pacific Rim: Uprising
It has been ten years since The Battle of the Breach and the oceans are still, but restless. Vindicated by the victory at the Breach, the Jaeger program has evolved into the most powerful global defense... Read More