 Multiple women have come forward to accuse actor Morgan Freeman of sexual harassment and inappropriate behavior, according to a new report from CNN.
The news outlet says it was an interaction between one of its own reporters, Chloe Melas, and Freeman during a press junket for the 2017 film "Going in Style" that prompted their investigation into the actor's behavior. According to Melas, who was six months pregnant at the time, Freeman repeatedly looked her up and down and made several variations of the comment "I wish I was there" in reference to her pregnancy; one of those comments was captured on video, and Morgan's costars Michael Caine and Alan Arkin were present.
Freeman's alleged behavior was more that just suggestive remarks, with several women telling CNN that he touched them or attempted to touch them without their permission multiple times, including trying to lift up their skirts and giving unwanted massages. The actor would frequently stare at their breasts, ask them to twirl, or look them up and down as they walked by, some said, prompting many to deliberately change their wardrobes to avoid unwanted contact or attention from Freeman.
Much of this behavior occurred in public or in front of others, Freeman's accusers said, including at his production company, Revelations, or on film sets or at press junkets. Eight women total accused the actor of harassment and inappropriate interactions, with an additional eight men and women telling CNN that they witnessed this behavior firsthand.
A former male employee for Revelations who spoke with CNN detailed some of Freeman's on-set behavior while shooting several movies:
"[He'd say] things like 'I'd like to have an hour with her' or make vulgar and sexual comments about women," the former employee said. "He would be verbally inappropriate and it was just shocking. You're more shocked than anything because it's hard to have the wherewithal to say to him 'That's inappropriate.' You're just like 'whoa.' It's hard because on any set he is the most powerful person on it. It's weird because you just don't expect it from Morgan Freeman, someone who you respect."
A production assistant who worked with Freeman on "The Dark Knight" also discussed with CNN the imbalance of power when dealing with the actor's alleged behavior:
"Morgan did things in a way that an older more established person can get away with because they have that power," she told CNN. "They can't be replaced, but you can be replaced very easily, that's just kind of the dynamic on set. PA's can be replaced, grips can be replaced, electricians can be replaced, but the actors -- once they're in, they're in. Had it been somebody else on the crew... I would feel comfortable reporting them because I wouldn't feel like my job would be in danger by reporting them, but if you report somebody like Morgan Freeman that the movie would lose a lot of money by replacing them or getting them in trouble, then you're the trouble maker and you'll get fired because you're just a PA."
CNN reports that it reached out to Freeman's representatives multiple times, and included a detailed list of the allegations against him, before publishing its story. After the article was published, the actor released a statement. It said:
"Anyone who knows me or has worked with me knows I am not someone who would intentionally offend or knowingly make anyone feel uneasy. I apologize to anyone who felt uncomfortable or disrespected — that was never my intent."
For much more about the allegations against Freeman, read CNN's entire report here.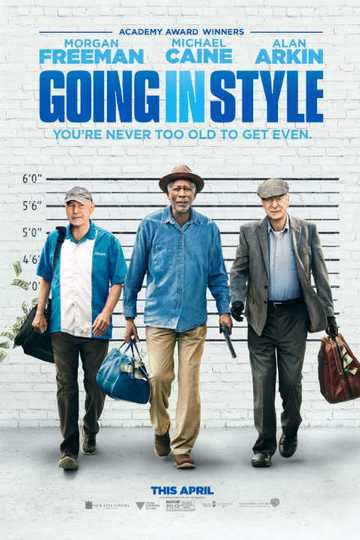 Going in Style
Desperate to pay the bills and come through for their loved ones, three lifelong pals risk it all by embarking on a daring bid to knock off the very bank that absconded with their money. Read More