9 Things You Never Knew About 'Who Framed Roger Rabbit'
It shouldn't have worked. Nobody thought it would work. But, 30 years ago, "Who Framed Roger Rabbit" bounded into theaters and dazzled audiences worldwide with its inventive storytelling, then-next-generation technology, and endearing characters.
It was a live action/animation hybrid long before motion capture became the norm, and featured a nifty conspiracy plot that sometimes is arguably better than "Chinatown." It's just a movie that is so clever, so fun, so relentlessly entertaining, that it's hard to believe it hasn't been turned into some endless franchise. (Those short films are great, though.) So, on its 30th anniversary, we thought we'd look back at "Who Framed Roger Rabbit" with nine things you might not know about Robert Zemeckis' masterpiece.
1. It Took a L-O-N-G Time to Get to the Big Screen
When something like "Who Framed Roger Rabbit" comes out, it feels like an instant classic; like it had just been a part of the universe for as long as movies were made. But, in truth, the movie was a long slog and faced a number of seemingly insurmountable challenges on the way to the big screen.
The rights to Gary Wolf's "Who Censored Roger Rabbit?" were purchased in 1981 by embattled Disney president Ron Miller. Work began on a screenplay while Darrell Van Citters produced an intriguing animation/live-action test that featured Paul Reubens as the voice of Roger (his design was noticeably different, but he still wore those red overalls) and Peter Renaday as Eddie Valiant. Also notable about these early tests: the inclusion of an animated detective named Cleaver, who warns Valiant to remove himself from the case. There was even promotional footage meant to drum up interest in the project that named Van Citters as the animation director, with Mike Giaimo as the character designer and "story man" (he's still at Disney!), and producer Marc Sturdivant as the producer. While the pitch has the basic structure of the eventual movie (by this point, screenwriters Peter Seaman and Jeffrey Price had already submitted at least one draft), from a design point -- it couldn't be further from the final film. 2. Everything Changed
Director Robert Zemeckis had expressed interest in the project as early as 1982, but Disney was hesitant, since his last two features ("I Wanna Hold Your Hand" and "Used Cars") had, despite the creative backing of Steven Spielberg, disappointed at the box office.
When Michael Eisner, Frank Wells, and Jeffrey Katzenberg assumed control at the studio in the mid-1980s, the project was jump-started again. Katzenberg brought in Steven Spielberg and his producing partners Frank Marshall and Kathleen Kennedy. According to James B. Stewart's "Disney War," Katzenberg saw this as an opportunity to reinvigorate the Disney animation legacy. Only, once Spielberg was on board, installing Zemeckis in the director's chair and agreeing to a $29.9 million budget (down from the desired $50 million budget, which the movie ended up costing after some overruns and technical setbacks), he shied away from actually using Disney talent.
Disney reportedly lobbied for the production to use Van Citters, but Zemeckis and Spielberg refused, instead choosing Richard Williams, who Zemeckis considered "the best animator in the world." Williams' early test, with a fully dimensional Roger and a swooping camera move, made the selection easy: he was clearly the guy.
3. You Can Spot an Early Version of Roger In a Goofy Short
During the time that testing was being done on "Who Framed Roger Rabbit," an animated Disney special was being produced that would eventually air on NBC on May 27, 1987. Entitled "Sport Goofy in Soccermania," it was structured like a sports documentary, looking back on Goofy's sports-related foul-ups and advancing a story involving Scrooge, his nephews, and all sorts of madcap nuttiness. The special was written by Tad Stones (future creator of "Darkwing Duck") and Joe Ranft (who would go on to become an ace Pixar story artist) and co-directed by Van Citters (it would ultimately be his last project at Disney). When the special cuts away to the stands, look for the red overalls -- that's the original version of Roger hooting, hollering, and clapping in the audience.
4. Spielberg Secured All the Rights to the Characters
As noted in "Disney War," Spielberg and Katzenberg were awarded full creative control on the project (which included final cut and a 50 percent rights to box-office receipts, licensing, merchandise, theme park attractions and anything else; a joint copyright would appear on the film, split between Spielberg's Amblin and Disney), a rare move for a studio as protective and controlling as Disney. Still, for their trouble, they got Spielberg, whose status as the king of the box office and his genial disposition, allowed him to secure characters from Warner Bros, Fleischer Studios, King Features Syndicate, Felix the Cat Productions, Turner, and Universal.
Some of these characters came with stipulations, down to the number of words each character says (as was the case with Mickey and Bugs Bunny and Donald and Daffy), but -- generally -- the creative team was able to use them as the production saw fit. What's even more shocking than securing all of those characters was the fee Spielberg negotiated: a mere $5,000 per character. Incredible.
5. Not That They Got Everybody
There are a few omissions that might have you scratching your head; in particular the lack of Tom and Jerry, Popeye, and Casper the Friendly Ghost. As is recounted on the DVD commentary track, these were a few of the characters who they were unable to license for the film. They tried! But they just couldn't secure a deal for them.
6. It Was Too Naughty for Disney
While we commonly think of "Who Framed Roger Rabbit" as a Disney film, it wasn't actually released under the Disney banner. Instead, it was technically a Touchstone film, released under the division of Disney that handled more "all audiences" or "adult" fare (things like "Splash" and "Pretty Woman").
Supposedly, the decision to make it a Touchstone film came after an early test screening when Roy Disney cornered Michael Eisner in the parking lot. According to "Disney War," Roy warned Eisner that, "This is too risqué for the Disney banner." When Eisner asked why, Roy said, "You know, Jessica's line, 'Is that a gun in your pocket or are you just happy to see me?'" Eisner agreed and thought the Touchstone label would mean a boost for older audiences, since it shook free the kiddie association of the Disney name. In his autobiography, Eisner said that he considered the film too "sophisticated and sexy." 7. Roger Rabbit Was Everywhere in the Parks
"Who Framed Roger Rabbit" opened in the summer of 1988 and, by the fall, there was a walk-around Roger character appearing in Disneyland. Roger Rabbit also appeared as a giant 45-foot-tall inflatable balloon as part of the "Party Gras" parade at Disneyland, from January to November 1990 (celebrating Disneyland's 35th anniversary). In 1991, Roger was also the conductor for the SpectroMagic nighttime parade at Walt Disney World, and preliminary plans were drawn up to insert an area behind Main Street U.S.A. at Disneyland for Roger and his friends. (In 1991, the project was canceled, according to a Los Angeles Times report, because the company was instead focusing on its Westcot project.)
An expansion of what was then known as Disney-MGM Studios was also proposed, as Roger had been a staple of the park since it opened, with a section of the backlot tour devoted to the climax of the film and Roger's handprints being visible in front of the Great Movie Ride. A whole area of the park seemed like a no-brainer, and some ambitious projects -- including the Toontown Trolley, a kind of next-generation 360 version of Star Tour -- a bar and restaurant themed after the movie's Terminal Bar, and a classic dark ride called Baby Herman's Runaway Baby Buggy. (According to the New York Times, "this [land in the park] will be a kind of Toontown, where -- as in the movie -- only cartoon characters may live.")
There was a Jessica Rabbit-themed store on Pleasure Island, Disney's adults-only dining and entertainment district, from 1990 to 1992. Most staggeringly, Disney Feature Animation Florida, housed on property at the park, produced two Roger Rabbit shorts -- "Roller Coaster Rabbit" and "Trail Mix-Up." The only honest-to-goodness Roger Rabbit attraction opened at Disneyland in 1994 (and Tokyo Disneyland in 1996) as Roger Rabbit's Car Toon Spin. And it's a miracle that one made it into the world.
8. Spielberg Eventually Soured on the Character
Since Spielberg held a co-copyright on the character, and got a percentage of all the grosses from everything Roger Rabbit-related, he had a say on everything. While there were literally hundreds of items (and even more tie-ins) produced in the late 1980s and early 1990s, Eisner and the rest of the Disney team assumed that Spielberg would just approve it all and not put up much of a fight. When it came to "Roller Coaster Rabbit," the Roger Rabbit short produced at Disney's Florida animation studio, Spielberg wanted it to appear on his new film for Disney, "Arachnophobia." Like "Who Framed Roger Rabbit," this spider-movie, billed as a "thrillomedy" (a "thriller comedy" in early '90s marketing speak), would be released by another Disney imprint, Hollywood Pictures. (It was the first film to be released by Hollywood, actually!)
Eisner saw it differently.
At the time, the studio was hemorrhaging money on Warren Beatty's ambitious "Dick Tracy" adaptation and wanted to put the short on that film instead, helping to insure that it was a hit. Spielberg, to put it lightly, was pissed. Plans for an additional short, "Hare in My Soup," to be attached to "The Rocketeer" the following summer, were scuttled, even though pre-production had been completed. By 1992, Eisner had issued an edict that Roger would no longer be a part of the parks and (most) projects involving the character were to be shut down. The most prominent use of the character these days is the giant Roger Rabbit statue at Disney's Pop Century Resort. He's in the 1980s section of the resort, next to the oversized Walkman and Rubik's Cube. What an inglorious end to such a beloved character.9. Sequels Were Developed
When Spielberg shut down production on that Roger Rabbit short, he also squashed a proposed sequel, which had Roger facing off against Nazis.
Since he had started work on the Oscar-winning "Schindler's List," Spielberg made an edict that Nazis wouldn't be used as comical villains in any of his future projects. (This included various incarnations of the fourth Indiana Jones film, which up until the Frank Darabont script, "Indiana Jones and the City of the Gods," featured Nazis hiding in the South American jungle.) There were a number of attempts at a proper "Who Framed Roger Rabbit" follow-up, including a prequel entitled "Who Discovered Roger Rabbit" that was set during Roger's Broadway days and had new songs by Alan Menken; a script that featured a showdown between famous animated heroes and villains at an unfinished Disneyland (they were considering filming at the then-under-construction EuroDisney project); and a version that had a fully three-dimensional Roger interacting alongside human costars.
In 1998, legendary Disney animator Eric Goldberg completed a ten second test for the fully CGI Roger. What's especially remarkable about the test is that it doesn't feel overtly computer-generated; he might have gained some extra dimensionality, but that's the Roger we know and love.
Every once in a while, Zemeckis will talk about returning to Toon Town but, as of now, no concrete has been poured ...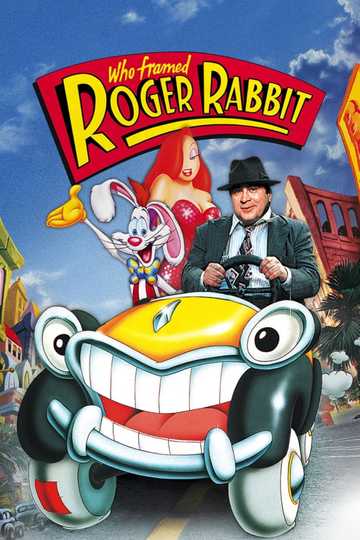 "It's the story of a man, a woman, and a rabbit in a triangle of trouble."
1 hr 44 min
Jun 21st, 1988
'Toon star Roger is worried that his wife Jessica is playing pattycake with someone else, so the studio hires detective Eddie Valiant to snoop on her. But the stakes... Read the Plot