No dogs allowed? Your favorite sharp-dressed assassin apparently has a new animal sidekick in "John Wick 3," called "John Wick: Parabellum."
The third "John Wick" movie has been filming in the streets of New York City, meaning fans have been taking lots of photos and videos of Keanu Reeves in action. In May, we got a good look at John Wick on the run in the rain.
Now fans have been snapping shots of Keanu's JW riding a horse through NYC at night -- *while also shooting a gun.* Because of course. It's time to take it to the next level of the video game.
Based on the July 15 Hollywood Pipeline video caption, "The action sequence was being filmed under elevated train tracks in Brooklyn in the early hours of Sunday morning."
At the start of the BACKGRID TV video below, you can see JW shoot a gun at a foe on a motorcycle. Classic Old West justice on the streets of the Big Apple.
There are clearly some John Wick stunt doubles around Keanu Reeves in a few shots, so he didn't do all of this alone. Plus, he's attached by wires in some takes. Still awesome.
Here's the movie synopsis:
"John Wick (Keanu Reeves) is on the run for two reasons... he's being hunted for a global $14 million dollar open contract on his life, and for breaking a central rule: taking a life on Continental Hotel grounds. The victim was a member of the High Table who ordered the open contract. John should have already been executed, except the Continental's manager, Winston, has given him a one-hour grace period before he's 'Excommunicado' – membership revoked, banned from all services and cut off from other members. John uses the service industry to stay alive as he fights and kills his way out of New York City."
"John Wick 3: Parabellum" is scheduled to open in theaters on May 17th, 2019, which is just a couple of weeks after "Avengers 4."
[Via: MovieWeb]
Want more stuff like this? Like us on Facebook.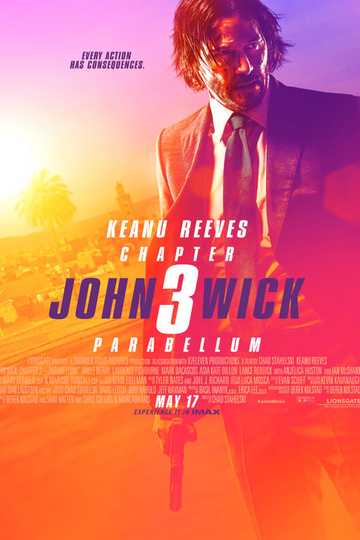 John Wick: Chapter 3 - Parabellum
Super-assassin John Wick returns with a $14 million price tag on his head and an army of bounty-hunting killers on his trail. After killing a member of the shadowy international assassin's guild, the... Read More