August 6th, 2018
by Gina Carbone
What's New on TV, Netflix, Digital and DVD/Blu-ray This Week: August 6-12
At a loss for what to watch this week? From new DVDs and Blu-rays, to what's streaming on Netflix, we've got you covered.
New Video on Demand, Streaming, and Digital "Deadpool 2"
The "Deadpool" team is really showing maximum effort with this sequel home release, which comes with the theatrical version and the "Deadpool 2 Super Duper $@%!#& Cut." Ryan Reynolds' sequel arrives on Digital/Movies Anywhere August 7, and on 4K Ultra HD, Blu-ray, and DVD August 21. Bonus features are off the charts. The DVD comes with a gag reel and "Deadpool's Fun Sack 2." The Blu-ray has that and so much more -- including deleted and extended scenes (like Deadpool going back in time to kill a certain Nazi), a "3-Minute Monologue," audio commentary by Ryan Reynolds, David Leitch, Rhett Reese, and Paul Wernick (theatrical version only); and about nine behind-the-scenes featurettes.
"Agatha Christie's Ordeal By Innocence" (Amazon Prime Original series)
This three-episode limited series is based on the novel "Ordeal by Innocence" and is the first of Amazon's upcoming adaptations of Agatha Christie's classic mysteries. Starring an ensemble cast -- including Anthony Boyle, Bill Nighy, Alice Eve, Anna Chancellor, and Matthew Goode -- "Ordeal by Innocence" will be available August 10. The story follows the Argyll family, after a man claims that the black sheep of the family, Jack Argyll, didn't murder its tyrannical matriarch. The family must come to terms with Jack's innocence and the fact that one of them may be the real murderer.
"Along Came the Devil"
Inspired by true events, this supernatural horror film starring Matt Dallas, Sydney Sweeney, Madison Lintz, Bruce Davison, Jessica Barth, and Heather DeVan arrives in theaters, On Demand, and Digital HD on Friday, August 10. "Troubled teen Ashley is sent to live with her estranged Aunt Tanya. While in her old hometown she has visions of her deceased mom, driving her to try to contact the spirit world putting her soul into grave danger."
TV Worth Watching
"Better Call Saul" Season 4 and "Lodge 49" Season 1 (Monday on AMC at 9 p.m.)
Monday is a big night for AMC, with "Better Call Saul" returning for Season 4, followed by the series premiere of "Lodge 49." Described as a light-hearted, endearing modern fable set in Long Beach, CA, "Lodge 49" follows  disarmingly optimistic local ex-surfer Dud (Wyatt Russell), who's drifting after the death of his father and collapse of the family business. Dud finds himself on the doorstep of a mysterious rundown fraternal lodge.
"Bachelor in Paradise" Season 5 (Tuesday on ABC at 8 p.m.)
Yes, BiP is a total sh*t-show, but come on. It's summer. It's fun. Just go with it. More "Bachelor" and "Bachelorette" rejects will reunite at a Mexico resort for tears, drama, and possibly love when Season 5 begins this Tuesday, the day after "The Bachelorette" finale.
"Insecure" Season 3 (Sunday on HBO at 10:30 p.m.)
Issa Rae's Emmy-nominated comedy returns August 12 on HBO. Here's what to expect on the Season 3 premiere, "Better-Like": "Issa crashes on Daniel's couch and tries to save up extra cash; Molly returns from a beach vacation with renewed determination to maintain boundaries in her life."
"Teen Choice 2018" (Sunday on FOX at 8 p.m.)
This awards show is returning for its 20th consecutive year -- making it officially no longer a teen. The 2018 show airs live August 12, with categories covering movies, TV, music, and more. Check out the full list of nominations and watch to see who shows up to make a speech.
"Insatiable"
Netflix's already controversial high school revenge comedy arrives August 10. Judge for yourself as newly thin Patty (Debby Ryan) gets revenge on those who bullied or just ignored her because of her previous weight. "Bob Armstrong (Dallas Roberts), a disgraced attorney whose true passion is coaching beauty pageant contestant, is the only one who sees Patty's potential, and takes her under his wing -- first as a legal client, and then as a pageant contestant whom he coaches toward becoming the top pageant queen in the country. But Bob and his wife Coralee (Alyssa Milano) have no idea how deep Patty's rage goes, or how far she will go to exact revenge on anyone who has ever wronged her." Here's the trailer.
"The Guernsey Literary and Potato Peel Pie Society" (Netflix Film)
This looks like such a charmer. Swoon-worthy. Prepare yourself. Lily James, Matthew Goode, Michiel Huisman, Glen Powell, Jessica Brown Findlay, Katherine Parkinson, Penelope Wilton, and Tom Courtenay star in this romantic drama based on the best-selling novel. Lily James plays free-spirited writer Juliet Ashton, who forms a life-changing bond with the delightful and eccentric Guernsey Literary and Potato Peel Pie Society, when she decides to write about the book club they formed during the occupation of Guernsey in WWII. Watch the film August 10. Watch the trailer now.
"Zion" (Netflix Original)
This awe-inspiring short documentary premieres August 10. "Born without legs and stuck in foster care for years, teen Zion Clark finds his calling when he pursues competitive wrestling."
Check out these other Netflix titles arriving Friday, August 10:
• "The Package" (Netflix Film)
• "72 Dangerous Animals: Asia" (Netflix Original)
• "Afflicted" (Netflix Original)
• "All About the Washingtons" (Netflix Original)
• "Demetri Martin: The Overthinker" (Netflix Original)
• "La casa de las flores" (Netflix Original)
• "Million Pound Menu" (Netflix Original)
• "The Ponysitters Club" (Netflix Original)
• "Voltron: Legendary Defender" Season 7 (Netflix Original)
New on DVD and Blu-ray
"The Rider"
One of the most highly acclaimed films of 2018 so far, "The Rider" is heading to DVD and Digital on August 7. Based on his true story, "The Rider" stars breakout Brady Jandreau as a once rising star of the rodeo circuit warned that his competition days are over after a tragic riding accident. DVD extras include deleted scenes; SXSW Q&A with Brady Jandreau; and a Q&A with writer/director Chloé Zhao, Brady Jandreau, cinematographer Joshua James Richards, and editor Alex O'Flinn.
Check out this exclusive Q&A clip, with director Chloé Zhao discussing balancing true story elements with the poetry of filmmaking:
"Riverdale: The Complete Second Season"
From "A Kiss Before Dying" to "Brave New World," the 22 episodes of "Riverdale" Season 2 are ready for a Blu-ra/DVD binge on August 7. The Blu-ray comes with deleted scenes, a gag reel, the Riverdale 2017 Comic-Con panel, a Riverdale Pop Quiz, and the featurettes "Caught Between Two Worlds: The Darkness Inside" and "Making the Musical: Riverdale."
"Revenge"
Patty of Netflix's "Insatiable" isn't the only one getting revenge this week. This acclaimed horror-thriller arrives on Blu-ray/DVD on August 7. Matilda Anna Ingrid Lutz stars as Jen, who was enjoying a romantic getaway with her wealthy boyfriend until his two sleazy friends arrived for an unannounced hunting trip. "The situation abruptly and viciously intensifies, culminating in a shocking act that leaves Jen left for dead. Unfortunately for her assailants, she survives and soon begins a relentless quest for bloody revenge."
Want more stuff like this? Like us on Facebook.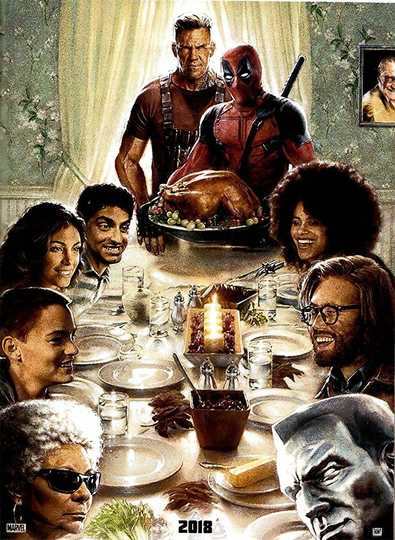 Deadpool 2
Wisecracking mercenary Deadpool battles the evil and powerful Cable and other bad guys to save a boy's life. Read More