Earlier today, at Star Wars Celebration in Chicago, we were served a deep-dish slice of brand new details about the highly-anticipated sequel, one that supposedly closes out the Skywalker "saga" films for good. The lively Episode IX panel, hosted by none other than Stephen Colbert (who has been a fan "three weeks longer than any of you," thanks to him attending an early screening of the original film back in 1977), featured co-writer/director J.J. Abrams, producer Kathleen Kennedy, and stars Anthony Daniels, Daisy Ridley, John Boyega, Oscar Isaac, Kelly Marie Tran, Joonas Suotamo, Billy Dee Williams and new kid on the block Naomi Ackie (more on her in a minute). It was conversational and fun and we learned a lot about the new movie, including …
(We should probably propose a mild spoiler warning to those who want to go into "Episode IX" completely free of knowledge.) The Title of the Movie
At the very end of the panel, the trailer for the movie ran (a very, very good trailer that you have undoubtedly watched 10,000 times already) and at the end of that trailer, words we had never seen before appeared: "Star Wars: The Rise of Skywalker." What that means, exactly, is somewhat unclear. Kylo Ren (Adam Driver, a no-show today) is obviously a Skywakler but an intriguing fan theory has already emerged: that Skywalker is the new name for anyone who does good with their Force connectivity. After all, Luke was the last Jedi, but something always rises in its place. Something … like Skywalker.
The Emperor is Back
The insidious laugh at the end of the trailer belongs to none other than Emperor Palpatine, the big bad of the original trilogy and the titular "Phantom Menace" of the prequels. He is once again played by English actor Ian McDiarmid, who was on hand at Celebration to inform the control booth to run the trailer "one more time." It's fascinating that McDiarmid has played the character in so many formats for so many years (he's now 74), when the character was originally visualized thanks to the help of a woman in heavy prosthetic make-up and a chimpanzee. (Seriously, look it up.)
The Movie Had to Be About Many Things
Before the cast even took to the stage, Abrams said how important the movie was, on a number of levels. "This movie, in addition to being the end of three trilogy, it has to work as its own movie," Abrams explained to Colbert (and the thousands of audience members in attendance). "That's been part of the fun of it, part of the challenge of it. But it's about this new generation and what they've inherited, as they face the greatest evil, are they prepared? It's amazing to look at this thing George created and bring it to a close." When the trailer ran, everything he was alluding to became somewhat clearer, as our new characters are left to deal with unresolved issues, the hollowed-out remains of the Death Star (don't know which one yet) and, of course, the Emperor.
The Use of Carrie Fisher Material Was Emotional for Everyone
Abrams, who is deep into the editing process of the movie (Christmas will be here before you know it, pal!), spoke about the use of Carrie Fisher footage that was shot for "The Force Awakens," never used, and is being incorporated into the new movie to finish Princess (General?) Leia's arc. (You can see some of this footage in the trailer.) "The crazy thing is, I say this emotionally, every day it hits me that she's not here but it's so surreal because we're working with her still. She's in scenes," Abrams said. "And the craziest part is how not crazy it feels. She's there in these scenes, in some scenes with her daughter. Princess Leia lives in this film in a way that is mind-blowing to me."
Things Don't Pick Up Right Where They Left Off
The time between "The Force Awakens" and "The Last Jedi" is relatively short; Finn doesn't even wake up from the wounds he suffered at the end of the first movie until after the big introductory set piece. But that isn't the case this time around. Abrams revealed that "the movie doesn't pick up immediately after." This sentiment was echoed by Daisy Ridley later in the panel. There seems to have been an evolution, or at least a maturation, between the movies, which is pretty exciting.
The Gang's Together This Time
One of the more shocking things about re-watching "The Last Jedi" is the scene at the end when Poe (one of the main characters of the so-called "sequel trilogy") introduces himself to Rey. They only meet at the very end of the second movie! That's insane. Happily, Abrams said that the new film can be described as "an adventure that the group goes on together." Whew!
Anthony Daniels' Book Title Got Rejected
The uncontested star of the first part of the panel was undoubtedly Anthony Daniels, who was clearly having the time of his life holding court in front of such a large audience. At one point he started talking about his new memoir, which will be unveiled tomorrow, and how the original title of the memoir was rejected by his publisher. The name he proposed, he said? "Telling the Odds."
Billy Dee Never Left
It was a hoot to see Billy Dee Williams, just as smooth as ever, get up on stage and talk about his love and admiration for the cast and crew, and in particular JJ (at various times he called the filmmaker "a beautiful young man" and "extraordinary"). When Colbert asked him what it was like getting back into the Lando groove again, Williams perfectly shot back, "How did I find Lando again? Lando never left me." Abrams then went on to describe Williams' first day on set ("everyone went quiet"). "It was honestly an emotional thing," Abrams said. At the end of his section of the presentation, Williams also defended Lando's position in the original trilogy. Hilariously, he became animated, saying, "I'm sick and tired of being accused of betraying Han Solo!" He went on: "He was up against Darth Vader! He had to figure something out! Did anybody die? Nobody died! I had to prevent the complete demise of my friend and his friends." It was truly amazing. And Williams was life: Lando never left.
Naomi Ackie's Character May or May Not Be Lando's Daughter
When introducing her new character Jannah to the "Star Wars" universe, Ackie deftly avoided saying whether or not she was Lando's daughter, even when asked, point blank, by Colbert (apparently she helps the central characters during their journey). "Lando is a very charming man so he could have children all over the universe," she demurred. Given that she was interviewed right after Williams and her character's considerable amount of swag, all things point to yes on that particular paternity issue.
Finn is Now Fully Part of the Resistance
John Boyega spoke about the journey of his character Finn, who started off as a Stormtrooper, became more shaded and complex in "The Last Jedi," and is now fully on board with the Resistance. He said that, "Finn has just found he's got his identity in the Resistance." Part of that identity, Boyega said, was that he finally got an iconic costume. He said that when he saw his new blue pants, he exclaimed, "I'm in Star Wars!" (Again, we're assuming.)
Phasma is Maybe Dead Probably?
Boyega was pretty dodgy when it came to answering questions about whether or not we'll see a rematch with his chief antagonist, Captain Phasma. When Colbert asked if that relationship has found closure, he said, "Emotional closure, sure," without saying whether or not she'd be returning. Reading his body language and the way he was answering his questions, either she is really dead or Boyega has gotten a lot better at evading pressing "Star Wars"-related questions.
The Messy Love Triangle Remains
During his section of the panel, Boyega joked that Finn is "single and ready to mingle." Later on, he remarked that wartime is "a very distracted place to fall in love." And during Kelly Marie Tran's section, all she said was that Finn is "a very eligible bachelor." So we say yes, the Jedi might be gone but the triangle remains.
Oscar Isaac Thinks Poe is a More Versatile Pilot Than Han
When Colbert asked if Poe was a better pilot than Han Solo, Oscar Isaac squirmed. "There was so much goodwill a second ago," the actor said. He then couched his answer: "No one can fly the Millennium Falcon like Han. However, Poe can literally anything." He then joked that Poe would be "the better Uber driver."
Rey Has Read the Books
At the end of "The Last Jedi," it was revealed that Rey had stolen the sacred Jedi texts before Luke and Yoda burned down the tree that housed them. (That same kind of tree was in the backyard of a future Resistance all-star … Poe.) Ridley said that, "She may have gotten started," noting that the long time in between movies would have given her plenty of opportunity to catch up.
There Will Be New Force Powers
One of the more divisive elements of "The Last Jedi," a movie seemingly comprised only of divisive moments, was the introduction of new or at least unseen Force powers, like the communication between Rey and Kylo Ren, Luke's astral projection, and Leia's deep space recovery. When Colbert asked if Rey had any new Force abilities, she kicked the question to JJ. After giving a lengthy shout-out to the movie's unbelievable stunt team, he did acknowledged that, "Yes, there are some other things and you'll see them soon." Could he be referring to the superhuman jump that Rey does as Kylo's TIE fighter tries to run her down?
Suotamo Has a Preferred Preparation for Porg
After a lovely appreciation of Peter Mayhew, the original actor to inhabit Chewbacca, and a cute story about his young child visiting set, Joonas Suotamo finally revealed what Chewbacca's preferred method of porg-preparation is. "They taste best fried," the actor said, in the most deadpan way possible.
There's a New Creature…
One of the photos they showed was of Snap Wexley (Abrams' old friend Greg Grunberg) standing next to a tall, slug-like creature named Klaude. Klaude is hilarious and adorable and we don't know much else about him (including why might be voicing him). Abrams, at various points during the panel, stated how much of the movie he attempted to shoot on real locations with practical creatures and droids.
… And a New Droid!
Another character introduced during the panel is a new droid! His name is "D-0" (pronounced "Dio") and he kind of looks like an old timey megaphone on a unicycle. In other words: he is adorable. And he rolled out onto the stage and interacted with BB-8. The amount of Dios that are going to be under the Christmas tree this year cannot be overstated.
"Star Wars: The Rise of Skywalker" opens in your galaxy on December 20th, 2019.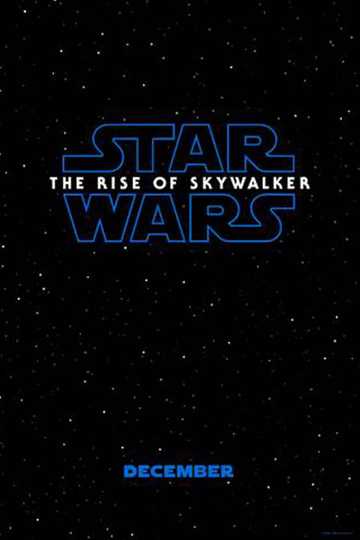 Star Wars: The Rise of Skywalker
The surviving Resistance faces the First Order once again as the journey of Rey, Finn and Poe Dameron continues. With the power and knowledge of generations behind them, the final battle begins. Read More