Jim Jarmusch Don't Die: Ranking His Films
It's easy to see where, when and how Jim Jarmusch inspired a whole generation of filmmakers. He arrived at the earliest days of the independent cinema movement of the 1980s and '90s and  even after almost four decades, there's still no one like him as a director. Where his imitators are unfocused, Jarmusch is simply unhurried; where their conflicts can be narcissistic, his remain introspective. He has skillfully maintained a wry, philosophical deadpan that others mistake for ironic detachment, and then twist into hipster superiority. And without venturing towards mainstream adulation, he has become one of cinema's enduring and beloved voices, even when his creativity occasionally risks being too cryptic to engage anyone but himself.
To commemorate the opening of "The Dead Don't Die," his latest film - and possibly his most commercial - Moviefone ranks his filmography.
12. "Permanent Vacation" (1980)
Shot with scholarship funds meant for NYU film school, Jarmusch's debut is quintessentially unfocused as a dual byproduct of the filmmaker's budding aesthetic and his yet-unrefined gifts as a storyteller. He leveled up quickly from here, but this mostly showcased determination from his earliest days to tell exactly the kinds of stories he wanted to, regardless how out of step they were with anyone else.
11. "The Limits of Control" (2009)
Even working with cinematographer Christopher Doyle ("In The Mood For Love") and what was then becoming an expanding repertoire of actors (Isaach de Bankole, Tilda Swinton, Bill Murray, John Hurt), Jarmusch couldn't bring this spy mystery into focus. Beautiful but largely indecipherable, which might be exactly the way he wanted it.
10. "Coffee and Cigarettes" (2003)
Of the filmmaker's many anthologies, this is easily the shaggiest, combining short films he made over three decades with new vignettes that are frequently too improvisational to congeal into real payoffs.
9. "The Dead Don't Die" (2019)
The director's latest feature is also one of his most polarizing, a wry zombie movie that combines a number of his featured players (Swinton, Murray, Adam Driver), some unexpectedly pointed political satire, and some extremely self-aware flourishes (they're too good -- and too weird -- to give away here). Anyone expecting something on the same level as his other horror exercise will be disappointed, but those looking for a shaggy good time should be delighted.
9. "Night on Earth" (1991)
Jarmusch finds a wonderful conceit for this 1991 anthology about cabbies and their passengers, but the quality only averages out to so-so thanks to Jarmusch's uneven treatment of material that is, depending on the story, whimsical, slapstick-y, or melancholy, but too seldom in the right measures.
8. "Mystery Train" (1989)
Jarmusch won Best Artistic Achievement at Cannes for this, his first proper anthology, exploring the lives of a small group of individuals over the course of one night in Memphis. Tied together by a Night Clerk (Screamin' Jay Hawkins) and his bellboy (Cinque Lee), the stories intersect in understated ways to create a vivid and compassionate portrait of humanity that successfully balances humor, tenderness, and wry melodrama.
7. "Stranger Than Paradise" (1984)
The filmmaker's first professional feature won him numerous awards with the story of two friends Willie (John Lurie) and Eddie (Richard Edson) whose lives are quietly affected by the arrival of Willie's cousin Eva (Eszter Balint). The trouble they get into is strictly low-level mischief, but Jarmusch's tenderness in rearranging their relationships via small twists of fate established him as a major talent with a unique vision.
6. "Dead Man" (1995)
The filmmaker's natural deadpan style gave Johnny Depp to inhabit one of his finest performances in this postmodern Western that touches on some interesting sociocultural issues while exploring and deconstructing genre tropes with his typically poetic sensibility.
5. "Broken Flowers" (2005)
Bill Murray was still enjoying the career bounce of "Lost in Translation" when he joined this film about an aging bachelor who revisits five of his old girlfriends after a mysterious letter arrives announcing that a woman from his past has given birth to his son. Swinton, Jessica Lange, Frances Conroy and Sharon Stone bring to life not only the character's past, but illuminate the journeys we all take -- often unexpectedly -- to become who we are.
4. "Down by Law" (1986)
Working with Lurie, Tom Waits and Roberto Benigni, Jarmusch created a quaint and beautiful story of three convicts fighting boredom in a New Orleans jail cell. Juxtaposing goofy empowerment chants ("I scream you scream we all scream for ice cream!") with simple, poetic observations ("it's a sad and beautiful world"), "Down By Law" finds Jarmusch at his most romantic, and his most elegant.
3. "Ghost Dog: The Way of the Samurai" (1999)
Fascinated by martial arts and hip-hop culture, Jarmusch borrows from a more than 200-year-old Japanese book to tell the story of a modern-day assassin who honors an ancient warrior's code. Forest Whitaker provides a thrilling combination of physical presence, intellectual cool and emotional gentleness as the title character, while RZA's first work as a film composer demonstrated his aptitude for transforming Wu-Tang rhythms back into indelible movie themes.
2. "Paterson" (2016)
This might in fact be his best film but it feels too soon to proclaim it: Adam Driver plays a New Jersey bus driver and poet who lives with his restlessly creative girlfriend (Golshifteh Farahani). The events of his life are decidedly minor -- the biggest threat to his happiness is his girlfriend's mischievous dog -- but it evidences Jarmusch at his most meditative and humane, showcasing the simple pleasures of normalcy even as his characters (and he himself) aspire to a higher plane of consciousness.
1. "Only Lovers Left Alive" (2013)
Marking his best play on genre tropes, Jarmusch explores the disaffected and philosophical lives of a vampire couple (Swinton and Tom Hiddleston) who must navigate their way through immortality as the world constantly changes around them. Mia Wasikowska ("Stoker") plays Swinton's younger sister, a troublemaker named Ava, who tests their resolve as a couple -- and their lifestyle as vampires -- as they attempt to maintain joy and enthusiasm for the eternity they face.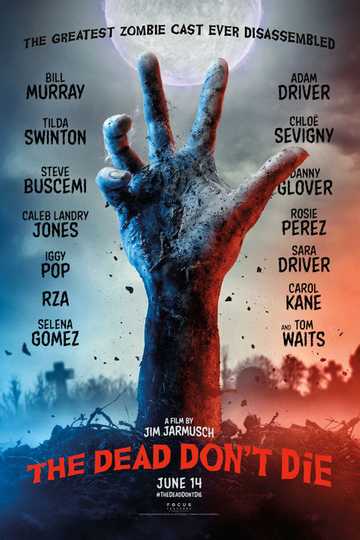 "The Greatest Zombie Cast Ever Disassembled."
1 hr 44 min
Jun 14th, 2019
In a small peaceful town, zombies suddenly rise to terrorize the town. Now three bespectacled police officers and a strange Scottish morgue expert must band together... Read the Plot