Best Movies of 2019 (So Far), from 'Always Be My Maybe' to 'Yesterday'
It's hard to believe but 2019 is more than halfway over. Which means that we should pause and take stock. This year's film conversation has largely been defined by massive blockbusters like "Avengers: Endgame," which is okay considering how great the movie is, but there are just as many independent movies and smaller studio fare that deserve your love, attention, and fervent Twitter debate. So without further ado, we run down the very best movies of 2019. And don't worry, we'll update periodically throughout the year.
'Always Be My Maybe'
In what is arguably Netflix's greatest romantic comedy (sorry, "Set It Up"), Ali Wong and Randall Park star as two friends who briefly became lovers, quickly lose touch and reconnect much, much later (with appropriately awkward results). Much of the success of the film has to do with the leads' chemistry (they also co-wrote the screenplay with Michael Golamco) and Nahnatchka Khan's delicate direction, which never loses its edge and emphasis on socioeconomic specificity, even when it gets very, very cute. (There are even some stylistic flourishes! In a mainstream rom-com!) And obviously Keanu Reeves should get a Best Supporting Actor Oscar nomination for his brief turn as an exaggerated version of himself. Rarely is he allowed to be this funny and this outré and seeing him do both feels like, if not a revelation, then a rediscovery. "Always Be My Maybe" is refreshingly earnest and quietly revolutionary, a movie you never knew you needed until you watch it.
'Apollo 11'
A deeply beautiful and optimistic documentary, "Apollo 11" recounts the first manned mission to the moon using only archival footage (much of it seen for the first time) and audio (including candid statements from the astronauts themselves). Soaking in every detail from the period, from the rivets on the rocket's engines to the design of the Coca-Cola cans onlookers were sipping on as they watched the launch, it's impossible to not get swept up in the spirit not of conquest but of scientific discovery and utopian ambition. The space race might have been a largely political construct, but it was still, as this documentary brilliantly expresses, quite an adventure.
'Avengers: Endgame'
It seemed like an impossible task -- wrap up more than 10 years and 22 films worth of mythologies, interpersonal character relationships and plot threads -- in a single, super-sized (over 3 hours!) film. And yet, somehow, Joe and Anthony Russo's "Avengers: Endgame" managed to not only fulfill even the loftiest expectations but also exceed them. The resulting film, with its wildly different tones, going from a somber examination of survivors guilt to a time travel romp (are there any sweeter words than "time heist?") to an all-out brawl that manages to dwarf everything that came before it. But the biggest accomplishment of "Avengers: Endgame" is how emotionally resonant it is, from the pre-credits sequence of Hawkeye's family disappearing, to the conclusion of both Tony Stark and Steve Rogers' storylines, it was in these moments that "Endgame" became something more; sure, it thrilled, but it also made you deeply feel too.
'Booksmart'
One of the few films out of SXSW this year that felt like a genuine sensation, "Booksmart" was widely released at the start of summer and … didn't quite break through like we all thought it would. Olivia Wilde's directorial debut is tender and fun, about a pair of high school girls (Kaitlyn Dever and Beanie Feldstein) who cast off their bookish tendencies for one wild night of fun. Featuring a soundtrack full of A+ party jams and some terrific supporting performances (from Jessica Williams and Billie Lourd), this is a silly, sublime teen comedy that stands apart thanks to the sophistication of its writing and direction and by its distinctly female point of view, which is progressive, sex-positive and utterly fun. In some alternate (perhaps more just) universe, it has made more money than "Avengers: Endgame."
'Climax'
If "Climax" had been released in the heyday of 1990s American independent cinema, it would have been a word-of-mouth smash. Now it barely registers. After garnering rave reviews out of Cannes last year, "Climax" was finally released in America cinemas earlier this spring and nobody paid much attention. Which is a shame. Because "Climax" is unlike anything you've ever seen, an adrenalized dance party descent into hell, where a group of French dancers, celebrating the end of a grueling rehearsal schedule (they're about to embark on a tour) take sips of some spiked sangria and it all goes spectacularly downhill. Auteur Gaspar Noe is a notorious enfant terrible, and there are certainly a number of sensational aspects of "Climax" that will probably rub people the wrong way (among them: self-mutilation, child murder, and some incredibly misogynistic dialogue). But it's also so breathlessly told (with a series of unbroken long takes) and authentically acted that the camp only heightens it. Like an adaptation of Chuck Palahniuk's "Haunted" set to 90s club music, "Climax" is a future midnight movie classic. Fingers crossed.
'Cold Pursuit'
Liam Neeson made a major gaffe during the promotional cycle of "Cold Pursuit," which more or less doomed the film's commercial chances. This is a bummer, considering how wonderfully weird "Cold Pursuit" is. Neeson plays a snowplow driver whose son dies under mysterious circumstances. Instead of merely allowing the law to investigate, they quickly rule it a drug overdose and leave Neeson to mete out his own form of justice, namely killing each and every person who had anything to do with it. Director Hans Petter Moland directs a western remake of his own "In Order of Disappearance" with the same wit and dry, dark humor. If you need to scratch that weird, windswept itch before "Fargo" comes back, this will hit the spot.
'Crawl'
A hurricane floods a small Florida town, leaving a college athlete (Kaya Scodelario) to rescue her father (Barry Pepper) from their childhood home, now overrun with bloodthirsty alligators. That's really it. But director Alexandre Aja and producer Sam Raimi, both of them horror luminaries in their own right, expertly stage the action, turning even the slightest gesture into a white-knuckle suspense set piece. And when Aja is called upon to let loose on the gore, he does so with great aplomb. "Crawl," released in the dog days of summer, was the perfect antidote for the bloated blockbusters and prestige-y arthouse fare that was basically all you could find. Instead, this was just bloody good fun.
'Fyre' / 'Fyre Festival'
The doomed Fyre Festival, a music festival based solely on artifice, built by charlatans and conmen, was such a colossal screw-up that its story had to be documented by two separate films. Each documentary (Netflix's "Fyre" and Hulu's surprise "Fyre Festival") offer different details about the formation and ultimate dissolution of a festival that every influencer on planet earth simply had to attend, only once they got there realized that the island-set event wasn't actually set up and that people, who had paid thousands to attend, where huddled in refugee tents, eating cold sandwiches with a slice of American cheese. The ultimate depiction of hubris, hype and the gullibility of millennials, it's a powerful reminder that if something is a house of mirrors, eventually, it shatters.
'The Great Hack'
The feel-bad documentary concerns the Cambridge Analytica scandal and the handful of whistleblowers who outed the company following the one-two punch of evil that was Brexit and the 2016 United States presidential election. "The Great Hack" documents how the shady company, which filed for bankruptcy shortly after the scandal broke largely to hide evidence and dodge prosecution, had a history of taking part in disruptive, largely harmful political campaigns all over the world. And it is … sobering. Not even the whistleblowers get away clean, as their motives seem, at the very least, suspect. The only dopey element of the documentary is its framing device, around a goofball New School professor who is suing for his personal date. Everything else is terrifyingly sublime.
'Greta'
The best Brian De Palma movie of 2019 wasn't actually directed by Brian De Palma. (His movie, "Domino," which is has already publicly stated was taken away from him during post-production, is just okay.) Instead, that honor goes to "Greta," Neil Jordan's guilty-pleasure stalker thriller about a young girl (Chloe Grace Moretz) who falls under the spell of a charismatic older woman (Isabelle Huppert, having a ball) who is full of sinister secrets. With a svelte 98-minute runtime, it's able to indulge in a number of the genre's tropes while also gleefully upending them (particularly in the final act, which has a deliciously empowered message of sisterhood and femininity). It's a blast.
'Happy Death Day 2U'
2017's "Happy Death Day" was a welcome surprise, a movie where a young woman (the vivacious Jessica Rothe) finds herself stalked by a sadistic killer and each time she dies, the day starts over. The only way she can break the loop is if she figures out who killed her. It was a terrific conceit with a lovely, smart-ass-y tone, "Scream" meets "Groundhog Day." So with the surprise gone, what was there left to do in the sequel? Well, go even crazier, it turns out, by introducing an actual time travel mechanic and some dweeby kids studying physics. Shockingly emotional and so much fun, "Happy Death Day 2U" wasn't the sleeper hit that the original was, which is strange because it isn't just as good -- it's better.
'High Flying Bird'
2019 will be graced by a pair of new Steven Soderbergh movies (on Netflix, no less). The first was "High Flying Bird," a shot-on-an-iPhone sports drama about a charismatic agent (Andre Holland) navigating an NBA strike, armed with some bold new ideas. Full of long, talky scenes that still remain captivating (the script is by playwright Tarell Alvin McCraney), with a killer supporting cast that includes Zazie Beetz, Zachary Quinto, Kyle MacLachlan and Bill Duke, it's a sports movie that feels totally unlike any sports movie you've ever seen (and not just because they had to skirt around NBA copyrights like an Olympic speed skater). Whip-smart and paced with a breakneck speed, "High Flying Bird" is the latest triumph from a filmmaker who, we should be reminded, was retired until very recently. Thankfully that didn't last long.
'John Wick: Chapter 3 – Parabellum'
The first thirty minutes or so of "John Wick: Chapter 3 – Parabellum" might be the best movie of the year, period. In that amount of time, Keanu Reeves, picking up right where the last film left off, is marked for death by a squadron of secret assassins, kills a giant man in a library, throws dozens of knives into people, uses horses as an accessory to murder, and takes part in a daring bridge chase while on horseback. From there, the movie occasionally meanders (although the sequence with Halle Berry and the dogs in Casablanca is fun), but never relents, culminating in a climactic sequence in a glassy Manhattan tower. Aside from the "Mission: Impossible" films, it's hard to think of an action franchise more pitch perfect or eager to please. Bring on chapter 4.
'Once Upon a Time … in Hollywood'
Quentin Tarantino's 9th film certainly courted controversy, even before it was release. After all, the notoriously sensationalist filmmaker would be tackling the Manson murders, of all things, perhaps the only subject matter touchier than World War II. And yet, "Once Upon a Time … in Hollywood" was released and everyone was generally surprised by how sweet the movie was, how deeply felt and nostalgic and charming it would end up being. Brad Pitt and Leonardo DiCaprio give all-time best performances as a washed-up actor and his deeply committed stunt-double and gofer, and Margot Robbie is luminous as the doomed Sharon Tate. Tarantino's most relaxed film, it beautifully spends time with its characters as they luxuriate in 1969 Los Angeles, with the camera soaking in every period detail (there's a sequence devoted to various neon signs turning on). Breathtaking and bloody, it's a film that we cannot stop thinking about.
'The Perfection'
For maximum satisfaction, try to go into Netflix's "The Perfection" knowing as little as possible. Just know that it stars Allison Williams as a fading cello star and reteams her with frequent "Girls" director Richard Shepard. That's it. What follows is one of the scariest, most surprising thrillers you'll see all year, beautifully photographed, richly performed, and totally outrageous. Okay, now go watch it.
'Toy Story 4'
"Toy Story 4" feels like a rebuke to everyone who cried that the "Toy Story" series wrapped up perfectly with the third installment (back in 2010). The fourth adventure for Woody (Tom Hanks) and the gang sees the pull-string sheriff reconnect with his long-lost love Bo Peep (Annie Potts) while on vacation with Bonnie. More formally adventurous than any other film in the series (it features flashbacks, dream sequences, and cut-away gags), it feels uninhibited by the previous movies and positively fearless in its willingness to forge a new and altogether different path. What's more, it's arguably the most emotionally complex, with characters who have complicated feelings for one another and their place in the world at large, with a tender, moving villain (Christina Hendricks) and some A+ new characters, including an insecure Canadian stuntman (Keanu Reeves) and a pair of county fair prizes (voiced by Keegan-Michael Key and Jordan Peele). Also, "Toy Story 4" is the most beautiful-looking animated film ever, with director Josh Cooley proving himself to be a next-level visionary. This is the bittersweet coda you never knew you wanted but now cannot live without.
'Triple Frontier'
It took a long time to get "Triple Frontier" across the finish line. What started as a re-team of "Hurt Locker"/"Zero Dark Thirty" writer Mark Boal and Kathryn Bigelow went through a number of key personnel changes before winding up in the hands of writer-director J.C. Chandor, who overhauled the existing script and assembled a kick-ass group of performers (including Ben Affleck, Oscar Isaac, Charlie Hunnam, Garrett Hedlund and Pedro Pascal). This tale of ex-military men who steal a lot of money from a South American drug lord is exciting and violent, the kind of muscular, no-frills action movie that they used to make throughout the 1980s and 1990s (complete with a streak of mournful melancholy). It took long enough to get finished, but we're very happy "Triple Frontier" finally saw the light of day. It's an edge-of-your-seat wonder.
'Under the Silver Lake'
It seemed like a sure-thing: David Robert Mitchell, the director of the buzzy low budget horror movie "It Follows," teamed with arty distributor A24 for an ambitious, sprawling neo-noir about a burnt-out loser (Andrew Garfield) who goes looking for his missing neighbor (Riley Keough). But after a mixed response at Cannes last year and a number of released dates  that were either missed entirely or hastily rescheduled, "Under the Silver Lake" was quietly released in a handful of theaters this spring before quickly going VOD. But maybe the home format is the best way to enjoy the film, with its multiple layers of meaning, hidden clues, and tangential narrative paths. (At a whopping 140 minutes, it might also take a few sittings.) Garfield is pitch perfect as a typical LA loser who is more intent on distracting himself with labyrinthine mysteries than dealing with the troubles of his everyday life head on. Also, he might be a serial dog murderer? Rewarding and ramshackle, "Under the Silver Lake" is a movie that will be endlessly analyzed and speculated about. How many other movies can you say that about?
'Us'
Jordan Peele followed up his massive, paradigm-shifting, Oscar-winning chiller "Get Out" with the unfathomable: a movie that is even more ambitious, artful and scathing than his game-changing debut feature. In the masterful "Us" Lupita Nyong'o plays a woman who travels with her family back to the seaside town where she had a traumatic event as a child. Soon enough, she and her entire family are menaced by scarred doppelgangers who are "tethered" to their normal counterparts. (There's a fairly deep mythology established here that never feels cumbersome or too complex.) As the movie progresses, going from a home invasion thriller to something much larger in scope, it manages to fold in the Hands Across America charity event from 1986, an entire underground world of creepy doubles, multiple amazing uses of the 1995 Luniz single "I Got 5 on It" and one of the very best horror movie twist endings ever. "Us" proved that "Get Out" wasn't a fluke and cemented Jordan Peele as one of the most exciting, original voices in genre filmmaking.
'Velvet Buzzsaw'
"Nightcrawler" writer-director Dan Gilroy reteams with Jake Gyllenhaal for this art-world-set horror romp, which seems to take equal inspiration from Robert Altman movies and the "Final Destination" series. (How many movies can you say that about?) A captivating Zawe Ashton stars as a young up-and-comer who finds a treasure trove of paintings in her dead neighbor's apartment and brings them to the attention of Gyllenhaal (as a critic) and various arty weirdos, who all become enthralled. The only problem is that the paintings are haunted and, well, people start dying in spectacularly violent ways. (If you've ever wanted to see Toni Collette get her arm gnawed off by a sculptural centerpiece, this is the movie for you.) While it's sort of unclear what "Velvet Buzzsaw" is saying about creativity, art, and criticism's place in the intersection of the two, it does offer some biting satire and some spectacularly realized, phantasmagorical kills.
'Yesterday'       
"Yesterday" doesn't open until the end of the month, but it premiered at Tribeca and is getting a wide release so we're breaking the rules! In Danny Boyle's latest masterpiece, Himesh Patel is a struggling musician who suffers a cataclysmic accident at the same time that a strange blackout envelopes earth. When he wakes up, he realizes he's the only person in the world you remembers the Beatles. But what to do with this awesome power/gift/revelation? Rom-com mastermind Richard Curtis' beautiful script not only weaves a wonderful love story (between Himesh Patel and Lily James, as his beleaguered, constantly friend-zoned manager and friend), but complicates your own feelings about the Beatles by adding layers of doubt and regret to all of the songs that you deeply love. The reaction out of Tribeca was muted but know this: "Yesterday" rules.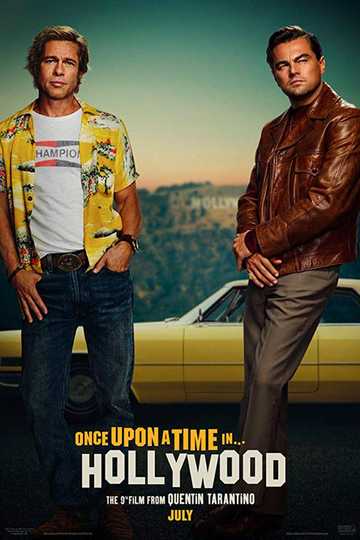 "In this town, it can all change… like that"
2 hr 42 min
Jul 26th, 2019
Los Angeles, 1969. TV star Rick Dalton, a struggling actor specializing in westerns, and stuntman Cliff Booth, his best friend, try to survive in a constantly changing... Read the Plot