Michael Bay to Direct Sci-Fi Action Flick 'Black Five'
Michael Bay is continuing to do what Michael Bay does best: Make big, loud action flicks. And after recently wrapping one such movie, the filmmaker has reportedly already set up his next project.
Bay is currently negotiating with Sony Pictures to direct a new film called "Black Five," Deadline reports, featuring an ensemble cast headed by "a big male lead." The film is scripted by Ehren Kruger ("Dumbo," "Transformers: Age of Extinction").
"Plot is being kept under wraps, but it's big Michael Bay movie, with a gritty sci-fi element to it," the trade noted.
Sounds about right.
Without much to go on, it's hard to figure out just who Bay would have in his sights to star, though a "big male lead" in an action film could be one of many contenders these days. Mark Wahlberg and Dwayne Johnson are the first stars that come to mind, though Bay also just wrapped working on the similar-sounding action ensemble "6 Underground" with Ryan Reynolds. Maybe the Merc With the Mouth could be Bay's new muse?
Bay is producing "Black Five" alongside Erwin Stoff, with whom he last collaborated on the 2016 Benghazi raid film "13 Hours." Perhaps the duo are circling John Krasinski instead.
According to Deadline, "Black Five" is reportedly eyeing an early 2020 production start. Stay tuned to see who Bay selects as his leading man.
[via: Deadline]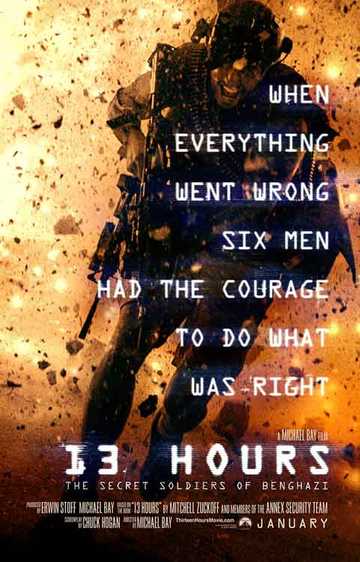 "When everything went wrong, six men had the courage to do what was right."
2 hr 24 min
Jan 15th, 2016
An American Ambassador is killed during an attack at a U.S. compound in Libya as a security team struggles to make sense out of the chaos. Read the Plot