Female Filmmakers in Focus: Robin Wright's 'Land' & Zeinabu irene Davis's 'Compensation'
Welcome to Female Filmmakers in Focus, a new column where I'll be recommending films directed by women to watch. Women directors only accounted for 16% of the top 100 grossing films of 2020, but that doesn't mean that women directed only 16% of all the films released last year; the key phrase in this study is "top grossing."
As a viewer, one way to help increase these numbers is to simply watch more films directed by women! They do exist, and I'm here to help you find them. Each week I'll highlight one new release (in theaters/on premium VOD/streaming) and one old release (from the streaming catalog, an online rental, etc.) that I think is worth your time. I'll also share a little about the women who made these films. I once spent an entire year watching nothing but films directed by women, and I've barely scratched the surface of what is out there, and what continues to be released each week. Hopefully with this guide you'll discover some new (or new-to-you) favorite filmmakers.
---
Land (2021) - directed by Robin Wright
This week Robin Wright (Wonder Woman) makes her feature directorial debut with the wilderness drama Land. Wright began her career as an actress, debuting in 1986's 'Hollywood Vice Squad' (directed by Penelope Spheeris), before breaking out in Rob Reiner's classic 'The Princess Bride'. She has received numerous accolades for her work in front of the camera, including for her performances in Forrest Gump and House of Cards, and also directed several episodes of the latter.
Land, which had its debut last month at the Sundance Film Festival, was shot over 29 days in the Canadian wilderness and stars Wright as Edee, a depressed woman who, after experiencing a great trauma, moves to a cabin on a remote mountain. Her attempt to isolate herself as a way to move past her grief takes a disastrous turn after most of her food is eaten by a bear that breaks into her cabin, and she almost freezes to death during a blizzard. Eventually she is discovered by a hunter, played to with subtle warmth by Demián Bichir ('The Hateful Eight', 'The Midnight Sky') and the two form a bond that helps them both feel alive again. While a lesser film might have pushed the drama into a romantic space, this film's action remains steadfastly in the realm of platonic friendship and the strength that can be found in that kind of camaraderie, something that is still all too rarely explored. Wright and Bichir's compelling performances, as well as stunning cinematography by Bobby Bukowski, make Land a worthwhile journey from the numbness of loss to the joys of finding peace within.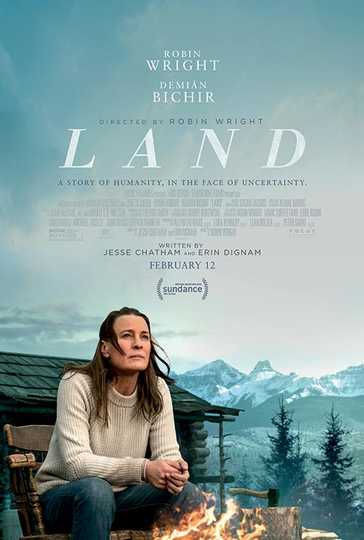 "A story of humanity, in the face of uncertainty"
1 hr 29 min
Feb 12th, 2021
---
Compensation (1999) - directed by Zeinabu irene Davis
Currently streaming on the Criterion Channel, this romantic drama was shot in the summer of 1993 on location in Chicago and eventually played at 2000 Sundance Film Festival. Part of the movement of independent Black filmmakers known as the L.A. Rebellion, Zeinabu irene Davis received an MFA in Film and Video Production from UCLA in 1989 and made several short films before starting work on her first feature. The work of L.A. Rebellion filmmakers like Davis and Julie Dash (whose 1991 film 'Daughters of the Dust' was the first feature film directed by an African-American woman to have general theatrical release in the United States) have inspired countless contemporary filmmakers like Ava DuVernay and Beyoncé.
Compensation follows two parallel love stories - one in 1906 and one in 1993 - between a deaf woman and a hearing man. In each story the couples (played by Michelle A. Banks and John Earl Jelks in dual roles) must learn to communicate with each other, both in terms of their own actual languages, but also in the manner in which they communicate their needs and feelings for each other in a way that each can understand. Shot in black and white, the film uses unique creative ways to showcase these communication issues, mixing silent film style intertitles and subtitles over American Sign Language. A beautiful film about the power of communication and human connection, 'Compensation' is perfect for those looking for something to hit the spot during this socially distanced Valentine's Day weekend.