Female Filmmakers in Focus: Jeanne Jordan, Steven Ascher talk 'Our Towns,' plus 'Harlan County, U.S.A.'
Welcome to Female Filmmakers in Focus, where you will find a recommendation for films directed by women to seek out each week. This week features the new documentary 'Our Towns,' an interview with co-directors Steven Ascher and Jeanne Jordan, and a suggestion to pair it with Barbara Kopple's Oscar-winning doc 'Harlan County, USA'.
'Our Towns' (2021) - Co-Directed by Jeanne Jordan and Steven Ascher
After getting her start in public television, Jeanne Jordan founded West City Films with her husband Steven Ascher. Together they produce moving and deeply humanist documentaries about the American experience. The filmmaking duo received an Academy Award nomination for their 1995 film '
Troublesome Creek: A Midwestern
,' which follows Jordan's family's struggle to save their Iowa farm.
Based on the nonfiction book of the same name by journalists James and Deborah Fallows, 'Our Towns' sets out to paint a portrait of modern small town America. The documentary follows the Fallows as they set on a journey that takes them from the sun soaked hellscape that is the Inland Empire in California to the wettest and most remote part of Maine. The cities vary in size from a population of 216,000 all the way to one that is only 1,300, and what's most fascinating about the documentary is the way they are able to show how despite the size differences, the struggles of these towns share commonalities. They explore how the economic recession, immigration restrictions, and even automation have affected the populations and job markets in these areas. One tidbit I found particularly interesting was the assertion that the number of breweries in a town was a good gauge on how well it is doing economically. Those who grew up in a small town (hello) will find themselves nodding their heads a lot, and the rest of you might get some insight and information that changes how you look at small town America.
'Our Towns' is available on HBO and HBOMax "Forging a future."
1 hr 37 min
Apr 13th, 2021
Read on for an interview with 'Our Towns' co-directors Jeanne Jordan and Steven Ascher
Movifone: How did you get involved in this project?
Steven Ascher: James and Deborah Fallows wrote a book called 'Our Towns' and HBO optioned it. They called us and asked if we'd like to try to make a film from it. We had been longtime admires of their writing and when we met them we thought they were terrific. So we set off to try to express it as a movie.
MF: Did you have any specific kind of cameras or lens that you used to capture the vibrancy of some of these locations?
SA: We had a whole range of cameras. Bryan Harvey and I shot it together, and we used Sony FS7s for some of it. Bryan has a Mōvi rig, which is a stabilizer, which allows him to move around very fluidly on the ground. We also used a drone to get higher altitudes. We used Go-Pro cameras that we could attach inside the plane and outside the plane. We really had quite a lot of tools at our disposal.
MF: Can you talk about how the editing process helps you take all the footage you have and make it into something cohesive?
SA: One of the trickiest things in this film was to take all these disparate stories in different towns and try to make it feel like it had a flow, that these ideas moved from one to the other and that there was a kind of logic to the film. Always one of the hardest things in documentaries is to take the footage, and you have a reason for shooting it, but once you see it in the edit each thing has to build on the thing before. That takes a while. This film took about a year to edit.
Jeanne Jordan: There were much longer cuts than we ended up being able to put on the air. We knew that people only have a certain tolerance for how long a documentary should be. We were really trying to keep it to the point where you would constantly be interested but you didn't feel like you'd been watching for too long. We had to lose some unbelievable stories in doing that. Which is the hardest part of editing, especially when people have given you so much of their time. Ending on the "cutting room floor" is not where we want anyone to end up. It was a very difficult decision making process.
MF: Did you always know you would end in Bend, Oregon?
SA: Bend is an interesting town because it was a very successful timber town and then in the 80s timber crashed and they had the highest unemployment rate in the country. They then reinvented themselves as a tourist town. So we wanted to really look at them at the end of the journey as a kind of success story. They are what a lot of other towns wish they were. But also to look at how success has benefits and costs. Bend is grappling with growth and high real estate prices and how that affects the community. So we knew that Bend was going to be the last stop.
MF: You show the resilience of these towns, but also how many of them are losing their character to strip malls. How did you come to that as an ending?
SA: Traveling around the country to do this film was a constant reminder of both how incredibly beautiful this country is and also how ruined a lot of the landscape has become. Also, how individual the towns are and then how uniform they can be with the strip malls. The contradictions there really hit you when you travel around. We really wanted to honor the beauty of the landscape, but also note that if we aren't careful we're going to destroy that.
JJ: It was really important to us to not just tell one side of the story, but to really give a full picture of what is actually in our country.
MF: Can you recommend another film directed or co-directed by a woman for readers to seek out?
SA: Since it's in discussion right now, 'Nomadland' is such a wonder film. What is particularly interesting is that it kind of blends fiction and documentary. There is so much of real life and real people's lives infused in the storytelling there. Chloé Zhao, who directed it, didn't create a new format but really blended documentary and fiction in a beautiful way.
---
Harlan County, USA (1976) - Directed by Barbara Kopple
Since I've covered Zhao's films a few times now, I thought I'd throw in a recommendation for Barbara Kopple's timeless Oscar-winning masterpiece 'Harlan County, USA.' Shot on a shoestring budget, the documentary follows the 1973 Brookside Strike against the Duke Power Company's Brookside Mine and Prep Plant in Harlan County, Kentucky. Kopple and her crew embedded in the community, which included 180 workers and their wives, for over a year as the strike continued. The stirring footage includes everything from miners suffering from black lung to strikers being shot on the picket line. Special emphasis is put on the strength of the women in the community to keep families together, but also to push the strike in the direction it needs to go. Kopple also features folk music from the area, crafting a film that is not only a potent piece of political filmmaking, but also an ethnography for a region and its people. As labor issues and union-busting continue to be a huge problem in this country, 'Harlan County, USA' remains as vital now as it ever was.
'Harlan County, USA' is available on HBOMax and The Criterion Channel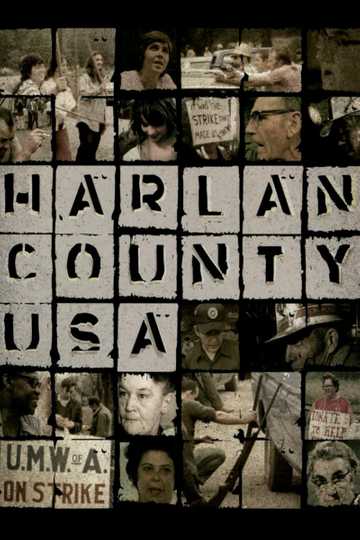 "Which Side Are You On?"
1 hr 43 min
Jan 23rd, 1977