Evan Rachel Wood, Rainn Wilson, Julianne Nicholson, and Toby Huss join the "Weird Al" Yankovic biopic
They'll play Madonna, a DJ and Yankovic's parents respectively.
Already shaping up to be one of the more fun movies on the way, 'Weird: The Al Yankovic Story' set its stall out early, casting former 'Harry Potter' star Daniel Radcliffe as the mop-topped musician best known for his parody songs.
Now, the team behind the movie has announced some additional casting, with Evan Rachel Wood, Rainn Wilson, Toby Huss, and Julianne Nicholson aboard.
"Weird Al" Yankovic has enjoyed quite the career is the biggest-selling comedy recording artist of all time. A five-time Grammy winner, his 2014 release 'Mandatory' Fun was the first comedy album in history to debut at #1 on Billboard's Top 200. He is one of only three artists to have had their own top 40 hits in each of the last four decades (the other two being, coincidentally, Michael Jackson and Madonna).
On August 27, 2018, the Hollywood Chamber of Commerce awarded Weird Al with a star on the Hollywood Walk of Fame. He has also popped up in a host of movies, shorts, and TV series, either as himself or other characters, and might be best known for indie comedy movie 'UHF', which was released in 1989.
The new movie, which was spurred by Yankovic's decision to chronicle his "depraved and scandalous" life (Radcliffe's words, not ours), will chart his days spoofing the likes of the Material Girl and the King of Pop. He wrote the script alongside director Eric Appel, who has worked on projects such as 'Silicon Valley' and various Funny Or Die shorts (the comedy company is producing the movie alongside Tango).
Wood here plays Madonna, and we've got to admit she's a good fit for the music icon, seen here in her "Like A Virgin" career stage. She gave permission for Yankovic to parody that early song, and the result was medically themed comedy record "Like A Surgeon."
Wood, an actor, writer, and director, is famous for the likes of 'Thirteen' 'The Wrestler' and 'Across The Universe', and on TV screens as revolution-minded artificial lifeform Dolores on 'Westworld.'
As for Wilson, he's taking on the role of Dr. Demento, the famed music DJ and champion of novelty records. Real name Barret Eugene "Barry" Hansen, Demento rose to cult status as a broadcaster who loved the crazier side of music, and he was hugely responsible for bringing Yankovic's talents to a much wider audience.
The actor might still be best known for TV sitcom 'The Office', though he's been seen in movies including 'The Meg' and 'The Rocker'.
Nicholson and Huss are aboard to be Yankovic's parents, Mary and Nick. Will they be supportive? Or shake their heads at their son's musical ambitions? We'll have to wait and see. Also unknown? Who else we can expect to show up in this one…
The movie is now shooting in Los Angeles, and the result will debut exclusively on the Roku channel on a yet-to-be-announced date.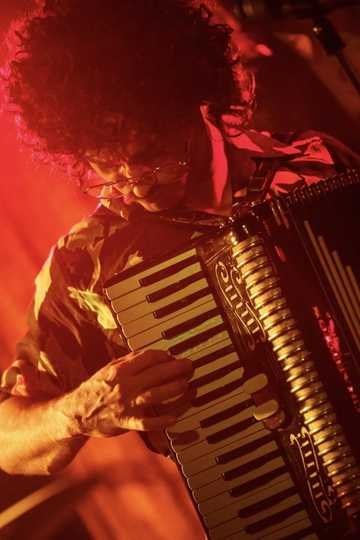 Exploring every facet of 'Weird Al' Yankovic's life, from his meteoric rise to fame with early hits like 'Eat It' and 'Like a Surgeon' to his torrid... Read the Plot