Actor Fred Ward, Known for 'The Right Stuff', 'Tremors' and More, Has Died Aged 79
A cult favorite, he also appeared in movies including 'Henry & June' and 'The Player'.
Fred Ward, a charismatic actor, and cult favorite among fans of movies such as 'Tremors', died on May 8th. He was 79.
Freddie Joe Ward was born in San Diego in 1942. Following a three-year stint in the Air Force, he developed an interest an acting and studied at the Herbert Berghof Studio in New York. His studies complete, Ward headed to Europe, where he helped dub Italian films into English.
His first TV role was in miniseries 'The Age of the Medici' in 1973, where he played Niccolò de' Conti. A variety of guest roles on shows followed, including two different episodes of the 1970s 'The Incredible Hulk', 'Invasion Earth' and 'ER'.
Ward also made a name for himself in a variety of TV Movies such as 'Cast a Deadly Spell' and '…First Do No Harm'.
Movie-wise, he made his debut playing a truck driver in 1974's 'Ginger in the Morning', which in turn led to a small part in 'Tilt' and then something more substantial – Ward and Jack Thibeau played convict brothers who are partnered with Clint Eastwood's Frank Morris in engineering the clever, daring purported escape from the Rock in 'Escape from Alcatraz'. "No one has ever escaped from Alcatraz… and no one ever will!"
1 hr 53 min
Jun 22nd, 1979
In 1982, he scored his first lead role, in cult classic 'Timerider', in which he played Lyle Swann, an off-road motorcycle racer who's accidentally sent back via a science experiment to an Old West replete with villains and gunslingers. The movie failed to shoot down any box office records but did have a later life on cable and video.
One of his best, though most controversial roles because of how it portrayed the actions of the man in question, was as astronaut Gus Grissom in 'The Right Stuff', Philip Kaufman's portrayal of the early years of the space program.
Yet despite appearing in Oscar-winners and huge films including 'Silkwood', 'The Player', 'Short Cuts' and 'Henry & June' it seems likely that 1990's 'Tremors' will be the movie for which Ward is most remembered for – and most fondly.
Ward and Kevin Bacon shined on screen as a pair of handy men who end up saving a hardscrabble Nevada desert community when the town is beset by giant underground snakes. Like some of Ward's other work, it didn't make a lot of money upon its initial release, but it cemented its cult classic status on home video and TV airings.
He returned for one of the movie series, and there was a stab at a TV reboot in 2018, but that didn't make it past the pilot stage.
While Ward never became a giant movie star, he was a respected character actor, able to bring a wide performance range to his work. He's survived by his wife of 27 years, Marie-France Ward, and his son Django Ward.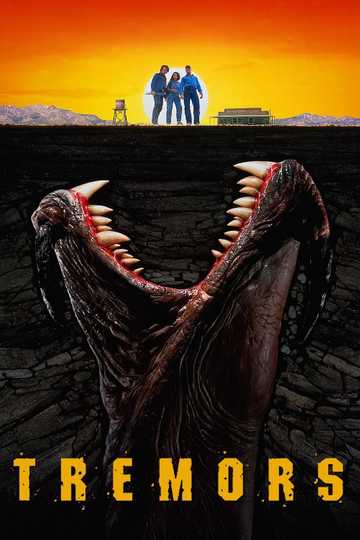 "The monster movie that breaks new ground."
1 hr 36 min
Jan 19th, 1990