 Yesterday, we got a glimpse at Laika's latest, "Missing Link," which looks as undeniably charming and adventurous as anything they've done (it's out this spring!) The trailer, besides getting us incredibly jazzed about the new movie, made us want to look back at the other movies from the Portland, Oregon-based stop motion animation outfit. This is a company that makes tiny confections, each one more beautiful and intricate than the last, and every movie they make should be celebrated; they're all handcrafted wonders.
5. 'The Boxtrolls' (2014) Again, the "worst" Laika movie is still utterly intoxicating. Case in point: "The Boxtrolls." Based on a novel by Alan Snow, it takes place in a fictional Victorian town who live in fear of the titular creatures, who they believe has kidnapped and murdered a human child (supposedly). Of course that isn't true, and the young boy has been raised by the boxtrolls. What follows is a creature feature culture clash, which isn't as clever or funny as it probably should be. Also, Laika is known for its big swings, most of which pay off but some, like a moment in "The Boxtrolls" where the morally bankrupt villain (Ben Kingsley) is revealed to be a transvestite, is tone deaf and borderline offensive. It's easy to be disappointed when you expect so much.
4. 'Coraline' (2009) Laika's first movie is practically overflowing with prestige. It's based on a beloved Neil Gaiman novel and was written and directed by Henry Selick, one of the only certifiable stop motion auteurs thanks to his work on "The Nightmare Before Christmas," "James and the Giant Peach" and Wes Anderson's "The Life Aquatic." And, to be sure, "Coraline" is a stunning achievement, big and bursting with ideas. But you can also feel some unsteadiness, as well, as several giant musical numbers (with new songs from They Might Be Giants) were removed last minute, giving the narrative a wobbliness. It's a movie that's easier to admire to love, but that being said, there's a lot to admire.
3. 'Missing Link' (2019 Laika's latest confection is one of its most complex and visually adventurous and also one of its most charming. "Missing Link" concerns a blowhard Victorian adventurer (Hugh Jackman), who teams up with an American bigfoot (Zach Galifianakis) as they travel together to the Himalayas in an effort to reconnect the sasquatch with his supposed cousins, the Yeti. It's a rip-roaring adventure reminiscent of "Around the World in 80 Days" and the director Chris Butler's favorite film, "Raiders of the Lost Ark," but with plenty of visual aplomb and Laika's typical attention to detail (there's a climactic moment that ranks amongst the studio's most complicated and thrilling). Chances are, whatever you want out of "Missing Link," you'll get.
2. 'ParaNorman' (2012) What a movie. Laika's homegrown, creaky freaky aesthetic is pushed to the limits in "ParaNorman," the tale of a young boy with the uncanny ability to communicate with the dead (it also includes a subplot about the murder of a young witch and, of course, a plethora of creepy puritan zombies). For a while, at least, "ParaNorman" felt like it was peak Laika, with a rollicking storyline and underlying themes about bullying and bigotry. It's also one of the most gorgeous-looking animated movies ever, and pushes boundaries both in its technology and narrative (it even includes a main character who is revealed to be gay). Watching "ParaNorman," you can't help but fall in love with the characters, scenario and overall world. It's just so, so good.
1. 'Kubo and the Two Strings' (2016) Travis Knight is the president and CEO of Laika but he's also animated on almost every previous Laika project. But until "Kubo and the Two Strings," he'd never directed a film. And whew boy did he knock it out of the park. The tale of a child, Kubo (voiced by Art Parkinson), who lives in a kind of magical version of feudal Japan. He sets out on a journey that sees him confronting giant skeletons, befriending a grumpy snow monkey (Charlize Theron!) and tutored by what can only be described as some kind of human/beetle samurai (Matthew McConaughey). The entire thing is dizzying and discombobulating in the best possible way, with some of Laika's most jaw-dropping designs and set pieces (that skeleton!) It is also the studio's most melancholy and emotionally resonant feature, full of tiny moments that will conversely break your heart and lift your spirits. Weirdly overlooked and underrated, it's the kind of movie that, once you watch it, feels like finding some kind of buried treasure, lost to time but exposed, now, just for you.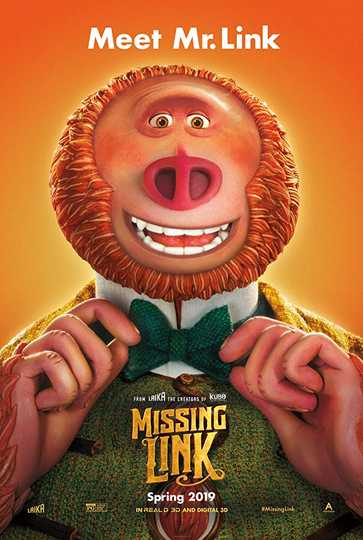 Missing Link
The charismatic Sir Lionel Frost considers himself to be the world's foremost investigator of myths and monsters. Trouble is, none of his small-minded, high-society peers seems to recognize this. Hoping... Read More