The Legend Of Boggy Creek According to the talented team at Laika, "Missing Link" is a "kaleidoscopic travelogue" that combines Indiana Jones, Sherlock Holmes and "Around the World in 80 Days" into a colorful, action-packed adventure. But the Portland-based animation studio's latest project is also a story about that most iconic of Pacific Northwest creatures, Bigfoot, whose existence - and the mystery surrounding it - continues to intrigue and baffle scientists and amateur sleuths worldwide. As "Missing Link" offers a new take on an old monster, we're taking a look back at just a few of the funny, frightening, enchanting movies that have only enhanced the beast's mystique over the years.
Patterson-Gimlin film (1967) Though rumors existed for years about reclusive, apelike creatures, this was the footage that catapulted Bigfoot into the popular consciousness. The equivalent of the Zapruder film for imaginary monsters, its authenticity is contested even today, but the speculation and imagination it inspired is all too real.
'The Legend of Boggy Creek' (1972) Texarkana ad man Charles B. Pierce began his career as an exploitation legend with this 1972 mockumentary about a mysterious creature seen often in and around Fouke, Arkansas. Combining real-life accounts with reenactments and a healthy dose of fiction, Pierce's film became a cult classic and only burnished Bigfoot's legend.
'Night of the Demon' (1980) Director James C. Wasson's film earned the label of "video nasty" by the British Board of Film Certification for this gruesome, uneven story of an anthropology professor who ventures into the woods with five students to prove that Bigfoot exists. The film's popularity - its infamy - is due larger to that certification than its depiction of the creature, but it remains a seminal entry in this rarified subgenre.
'Harry and the Hendersons' (1987) John Lithgow stars in this kindler, gentler take on the Bigfoot legend as the father who strikes the creature with his car and brings it home to inadvertently become part of the family. Kevin Peter Hall, who also played the eponymous Predator in the 1987 film of the same name, plays the towering, surprisingly sweet creature, but this is one of the few films in which the beast is friend to man rather than foe.
'Abominable' (2006) Legendary composer Lalo Schifrin ("Amityville Horror") created the music for this independent film about an aboriginal monster that terrorizes a community in the Pacific Northwest. Horror luminaries Jeffrey Combs ("Re-Animator"), Tiffany Shepis ("Night of the Demons") and Dee Wallace ("The Howling") lead their cast through a series of terrifying attacks by a creature with murderous instincts and an insatiable appetite.
'Willow Creek' (2013) Bobcat Goldthwait wrote and directed this found footage thriller about a couple whose romantic getaway involves driving into the deep woods of Northern California with a camera in order to try and capture footage of Bigfoot. It starts out very funny and then gets very, very scary.
'The Man Who Killed Hitler and Bigfoot' (2018) Sam Elliott's follow-up to "A Star Is Born" was this surprisingly compelling character study about the man who killed Hitler at the end of WWII, called into action yet again to hunt down Sasquatch before the creature can expose humanity to a deadly plague.
'Primal Rage' (2018) Former makeup effects artist Patrick Magee cowrote and directed this film about a married couple whose trip into the forest is waylaid when the husband is injured and they find themselves too far from civilization to get help. What they then encounter is a ferocious beast that makes short work of a group of hunters trying to help, and kidnaps the wife for unimaginable purposes.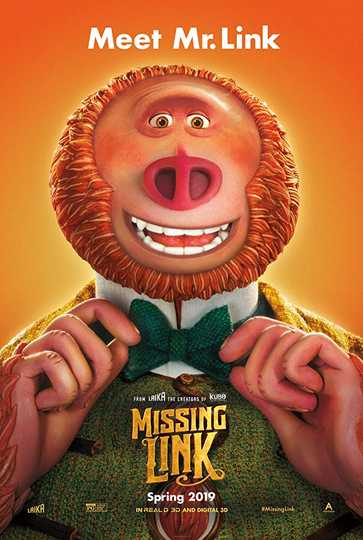 Missing Link
The charismatic Sir Lionel Frost considers himself to be the world's foremost investigator of myths and monsters. Trouble is, none of his small-minded, high-society peers seems to recognize this. Hoping... Read More