July 27th, 2016
by Gary Susman
'Alice in Wonderland': 13 Things You (Probably) Didn't Know About the Disney Classic
In some ways, Disney's animated "Alice in Wonderland" (released 65 years ago this week, on July 26, 1951) was as far behind schedule as its White Rabbit. The film flopped on its initial release and didn't catch on with audiences and critics until decades later. Then again, the movie also boasts many firsts: first Disney cartoon feature to air on TV, first to be released on home video, and first in the current wave of Disney's live-action reboots of its animated hits that began with Tim Burton's 2010 smash.
As many times as you've watched Alice fall down the rabbit hole, drink tea with the Mad Hatter, and evade the psychotic Queen of Hearts, there's a lot you may not know about the film's behind-the-scenes drama. Here's what happened on the other side of the looking glass. 1.Walt Disney (above) had dreamed of making an "Alice" feature for nearly 30 years. Back in 1923, when he was still making silent shorts for the Laugh-O-Gram studio in Kansas City, he made one called "Alice's Wonderland" that mixed a live-action Alice with animated creatures. This short became his calling card when he went to Hollywood.
2. In the 1930s, when he had become a successful animator, Disney envisioned a live-action "Alice" feature that would star Mary Pickford. He bought the film rights to Sir John Tenniel's iconic illustrations from the original "Alice" books. As Disney began to make feature-length cartoons instead, he back-burners the project, but he later revived it as a live-action/animation mix that would star Ginger Rogers. 3. Disney hired visionary "Brave New World" novelist Aldous Huxley to write an "Alice" screenplay, but he found Huxley's draft too literal. He soon decided the only way to adapt Lewis Carroll's books was to make the feature entirely animated and not be too faithful to the nearly plotless tales. Inspired by concept art of Wonderland settings that he'd solicited from Mary Blair, Disney decided to take the project in a more whimsical, comic direction.
4. Disney commissioned 30 songs for the film, based on the verses Carroll had sprinkled throughout the books. Fourteen of them made the cut, making "Alice" the most song-filled of all Disney animated musicals. 5. Sammy Fain's title song became a jazz hit for Dave Brubeck. A discarded tune, called "Beyond the Laughing Sky," was re-written to become "The Second Star to the Right," the opening number in Disney's 1953 version of "Peter Pan."
6. Popular comic actor Ed Wynn was hired to voice the Mad Hatter, becoming the first major celebrity to voice a role in a Disney animated feature. Later, he'd play live-action roles in several Disney movies, most memorably, "Babes in Toyland" (as the Toymaker) and "Mary Poppins" (as giggly, levitating Uncle Albert). 7. Others in the cast had less familiar names, though Disney fans would recognize their voices as they recurred in other Disney projects. Kathryn Beaumont (above), the 12-year-old who voiced Alice (and who acted out her entire performance on film for the Disney animators to study), went on to star as Wendy in "Peter Pan." Bill Thompson, who played the White Rabbit, would later voice pirate sidekick Smee in "Peter Pan," Jock the terrier (and four other characters) in "Lady and the Tramp," and Scrooge McDuck in various shorts. J. Pat O'Malley, who voiced Tweedledee and Tweedledum and all the other characters in the "Walrus and the Carpenter" sequence, later played elephant Col. Hathi and vulture Buzzie in ''The Jungle Book."
Verna Felton, who had played the Fairy Godmother in "Cinderella" before voicing the Queen of Hearts in "Alice," would later play Aunt Sarah in "Lady and the Tramp," Flora and Queen Leah in "Sleeping Beauty," and Winifred the elephant in "Jungle Book." And Sterling Holloway, who played the Cheshire Cat, would play python Kaa in "Jungle Book," though he was most famous for playing Winnie the Pooh in several shorts.
8. In the film's opening credits, Lewis Carroll's name is misspelled "Carrol." 9. "Alice" cost $3 million to make, during a production that spanned five years, three directors, 13 credited writers, 750 artists, 800 gallons of paint,1,000 watercolor hues, and 350,000 drawings and paintings. It earned back just $2.4 million.
10. Animator Ward Kimball blamed the movie's failure on all the competing creators -- "too many cooks," as he put it. Walt complained that the movie's heroine lacked "warmth."
11. "Alice" earned just one Academy Award nomination, for the instrumental score by Oliver Wallace. 12. In the 1960s, "Alice" (like "Fantasia") earned a reappraisal from college-aged audiences who appreciated its trippy nature, especially if they watched it under the influence. Walt didn't want to market and re-release his experimental, colorful early features as "head" films, but after his death in 1966, that's what happened. Advertised with psychedelic poster art, "Alice" was re-released in 1974 and 1981, with much greater success. In contemporary dollars, "Alice" earned $322 million over its lifetime.
13. Besides the 2010 Tim Burton film and its House of Mouse."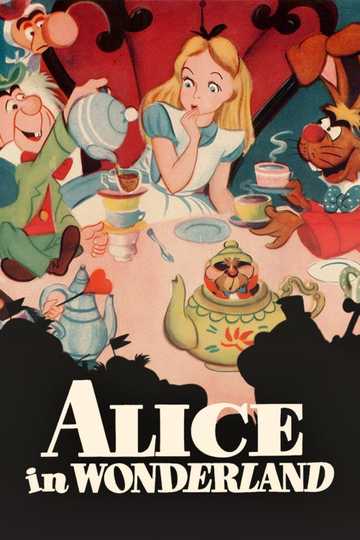 Alice in Wonderland
On a golden afternoon, young Alice follows a White Rabbit, who disappears down a nearby rabbit hole. Quickly following him, she tumbles into the burrow - and enters the merry, topsy-turvy world of Wonderland!... Read More