 No one is more excited for "Captain Marvel" than Carol Danvers herself.
Oscar winner Brie Larson has the title role of Marvel's movie, opening in 2019, and during San Diego Comic-Con, Marvel boss Kevin Feige shared news on the movie's time period and villains.
"Captain Marvel" will take place in the early 1990s, an era before the modern Avengers, including the first "Iron Man." Samuel L. Jackson was already revealed to be in "Captain Marvel" but now we know his Nick Fury won't have an eye patch, 'cause both eyes will be working at this point in time. Also, it was revealed that the villains will be the Skrulls, an intergalactic race known for shapeshifting, which has made them formidable adversaries for Marvel's heroes.
Brie Larson reacted by tweeting out updates from Comic-Con, showing she's has into all of this as her fans:
Who's excited?! (Besides me????) https://t.co/USXLl2YQq3

— Brie Larson (@brielarson) July 23, 2017
!!!!! https://t.co/zcritiHl5b

— Brie Larson (@brielarson) July 23, 2017
The upcoming #CaptainMarvel movie will be set in the '90s and feature a classic Marvel villain. #SDCChttps://t.co/iMraem7oNA

— Moments Canada (@CanadaMoments) July 23, 2017
First concept art of Brie Larson as #CaptainMarvel who will face the Skrulls in a 90s set film. pic.twitter.com/yB8izslz0A

— Adam @ SDCC 2017 (@adamhlavac) July 23, 2017
I've been staring at this blurry concept art for Captain Marvel for so long it's ridiculous. The @McKelvie design is truly GOAT level ???? pic.twitter.com/TY7zq4L5Ag

— Tom Turner (@tomrobertturner) July 23, 2017
BRING. IT. ON. ???? https://t.co/CCfzoaJA18

— Brie Larson (@brielarson) July 23, 2017
My feed is blowing up so much Twitter just tried to step in! Wow!!! Don't worry, I said "No, Thanks" ???????????????? pic.twitter.com/gUmMbzSGKA

— Brie Larson (@brielarson) July 23, 2017
Yes, bring it on! It remains to be seen how they'll explain where Captain Marvel has been in the Marvel Cinematic Universe to date, but that's something to look forward to. "Captain Marvel" opens March 8, 2019. FYI, that's two months before "Avengers 4" opens.
[h/t Collider]
Want more stuff like this? Like us on Facebook.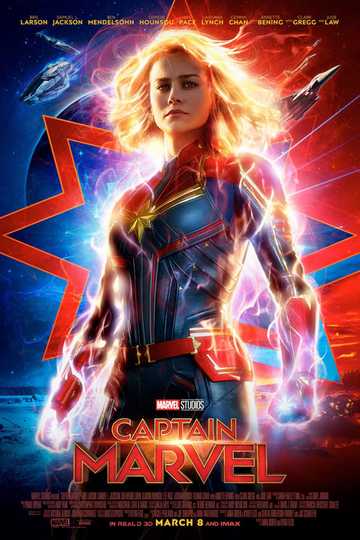 Captain Marvel
The story follows Carol Danvers as she becomes one of the universe's most powerful heroes when Earth is caught in the middle of a galactic war between two alien races. Set in the 1990s, Captain Marvel... Read More