20 Things You Never Knew About 'Fast Times at Ridgemont High'
Believe it or not, Sean Penn first became famous for being a hilarious comic actor. Yep, the intense, Method-acting, two-time Oscar-winner made his big splash playing blissed-out teenage surfer dude Jeff Spicoli in "Fast Times at Ridgemont High."
Released 35 years ago this week, on August 13, 1982, "Fast Times" not only made Penn a star, but also gave early career boosts to several future A-listers and made the behind-the-camera reputations of director Amy Heckerling ("Clueless") and screenwriter Cameron Crowe ("Jerry Maguire"). Plus, it became the definitive high school sex comedy of the early 1980s.
Still, as many times as you've watched Penn's Spicoli get a pizza delivered to his class, or pressed the pause button on Phoebe Cates's bikini scene, there's plenty you may not know about "Fast Times." 1. Late in his "Almost Famous" underage rock journalist phase, the baby-faced, 22-year-old Crowe went undercover for an entire school year as a student at Clairemont High School in San Diego. His reporting on the sociology of Southern California teens became a non-fiction book in 1981, which in turn was the source for the future filmmaker's first screenplay.
2. Producers offered the screenplay to David Lynch to direct. He turned it down, as the project really wasn't his kind of movie, but can you imagine how weird and amazing a David Lynch "Fast Times" would have been? 3. Heckerling made her feature directing debut with "Fast Times," landing the job on the strength of her film-school thesis project, a short called "Getting It Over With," about a girl trying to lose her virginity.
4. Penn, who'd recently made his screen debut in "Taps," auditioned to play the put-upon Brad, but after a quick conversation, the filmmakers realized he'd make a better Spicoli. Little did they anticipate his Method rigor; throughout the shoot, he stayed in character and insisted on being addressed as "Spicoli," not "Sean." 5. A number of actors got roles in the film because of their close ties to Heckerling and Crowe. Judge Reinhold, who played Brad, was her upstairs neighbor. Her ex-husband, David Brandt, and his band were booked to play the high school dance. Another ex, former boyfriend Martin Brest, played the doctor on the biology class field trip. (A couple years later, Brest would direct Reinhold in "Beverly Hills Cop.") The girl in the car who laughs at Brad's fast-food pirate costume was Heart guitarist Nancy Wilson, Crowe's then-girlfriend and future wife.
6. Several other not-yet-famous "Fast Times" actors were also second-generation showbiz kids. Penn was the son of TV director Leo Penn and actress Eileen Ryan. Phoebe Cates (the sexually knowledgeable Linda) was the daughter of Broadway and TV producer Joseph Cates. And Jennifer Jason Leigh (the sexually curious Stacy) was the daughter of TV star Vic Morrow. 7. For labor-rule reasons, most of the cast playing high school students was over 18. A 17-year-old actor named Nicolas Coppola lied about his age and auditioned for the role of Brad, but wound up making his film debut as "Brad's bud." Years later, Nicolas Cage would say his miserable experience on "Fast Times" led him to adopt his stage name, since the other young actors made fun of him for being Francis's nephew, deliberately misquoting Robert Duvall's line in the elder Coppola's "Apocalypse Now" as "I love the smell of Nicolas in the morning." Other reports from the set, however, said that Cage got razzed because he was boasting that his family connections would be his fast track to fame.
8. Several other A-listers and future A-listers were up for parts in the film but didn't get them, including Family Ties" pilot instead and landed a seven-year gig on a hit TV sitcom. 9. Other future stars with bit parts in the film included Forest Whitaker (making his movie debut as school football star Charles Jefferson), as well as Eric Stoltz and Anthony Edwards (who played Spicoli's pals).
10. Most of the movie was shot in the San Fernando Valley, either at the Sherman Oaks Mall (where Leigh went incognito for a month, preparing for her role by working in an actual pizzeria) or at the vast Van Nuys High School. 11. My Favorite Martian" fame, got the job of playing Spicoli's nemesis, grumpy teacher Mr. Hand, after Munsters" star was reportedly appalled by the script's pervasive sexuality and drug use.
12. As would become typical for a Crowe project, "Fast Times" had a stellar classic-rock soundtrack; credit for that goes mostly to Irving Azoff, one of the film's producers and also the manager of the Eagles and Stevie Nicks. He corralled Nicks, four of the five Eagles, Jackson Browne, and many other stars into recording songs for the two-disc soundtrack. (Heckerling grumbled that she wanted newer, hipper, punkier acts; she got a couple, including the Go-Gos and Oingo Boingo.)
13. Despite the wall-to-wall rock tracks, the movie had no instrumental score, save for stock music from the Universal Studios library. 14. Cates's notorious topless swimming pool scene was filmed at a private home in West Hills. She'd done extensive nudity in her first film, "Paradise," but Heckerling recalled that the actress was nervous about filming the pool scene because she feared neighbors would be spying from their rooftops.
15. The film's budget was reportedly between $4.5 and $5 million. It earned back $27 million, making it a sizable hit for the time. 16. The makers of Vans credited Penn's performance with popularizing worldwide the slip-on sneakers previously known only to California surfers and skateboarders.
17. "Fast Times" producer Art Linson and Crowe soon whipped up what they called a "spiritual sequel," a movie about slightly older young adults called "The Wild Life," with a cast that included Penn's brother Chris, Stoltz, and Stoltz's future "Some Kind of Wonderful" co-star Lea Thompson. (Think of it as the "St. Elmo's Fire" to the original's "Breakfast Club.") Directed by Linson, "Wild Life" flopped and has never been released on DVD because of music-rights issues. 18. In 1986, there was a short-lived TV series inspired by "Fast Times at Ridgemont High," though the only cast members from the 1982 film were teachers Walston and Vincent Schiavelli.
19. Producers hired Moon Unit Zappa, then a newly-minted high school graduate who was considered an authority on Southern California teen slang because of her hit song "Valley Girl," as a consultant. The "Fast Times" show, which lost a lot from having to be squeaky-clean enough for network TV, lasted just seven episodes. 20. But the show, like the film, provided a launch pad for several future stars, including "CSI's" Melrose Place" and "Ally McBeal" regular Courtney Thorne-Smith as Stacy, and Patrick Dempsey (!) as slickster Mike Damone.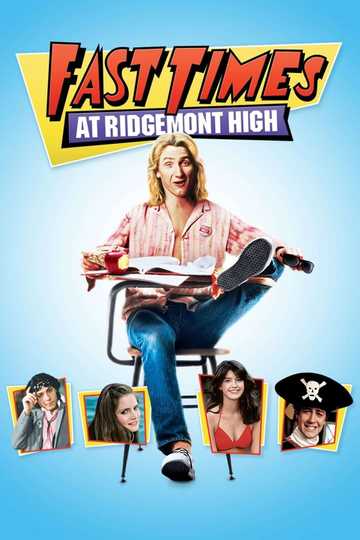 "At Ridgemont High, only the rules get busted!"
1 hr 30 min
Aug 13th, 1982
Based on the real-life adventures chronicled by Cameron Crowe, Fast Times follows a group of high school students growing up in Southern California. Stacy Hamilton... Read the Plot