 WARNING: This post contains MAJOR SPOILERS about "Star Wars: The Last Jedi." Proceed at your own risk.
It wasn't the most shocking death in "Star Wars" history, but the killing of a key character in the newest installment, "The Last Jedi," wasn't something that fans really expected, either. Now, writer-director Rian Johnson is spilling the beans about the reasoning behind that plot development.
In an interview with Entertainment Weekly, Johnson explained why he decided to off the sinister Supreme Leader Snoke (played in a motion-capture performance by Andy Serkis), during a showdown with Kylo Ren (Adam Driver) and Rey (Daisy Ridley). The scene in question features Snoke urging Kylo to kill Rey and complete his transition to the Dark Side; instead, Kylo uses the Force to slice Rey's lightsaber -- sitting next to Snoke -- clean through the Supreme Leader's midsection, killing him in one swift motion.
While the showdown certainly had echoes of Vader's decision to kill the Emperor -- who's torturing Luke (Mark Hamill) -- in "Return of the Jedi," that twist came near the end of the movie, and the end of the original trilogy. So why get rid of Snoke now, before "Episode IX"?
According to Johnson, it needed to happen sooner rather than later, in order to establish Kylo's thirst for power. Right after he kills Snoke, Rey urges him to come with her to join the Resistance; but Kylo decides to take over the First Order instead, permanently severing ties with his mother, Leia (Carrie Fisher), as well as the Light Side.
"By the end of this film, he's gone from being a wannabe Vader to someone who is standing on his own feet as a complex villain taking the reins," the director told EW.
Mission accomplished. Now, we have to wait for "Episode IX" to know just how Kylo's power play affects the rest of the galaxy.
"The Last Jedi" is in theaters now (in case you weren't one of the millions of people who saw it this weekend). "Episode IX" is slated for release on December 20, 2019.
[via: Entertainment Weekly]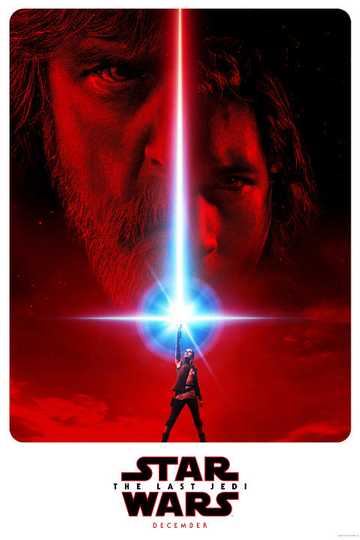 Star Wars: The Last Jedi
Rey develops her newly discovered abilities with the guidance of Luke Skywalker, who is unsettled by the strength of her powers. Meanwhile, the Resistance prepares to do battle with the First Order. Read More