 Ryan Reynolds is on the new cover of Entertainment Weekly -- or half of him is, and the other half is Deadpool.
But they seem one-and-the-same these days, and it's hard to imagine what social media was like before Ryan Reynolds and Wade Wilson teamed up.
Everyone's favorite foul-mouthed Merc is back! Go inside '@DeadpoolMovie 2,' the summer's most shocking and least appropriate movie: https://t.co/srGRuSF7Gn#Deadpool2pic.twitter.com/sWiVMsuod0

— Entertainment Weekly (@EW) May 2, 2018
Speaking of team-ups, during Reynolds's chat with EW to promote "Deadpool 2," he was asked about "Deadpool 3." EW seemed to think it was inevitable, but Reynolds sounded hesitant. He'd much rather have Deadpool be part of a team from here on out, including in the upcoming "X-Force" film:
"I don't know that there would be a 'Deadpool 3.' I really don't. I feel like the character, in order for him to function properly within his own universe, you need to take everything away from him. I don't think that you can keep doing that. I do see him as being a part of X-Force, obviously. I would love to see him in a team-up sort of thing, like a mano a mano or a great female character from the X-Men universe. I just think if you're going to do another Deadpool solo film, you've got to really, like, get that budget down to nothing and just swing for the fences, and break all kinds of weird barriers, and do stuff that no one else can do."
"Deadpool 2" will introduce members of the "X-Force" and it's natural for that to be Deadpool's next movie.
There was a report back in 2016 that 20th Century Fox was already planning "Deadpool 3," featuring the X-Force. But that was two years ago, and now it's more clear that it won't be a solo Deadpool film, it's an ensemble "X-Force" movie being written and directed by Drew Goddard.
In terms of the team-up many fans want -- Deadpool in the Marvel Cinematic Universe -- Kevin Feige has said any kind of "X-Men"/"Avengers" integration would be years away. He's already planned MCU films into 2025.
"Deadpool 2" opens May 18.
Want more stuff like this? Like us on Facebook.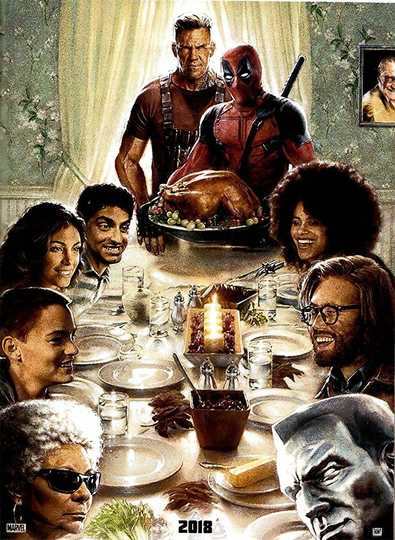 Deadpool 2
Wisecracking mercenary Deadpool battles the evil and powerful Cable and other bad guys to save a boy's life. Read More