'Call Me By Your Name' Author Is Writing a Sequel
While the director of Oscar winner "Call Me By Your Name" has already shared his idea for a sequel, the author of the book on which the film was based has announced that he's currently writing a follow-up of his own.
In a tweet shared on Monday night, André Aciman revealed the exciting news.
"I would actually love a sequel to Call Me by Your Name," the author said. "In fact I am writing one."
That statement seems to be a direct response to previous comments from "Call Me" screenwriter James Ivory, who took home an Oscar earlier this year for adapting Aciman's novel. In an interview with The Film Stage just last week, Ivory said that he didn't want to be involved with a potential big screen follow-up, and claimed that Aciman "laughed at the idea" of making a sequel. Guess Aciman isn't laughing anymore.
Director Luca Guadagnino has a very specific vision for a second "Call Me" movie, and it's currently unclear if he discussed the idea with Aciman, or if the two projects will be entirely separate. Maybe Aciman is writing the screenplay, and not a novel?
Either way, original stars Timothée Chalamet and Armie Hammer both appear to be on board, with Chalamet liking Aciman's tweet, and Hammer sharing an enthusiastic response.
Maybe Ivory will change his tune, too. We'll see. Whatever the outcome, we predict this film will also get plenty of awards season love -- and possibly give fans a new fruit to lust over.
[h/t The A.V. Club]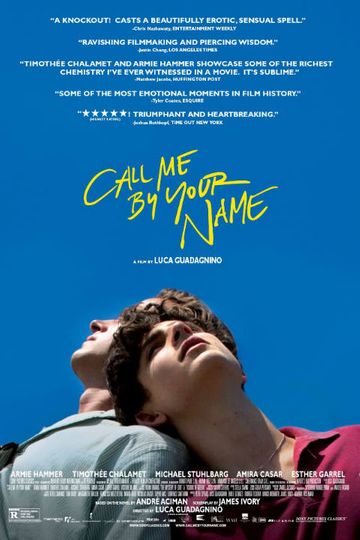 "Is it better to speak or die?"
2 hr 12 min
Jan 19th, 2018
In 1980s Italy, a relationship begins between seventeen-year-old teenage Elio and the older adult man hired as his father's research assistant. Read the Plot