How 'Spider-Man: Homecoming' Helped Save the Summer Box Office
That "whoosh" sound you hear is the collective sigh of relief in Hollywood over the record-smashing debut of "Spider-Man: Homecoming," and it's emanating not just from the suits at Sony and Marvel, but from the industry as a whole.
Most observers expected the film to crack $100 million (Sony's own prediction was a conservative $80 million), but by the end of the weekend, Sony was estimating that the franchise reboot had premiered with $117.0 million. It's the biggest single-character series launcher ever for the Marvel Cinematic Universe (beating the $98.6 million opening of "Iron Man"), the second-biggest debut of the six Spidey movies (beaten only by the $151.1 million debut of "Spider-Man 3" a decade ago), and the third-largest premiere of any movie in 2017 (behind "Beauty and the Beast" and "Guardians of the Galaxy Vol. 2").
That's good news for a box office that, throughout the first half of the summer season, has seen one disappointment after another. After a series of high-profile sequel flops and failed franchise launchers, this summer has made 2017 fall behind 2016 in total grosses, though the success of the new "Spider-Man" has helped close the gap, to the point where domestic grosses are now only about $12 million behind where they were at this point a year ago.
Maybe Spidey's success can help dispel some myths about what's behind the summer slump, since Hollywood has been quick to jump to the wrong conclusion about what's ailing the box office. For example: It's not franchise fatigue. That's been the industry excuse for why people didn't want to see a fifth "Pirates of the Caribbean,"a fifth "Transformers,"a fourth "Mummy," and a third "Despicable Me." Yet here, we have the sixth Spider-Man movie and third Spider-Man franchise launcher in just 15 years. If ever there was a case for franchise fatigue, it would be here, especially the way the two recent "Amazing Spider-Man" movies squandered the series' good will. But that ill will didn't carry over to "Homecoming," just as ill will from "Batman v Superman: Dawn of Justice" and "Suicide Squad" didn't harm "Wonder Woman."
What "Homecoming," "Wonder Woman," and "Guardians Vol. 2" have in common is strong reviews and excellent word-of-mouth. (Moviegoers gave "Homecoming" an A at CinemaScore, the best grade of any Spidey film.) These assets are also what most of this summer's flops lack. Ticket buyers aren't suffering from franchise fatigue. What they're feeling is bad-movie fatigue. It's not Rotten Tomatoes. The industry has been complaining all summer that the movie review aggregator is hurting business, especially since RT scores appear at the point-of-purchase at corporate sibling Fandango, ensuring that potential ticket buyers see the critical consensus on a film before spending their hard-earned cash on advance seats.
This wouldn't have been a problem for "Homecoming," which scored a 93 percent fresh rating at RT. But social media research firm Fizzology claimed recently that it's found high RT scores have little impact on a film's online buzz, while low RT scores do result in a surge of discouraging social media chatter. It's not clear, though, whether that negative buzz has a measurable impact on sales.
It's certainly true that positive RT scores may not help a film at the box office. That was the case this summer with "It Comes at Night," a horror movie that bombed last month despite strong reviews. Conversely, negative reviews didn't hurt sales of "Batman v Superman" or "Suicide Squad."
Still, the Hollywood lament of the season has been that summer moviegoers used to spend money indiscriminately on escapist popcorn movies, but now RT is discouraging them from doing so. The argument that critics have educated the masses to the point where the studios can no longer count on their poor taste is pretty insulting. The truth is, most people don't go out to the movies that often anymore, so when they do, they don't want to waste their money on an experience they don't think they'll enjoy. Again, it's not franchise fatigue or bad-review fatigue, it's just bad-movie fatigue. Kid appeal still matters. You'd think this would be obvious to an industry that usually caters to youth at the expense of mature audiences. And yet this summer has seen very few family-friendly movies. There have been several R-rated comedies and several franchise films whose surprisingly bleak tone ("Wonder Woman," for instance) has appealed primarily to adults. Not much for young children and teens, save for a "Diary of a Wimpy Kid" sequel and three cartoons.
"Homecoming," however, returns Spider-Man to his teenage roots, complete with John Hughes-style storytelling. Star Tom Holland was just 20 when he made the film (Tobey Maguire was 26 the first time he suited up as Spidey; Andrew Garfield was 28). Co-star Zendaya may not be well known to people over 25, but the Disney Channel regular is huge among tweens. She has 43 million followers on Instagram (Robert Downey Jr., whose appearance as Iron Man in the movie was supposed to help bring in longtime Marvel fans, has 16 million Instagram followers), and she's certainly been leveraging that social media reach to publicize the movie. No wonder 57 percent of "Homecoming" viewers were under 25. Diversity matters. Complaints about Hollywood's over-reliance on casts that are predominantly white and male are not just about being politically correct, they're about good business. The multi-ethnic casting of the "Fast & Furious" movies has long been recognized as a component of their enormous success among audiences, both domestic and across the globe. In the case of "Homecoming," audiences took notice that the cast included stars like Zendaya, Tony Revolori, and Donald Glover.
Not only did they help make the movie's New York City look more like the real thing, but they helped draw non-white viewers. The "Homecoming" audience was 13 percent African-American (about the same as their percentage in the American populace), 24 percent Hispanic (well above their percentage among the populace) and 10 percent Asian-American (also well above their percentage of the population). The domestic audience still matters. Hollywood accountants have waved away criticism of the summer's many domestic flops by noting that the films are doing much so better overseas than at home that they'll be profitable anyway. As a result, the studios seem to think that they don't have to bother making movies that appeal to domestic viewers anymore. (This makes their griping about Rotten Tomatoes all the harder to swallow.)
Still, how long can that business model persist? The makers of "Transformers: The Last Knight" crowed about how well the film did in China, where its $120 million debut was one of the largest ever for a Hollywood import, and where its $198 million total to date represents the biggest contribution of any country's sales to the movie's $495 million global total. Even so, Chinese grosses won't be enough. With a $217 million production budget, plus marketing and distribution costs, "The Last Knight" would have to gross about $1 billion worldwide to break even, yet this looks like the first "Transformers" film since the second one that won't cross that 10-figure threshold . Besides, distributor Paramount will get to keep only about a fourth of that $198 million Chinese gross (the rest goes to theater owners), while it'll get about half of the movie's domestic gross ($119 million and counting). So domestic sales will still bring in more profit than Chinese sales, and that's for a sequel that's far and away the least popular of the five "Transformers" films among American audiences. Imagine if they'd made a movie that ticket buyers here actually liked.
"Homecoming," at least, won't have that problem. Sure, it's also doing better overseas than here (it's made an estimated $140 million abroad so far), but the proportions aren't totally out of whack like they are for "Transformers" (which has earned 76 percent of its total overseas) and many other summer movies that underwhelmed in North America compared to foreign markets. Like "Guardians Vol. 2," "Homecoming" has earned a solid 45 percent of its total to date in North America. For "Wonder Woman," it's nearly 50-50. So it's still a good idea to make movies with some domestic appeal. After all, as "The Last Knight" proves, you can't count on the inferior taste of foreign audiences forever.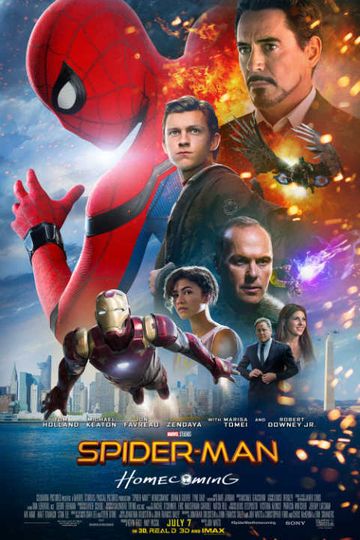 "Homework can wait. The city can't."
Following the events of Captain America: Civil War, Peter Parker, with the help of his mentor Tony Stark, tries to balance his life as an ordinary high school student... Read the Plot