Nick Frost on 'Unfinished Business' and What's Next for the Cornetto Crew (EXCLUSIVE)
Even diehard fans of Nick Frost will probably be taken aback by his performance in "Unfinished Business."
The British actor, best known for his trilogy of films with co-star Simon Pegg and director Edgar Wright ("Shaun of the Dead," "Hot Fuzz," and "The World's End"), has appeared as a comic-strip character in "The Adventures of Tin Tin," one of the seven dwarves in "Snow White and the Huntsman," and as a strung-out doper in cult sci-fi comedy "Attack the Block." But, in "Unfinished Business," the new comedy starring Vince Vaughn, Tom Wilkinson, and Dave Franco, Frost plays a buttoned-up businessman who has a rather outrageous personal life.
This means that, for most of the movie, he's outfitted in a snug leather ensemble and, at one point... well, I'm not going to spoil it for you. But, like I said, even for fans of the comedian, this is a whole new side of Nick Frost.
I got to chat with the actor about what drew him to the role, whether he'd return for a sequel, what's up with a "Tin Tin" sequel, reprising his "Shaun of the Dead" role for kids' cartoon series "Phineas and Ferb," and whether or not he talked to Wright about the drama surrounding his "Ant-Man" dismissal.
Moviefone: What brought you to "Unfinished Business"? I imagine anybody gets a Steve Conrad script that's a huge deal. Is that what got you on board?
Nick Frost: Well, I had a phone call with Todd Black, the producer, and the director and essentially they blew a lot of smoke up my ass and they made me feel really lovely. They said, "Come and do our film and have a laugh for three months." Anyone who is kind enough to remember me and want to hang out and make a film, I'm always happy to do that. I was suckered.
So the script had nothing to do with it?
Well, I hadn't read the script at that point. They got me on that alone and then you read the script and they say, "Well, don't worry too much about the script." It was about getting on a set with Vince and Dave Franco and Tom Wilkinson and saying Steve's lovely words and having a laugh.
What was it like working with those guys?
It was fantastic. I've been a fan of Vince's for ages and he's a very talented actor and very funny and very generous, on and off set. I got to hang out and meet Little Dave Franco, which was great because he's absolutely lovely. It sounds really boring but it was a good laugh on set -- we'd hang out and laugh and sometimes do a bit of acting.
Is that how you prefer your sets? Some directors want there to be a bit of tension.
I can do both. But it would be weird having some kind of horrible, oppressive vibe on set for something like this. I wonder what kind of film you'd get.
I'm sure movies like this have been made under those circumstances.
Those people are idiots.
You were also just in the Oscar-nominated "Boxtrolls" and you've done a lot of animation. What is the appeal for you?
Well, I'm going to let you in on a little secret: You generally don't have to learn the lines. It's great. It's absolutely fantastic. You get to sit in a little booth and read the lines in the script. It's wonderful. And I think because of the stuff I've done in the past, not just voice work, everybody's already keen, you kind of do what you want and bring to it what they want, I hope! It's a lot of fun, because generally you do a lot of sessions for these, so you do one and the animators go off and change the character and if there's anything fully they'll include that, and you really get to refine it during that process. They're the only films I do that my son can eventually be allowed to watch in a couple of years.
Why haven't you worked with Aardman yet? That seems like some sort of clerical error.
Yeah, I don't know! Ask the Aardman guys that question. I think they're amazing. I was lucky enough to go down to Aardman a few years ago and they showed me around and we went into a room that has a half a million mouths in it, which is phenomenal.
You've also done motion capture stuff on "Tin Tin." Was that stuff as fun and have you heard anything about a subsequent "Tin Tin" movie?
I think Peter has been so busy on "The Hobbit," and I think he's going to put that to bed. I saw him last year and he was very keen on doing it still. So that will be amazing. Again, it was an incredible process. People probably think we're just working on green screen but essentially it's like doing a play. That's how we shoot it. It's a very different way for me to work and challenging and fantastic and I got to work with Steven Spielberg and Kathy Kennedy and Peter Jackson, who has become a dear friend of ours. So it was nice to work with all of them and I hope we get the chance to do it again.
Are you coming back for "The Huntsman"?
Yes. We start shooting in April. It's all gearing up right now and it's incredibly exciting. I can't wait to do it, actually. I had a great time on the first one. I'm glad and happy they've invited me back and I get to hang out with big Thor again.
He's a handsome man.
He's a handsome bugger!
What's going on with the Cornetto Crew [Frost, Pegg, Wright]? Are you talking about doing more things?
Absolutely. I saw Simon today and went up and was on set of "Mission: Impossible" and we hung out for a couple of hours in his trailer and had a laugh and were chatting. We're all so busy at the moment. I think we're going to make a point to dig out a nice piece of time somewhere in the next 18 months to work on something else. What that will be, I won't say at this point. I love working with those two and long may it last. We've never been ones to make films because it's been expected of us. Once we have a great idea, then we'll do it.
Have you talked to Edgar about what happened with "Ant-Man"?
Of course. We're best mates. I'm always in that loop. And good on him. He stuck to his heels and you have to be happy working. If you're not happy, don't do it.
What's going on with Joe Cornish, your "Attack the Block" director? Is there a re-team in the works?
Oh gosh, I'd love to. I loved working with Joe. I've been good friends with Joe for a long time now and I think he's incredibly talented and it was a real treat for me as a longtime friend to be able to actually watch him on set bloom into a features director. Joe's a funny one. He keeps to himself and then suddenly he's on the list to direct some giant film and you think, "Oh wow, amazing, good on you." But good on him.
How is "Mission: Impossible 5" coming? Did Simon seem to be happy with it?
He's chuffed. He loves doing it. He's really created a little niche for himself in that franchise and it's great.
What was it like playing your "Shaun of the Dead" character Ed on an episode of "Phineas and Ferb"?
[Laughs] It was great! We weren't in it long, but I still had to watch the first 20 minutes of "Shaun of the Dead" just to get the voice right. Because it is still kind of my voice but I hadn't heard it for a long while. But it was great. Maybe the fans were a bit disappointed because it wasn't a feature. It's not a sequel in any way.
Did you record that with Simon?
No, we did it separately.
What if "Unfinished Business" spawns a franchise? There have been three "Hangover" films after all. Would you be back for more?'
Oh, absolutely. If nothing else, it will give me the chance to wear that lovely tight-fitting leather again which is something that I've never worn before but now I can't seem to take it off. It's one for the bears. One for my bear-fans.
"Unfinished Business" is in theaters now.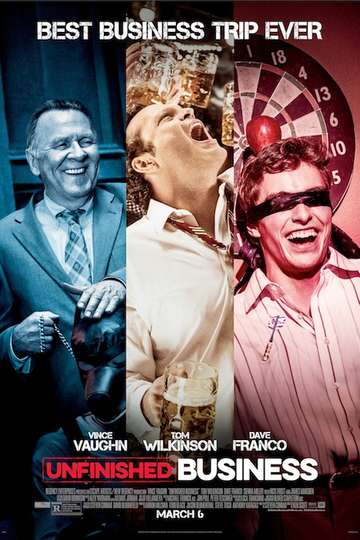 "Best business trip ever."
A hard-working small business owner and his two associates travel to Europe to close the most important deal of their lives. But what began as a routine business... Read the Plot