Obi-Wan and Yoda Were Also in 'The Force Awakens,' ICYMI
WARNING: This post contains SPOILERS about the plot of "Star Wars: The Force Awakens." Read on only if you've already seen the film.
Millions of people flocked to movie theaters this weekend to watch "Star Wars: The Force Awakens," which broke all kinds of box office records during its debut. But many of them may have missed two key cameos: Obi-Wan Kenobi and Yoda.
For those of you scratching your heads, trying to figure out how you overlooked the two Jedi masters, you should know that the classic "Star Wars" characters didn't actually appear onscreen -- rather, it was their voices that were present in the production. But where, and how?
In an interview with Entertainment Weekly, "The Force Awakens" director J.J. Abrams confirmed the characters' presence in the flick, and revealed that they appeared in voiceover during the scene in which Rey (Daisy Ridley) discovers Luke Skywalker's (Mark Hamill) lightsaber in the basement of Maz Kanata's (Lupita Nyong'o) castle. When she touches the weapon, Rey has a vision or flashback of sorts, in which she sees Luke's bionic hand reach out to R2-D2, as well as the villainous Kylo Ren (Adam Driver) standing over a pile of bodies, among other images.
It's a trippy, chaotic sequence, but if you listen closely you can hear the voices of Obi-Wan and Yoda, some of which was new dialogue recorded specifically for "The Force Awakens." Abrams revealed that filmmakers used existing audio of the late Sir Alec Guinness (who played Obi-Wan in the original trilogy) as well as new material from Ewan McGregor (who played a younger version of the Jedi in the prequels) to create the line, "Rey ... these are your first steps." (Abrams says engineers took part of the word "afraid" from one of Guinness's original trilogy lines to make "Rey.") And Frank Oz, who both puppeteered and voiced Yoda in the earlier films, also recorded new dialogue, though filmmakers ended up using existing footage of the pint-sized Jedi master in the finished "Force Awakens."
As for what all of the things that Rey saw actually mean, Abrams stopped short of revealing too much, reminding EW that some of the most iconic moments in the original "Star Wars" series didn't come until later in the trilogy, and the same is true of these new films.
"This is the first of a series," Abrams said. "There is a story to be told. And it will be."
We're already hungry for more. "Episode VIII" can't come soon enough.
[via: Entertainment Weekly]
Photo credit: StarWars.com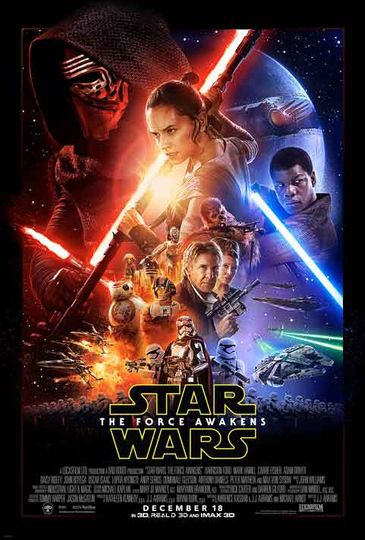 "Every generation has a story."
2 hr 16 min
Dec 18th, 2015
Thirty years after defeating the Galactic Empire, Han Solo and his allies face a new threat from the evil Kylo Ren and his army of Stormtroopers. Read the Plot