How 'Sharknado' Went From Syfy's Silly Lark to a Franchise With Bite
"It's a completely new genre of filmmaking," offers star Ian Ziering of the seemingly unlikely pop cultural phenomenon known as the TV-movie franchise "Sharknado," "It's a fun movie where everyone's in on the joke -- except the characters in the movie."
And, indeed, the joke now comes with an annual callback punchline: since the first "Sharknado" movie, a shamelessly tongue-in-cheek sendup of cinematic disaster/horror blockbusters and their B-movie brethren centered around a cyclonic storm of ravenous sharks, debuted on Syfy in 2013 to staggering ratings, increasingly over-the-top sequels have become a hotly anticipated annual tradition: this year's installment, "Sharknado: The 4th Awakens," the pun-titled fourth film in the series, arrives July 31st with all the fanfare of a movie property.
"There's been such a tremendous support -- and now a demand -- for these movies," marvels Ziering, who plays the chainsaw-swinging hero Fin Shepherd, trying to keep his wife, April (Tara Reid), their family, and the entire world safe from soaring, spiraling jaws. "By now, it's like, 'Oh, it's a TV-movie summer series ... It's appointment television. People get together and have a midsummer night party around. It's on July 31st this year, Sunday night. How perfect for a barbecue, a midsummer night event where people are actually getting together and watching the movie and having a fun time?"
"We never even thought on the first one that anybody would see it," chuckles franchise leading lady Reid. "Somehow, people just love 'Sharknado.' It's a movie that doesn't take itself seriously, obviously, and it's so ridiculous that people enjoy it."
Ziering readily admits he initially only took the original film to maintain his Screen Actors Guild insurance levels when he and his wife had a baby on the way, though the off-kilter acting opportunities quickly grew on him. "I figured it would just be on TV once just get buried somewhere. Boy, was I wrong! This movie exploded."
"What took a few years to accomplish in terms of popularity with 'Beverly Hills 90210,' 'Sharknado' did in one week," the actor reveals. "It was an immediate sensation. The sci-fi fans that are out there were chattering about it on all the different social media platforms so loudly that it spilled over into mainstream entertainment, where celebrities were even talking about this crazy movie."
The first film proved so popular, Syfy aired it twice more, with ratings rising higher each time, which prompted a one-night theatrical release followed by a wide international release. "Which is completely backwards from the way every other movie asset, whether it be TV or film, has played out!" he exclaims. "I realized that I am really lucky, because this kind of lightning in a bottle doesn't happen frequently in Hollywood. To be a part of a project that reaches so many people in a positive, fun way is really a dream come true for me."
"Each of these movies are kind of different," says director Anthony C. Ferrante, the auteur behind all four so-good-at-seeming-so-bad-they're-good films. "At the end of the day, they're still a similar story -- there's families trying to save each other, and there's a tornado of sharks that has to be stopped -- but I think one of the things that we try to do with each film is go, 'What kind of genres do we want to play with?'"
"Obviously, with the title 'The 4th Awakens,' you can't get away with not trying to do some 'Star Wars' references," he chuckles. "The questions is: how do you do them without making it too obvious? So there's definitely some homages, and there's stuff in these movies that maybe two people will get. We'll put in Easter eggs -- there're so many cameos, and people are always throwing in character names and stuff that just tickle us."
There's also some good-natured ribbing at today's dominant event-movie genre: the superhero film. "There's a little bit of a sort of a superhero origin story, in a way, in this movie that we haven't done before," promises Ferrante. "It's very subtle, but we kind of embraced it. There's a lot of little references and homages to superhero movies throughout, which I think is kind of neat."
And there are even more nods to geek-culture classics, as Ziering giddily reveals. "I get a mechanical suit, like 'Aliens'! Fin gets to play shark-slayer within the safety of a mech suit -- with chainsaw-blade arms! I had so much fun jumping around in this thing like I'm a ninja. I couldn't stop laughing at first because it was so preposterous, but with the magic of Hollywood and our amazing visual effects artists, it's going to look completely badass." In the new movie, the Shepherds have enjoyed a years-long respite from the marauding meteorological events until they again start forming, this time in even less likely environments -- specifically, the glittering -- and decidedly arid -- gambling mecca of Las Vegas, offering plenty of visual gags crafted on the location, including a shark loop-de-loop on the rollercoaster atop the Stratosphere Hotel & Casino. "It's sharks. It's Vegas," says Ferrante simply.
Once again, celebrities in supporting and cameos roles come fast and furiously, with a new roster of famous faces including Married ... With Children,' and I on '90210.' "There were three or four instances where, last minute, we had a really great person and we had to squeeze them into the film," says Ferrante. "That was a challenge, but also part of the fun ... A lot of times it's like Christmas: 'Oh, Paul Shaffer is on set -- that's, like, awesome!'"
"I think we put everything but the kitchen sink into every one of the movies that we do, not knowing whether we're going to be coming back or not," the filmmaker adds. "I love the fact that I get to kind of do different movies each time. And I look at it now sort of as a TV series in a way too, because each year we come back and we do a new 'season,' in a strange way."
And, indeed, each new "Sharknado" film feels like Christmas in July for its growing cult of fans, "Some people love the movies, some people hate it, but people have embraced the silliness," says Ferrante. "I think we need a little bit more of this silliness. Everything is taken so seriously now, and there's so much horrible stuff going on out there that having something where you know what you're going to get, I think is a sort of comfort food."
"So many things are negative in the world right now," agrees Reid. "When you watch "Sharknado," you're not thinking of anything like that. It just makes people happy."
"I always think it's funny: I still see 'Sharknado' to be a weird film," Ferrante offers. "The weirdest thing I've ever done is the thing that got the most acceptance. Being the odd kid in high school wanting to make movies. A lot of the movies I made were strange. To have that be the success story is kind of gratifying in a lot of ways."
Is there an end in sight? "It's one big kind of story, and then however long it continues and however long we're involved, I think it's up to the movie universe to say," says Ferrante. "I've done some stuff in between the 'Sharknado' movies, and usually everything works out timing-wise, and I love coming back. I think it's fun. Is there an end-all be-all 'Sharknado' movie? I'm sure there is. Is there other stuff that we want to do? Every time I think that there's not something left to say, we suddenly have something that we can do."
"As long as I can, as long as they'll have me, I'll be a part of this 'Sharknado' franchise," promises Ziering. "It is so fun. It's such a great working environment. I've made some great friends, and as long as the fans out there want it to continue, I will raise my chainsaw high."
"It's just been an incredible experience," adds Reid. "Without the fans, there would be no "Sharknado."
"Sharknado: The 4th Awakens" premieres July 31st at 8 p.m. on Syfy.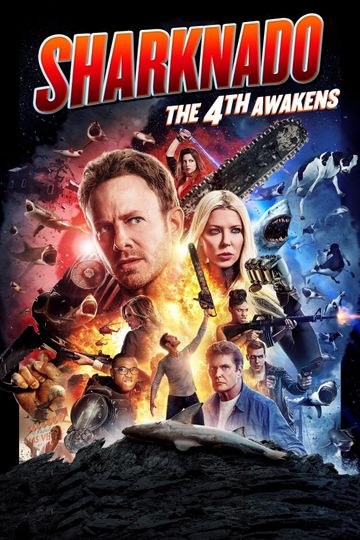 "What happens in Vegas, stays in Vegas. Unless what happens is this."
1 hr 25 min
Jul 31st, 2016
The new installment of the Sharknado franchise takes place 5 years after Sharknado 3: Oh Hell No! There have been no Sharknados in the intervening years, but now... Read the Plot