CODA director Siân Heder & star Marlee Matlin talk about their new film
This week director Siân Heder talks about her latest film 'CODA'. We also have the cast of the film talking about working with Heder, and what is so revolutionary about this Sundance smash.
CODA - directed by Siân Heder
Born in Cambridge, Massachusetts, director Siân Heder graduated from the Carnegie Mellon School of Drama before moving to Hollywood to pursue an acting career. Her work for a nanny agency that catered to guests with children staying at four-star hotels inspired her 2006 short film 'Mother,' which debuted at the Cannes Film Festival. She won a Peabody Award with her fellow writers for their work on the show 'Men of a Certain Age'. After working on several seasons of 'Orange is the New Black,' she made her feature film debut with 'Tallulah,' starring Elliot Page and Allison Janney, which debuted at the 2016 Sundance Film Festival.
Inspired by a 2014 French-language film 'La Famille Bélier', 'CODA' (which is short for child of deaf adults), stars Emilia Jones as Ruby Rossi, the only hearing child in a culturally deaf family of fishermen in Gloucester, Massachusetts. As she finishes her senior year of high school, Ruby finds herself torn between her commitment to her parents (Marlee Matlin, Troy Kotsur) and their family business, and her desire to attend Berklee College of Music and pursue her love of singing. Selected as the opening night film of the 2021 Sundance Film Festival, 'CODA" swept the festival's U.S. Dramatic competition, winning the Grand Jury Prize, Best Director, Audience Award, and a Special Jury Prize for its ensemble cast.
'CODA' is in select theaters now and streaming on Apple TV+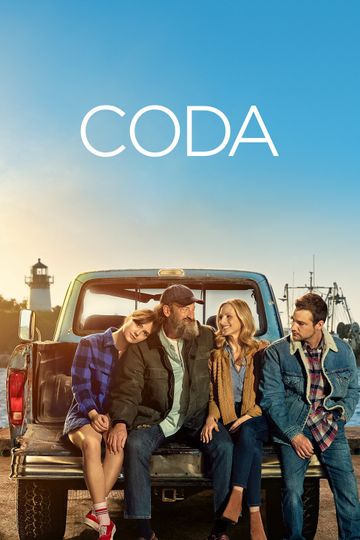 "Every family has its own language."
1 hr 52 min
Aug 13th, 2021
---
We spoke to director Siân Heder about working with her ensemble cast, as well with actors Emilia Jones, Marlee Matlin, Troy Kotsur, and Daniel Durant about their experiences working with her.
Moviefone: Can you talk about your casting process?
Siân Heder: Marlee was the first person I had cast. I thought of her right away when I was writing the script, and really connected with her when I met her. Troy I had seen in two Deaf West Theatre productions and I thought he was just a brilliant actor. When he walked in for his audition he had on this little fisherman's cap that he always wears, and his face looks like he's been out on a boat as a kid. He just felt like a Gloucester fisherman. Daniel was phenomenal in his audition and had a real understanding of his character, that his character is the voice of reason. He's just so frustrated that his parents and his sister have developed this co-dependent, slightly unhealthy relationship. I probably auditioned a hundred girls for Ruby, and it was really hard to find someone who could take on all these things. She had to be a good singer who could blow people away with her voice and also sign fluently and go out on fishing boats like she had done that her whole life. It was really finding a unicorn. I was so lucky with Emilia Jones. She did an incredible job with this role in terms of riding the emotions and comedy.
MF: How did you craft such a tight-knit family dynamic with your actors?
Heder: I was very lucky that these people fell in love with each other in real life. That's something you really hope for as a director, but it's hard to create. The only thing I can do as a director is create an environment on set that is very open and welcoming and warm, and encourage people to have dinner together and hang out outside of the set. Marlee Matlin had worked with Troy Kotsur before, and Daniel Durant and Troy had worked together. They're both members of Deaf West Theatre. They had played father and son together already, actually. So there were friendships that were already in place. Emilia Jones was really the outsider coming in who didn't already know this cast. I was so lucky with the personalities I found. Everybody had a great sense of humor, and we laughed a lot. These actors really bonded in a deep way. Marlee would cook for everybody, and they would hang out together. They really just became a family. It was probably the most special experience I've had working on something. It was very hard emotionally to finish the movie because it was a family experience.
---
Emilia Jones plays Ruby Rossi.
MF: Can you talk about working with director Siân Heder?
Emilia Jones: I could go on and on about how amazing Siân is. She is the most incredible director I've ever worked with. I knew from the minute I met her that I wanted to work with her. She had this openness. She wasn't bound to the script. When we were on set, she knew that we all knew these characters inside out, better than anyone else. So it was very much like, "What would you do here? What do you think you'd say here?" I love that we could have this teamwork approach. I love that we all lived as these characters. She wanted everything to be authentic, so we went out on the fishing boat at 4 a.m. We went rock jumping on the weekend, Siân and I and Paula Huidobrom, our D.P., and Ferdia [Walsh-Peelo]. It was a bonding experience. I love how perceptive she is, how direct she is. I love that she knows what she wants. She taught me so much. With her instinctive tweaks, she can absolutely transform a scene. I admire her so much.
---
Marlee Matlin plays Ruby's mother Jackie.
MF: Can you talk about what made you want to work with director Siân Heder?
Marlee Matlin: When I went after the film, and I pursued it quite heavily, she told me her vision. I knew her work from 'Tallulah,' which I loved a great deal. I respected her work as a director and as a woman, and as someone who wanted to delve into our community and culture. Typically, we would look at people with some suspicion, but I saw that she wanted to make this film as authentically as possible. As a result, we became friends, as mothers, as co-workers. We both had the same amount of passion. We both fought for the work on the screen. I found her a wonderful woman. She has a great mind. Her perspective of life is amazing. I learned a great deal from her. She got my humor and I got hers. I hope to work with her again.

MF: What was the experience like on her set?
Matlin: I've always been on a set as the only deaf actor on the set. I'm there with an interpreter, and it gets a bit lonely. I don't want anyone to pity me, it just means that everyone is talking, and I always feel like I'm missing out on 98% of the conversation. Sometimes the interpreter is eating, because I have to give them their own time, their one break. So I would go to my trailer, or I would talk one on one with an actor, but the communication would be a bit difficult. On this set, it was completely different. I felt as though the hearing people were the minority. By that, I mean hands were flying everywhere. To my left and to my right. My actors, who were all deaf, we were just conversely free, and the hearing people were looking at us as the minority. We had an ASL master who could sign. We had a director who could sign. We were totally in our element here.
---
Troy Kotsur plays Ruby's father, Frank.
MF: Can you discuss the first time you met Siân Heder and your experience working with her?
Troy Kotsur: I've worked with many different directors, and I didn't expect it, but she did her homework before I met her. She knew about deaf culture and signing. She had been to Deaf West performances on stage. She got together with sign language consultants and had done her due diligence. That gave her more cultural sensitivities. It was awesome working with her. She was always trying to learn more signs. When we were off camera, we had conversations while the interpreters took their breaks. It was so nice to see her give that effort, every time, in every situation. For example, in the Rossi family house, the hearing crew had laid out all the furniture and Marlee took a look and said it wasn't deaf friendly. We said a deaf family would be sitting opposite each other to give eye contact. That's how we communicate. Hearing people can sit side by side; they're depending on the sound, they don't care where the other person is. But for the deaf, logistics are important. So she made those necessary changes to fit that cultural need. It just shows such an open mind, and that's what is so great about working with her.
---
Daniel Durant plays Ruby's older brother Leo.
MF: Could you discuss what the audition process with Siân was like?
Daniel Durant: My first audition, I sent in a video of myself. I was just doing some sign language. At that time I was doing a production, a deaf production, that was in Toronto, Canada. I saw the script and was like of course I want to audition for this. So I sent it in, Siân said she liked it, she liked my facial expressions and wanted to do a Zoom call. I found the time despite how busy I was with the production. I was really nervous, but one thing that I was really impressed with was that Siân just has such good energy. She looks right at you, and she lets you know what she's thinking. She shared her vision for Leo with me, and she would share her notes, and I would be Leo with her as we were on the call. We did a third audition where it was Siân and the casting director. They wanted me to do another video, and this time I had someone reading lines with me. That final audition, I rehearsed the scene where Ruby and I are on the beach. We went back and forth, really furious. I sent it in, and they really liked it, but I didn't hear back for like two weeks. Finally, they said I'd gotten the role, and I was shocked, I was excited and overjoyed. It was like a dream come true. I was so excited to get to work with Marlee and with Troy.
MF: Can you discuss working with Siân as a director?
Durant: Very special. Not like any director I had worked with before, whether it was TV or movies. Very different because she already knew sign language to begin with. She had done lots of research already on the culture. She had some deaf friends. Sometimes directors aren't too involved, but she was super involved. Sometimes she didn't use an interpreter at all. She wanted direct communication. When we were doing scenes, she would just get in and talk to me straight on. I love that about her. She is so smart, and she's really very funny. She knows how to have fun on set. We were always joking around. She's just a wonderful person.