The Inside Story of 'Deep Impact' vs. 'Armageddon'
It happens every couple of years, where two incredibly similar movies will come out around the same time, whether they're about magicians, terrorists targeting the white house, or destructively erupting volcanoes.
But perhaps the most famous -- and still talked-about -- tale of conceptual overlap came in the summer of 1998, when dueling films about death from above (one's a comet, the other's an asteroid) invaded cinemas worldwide. "Deep Impact" vs. "Armageddon."
But which actually came first? And which holds up better, 20 years later?
According to a May 1998 issue of Starlog magazine (remember them?), producers David Brown and Richard Zanuck came up with the concept for "Deep Impact" sometime in the late 1970s, when they were contemplating a way to update the 1951 film "When Worlds Collide." The producers took the concept to Steven Spielberg, who had already bought the rights to "The Hammer of God," a novel by Arthur C. Clarke, with similar subject matter (an asteroid on a collision course with earth).
Eventually, the filmmaker would merge the projects with a script by Bruce Joel Rubin (later re-written by Michael Tolkin). The subsequent drafts of the screenplay took it away from "When Worlds Collide" and "Hammer of God" enough that neither was credited; this left Clarke deeply unhappy, particularly since DreamWorks had used his name in promotion of the project.
Spielberg intended to direct the project (ultimately called "Deep Impact") himself, injecting some popcorn movie heft to his newly developed studio, but commitments to "Amistad" prevented him from making the movie in the window that he had allotted. And why was everyone in such a hurry? Because over at the Disney lot in Burbank, a suspiciously similar project was brewing. Years later, Rubin claimed that Disney had outright stolen the idea for the project. In the nonfiction book "Tales from the Script," the writer says that, while taking a meeting at Disney, he spoke about the "Deep Impact" script, and noticed that the executive he was meeting with was furiously taking notes. This wouldn't be the first time Disney had been accused of plagiarism (some accounts suggest the entire concept of Disney-MGM Studios -- now Disney's Hollywood Studios, in Orlando, Florida -- was lifted entirely from discussions with Universal that Disney chief Michael Eisner had when he was still running Paramount) and it wouldn't be the last.
But this kind of skullduggery went on even throughout production. We spoke to someone who said that Bay told him that Bay and a confederate snuck into Paramount while the film was being edited and actually stole dailies so that the "Armageddon" production team could see what the competition was up to. Can you imagine?
The competition continued even after "Deep Impact" was released, with Disney Studios chairman Joe Roth giving "Armageddon" an additional $3 million for even bigger visual effects sequences, to be incorporated just a few months before "Armageddon" was set to debut. It's unclear where the initial idea for "Armageddon" came from, particularly since almost a dozen writers had their hands on the screenplay. But what is clear is that it came after "Deep Impact" was being worked on. It's also very clear that Bay, deeply insecure about his own film, did some unscrupulous things to make sure that his film came out on top. And it did.
While "Deep Impact" was more widely praised, with more nuanced performances and assured direction (by "ER" alum and frequent Spielberg collaborator Mimi Leder) and made a sizable dent in the box office, "Armageddon" was a straight up blockbuster. With a worldwide total of almost $600 million, it was the highest grossing movie (internationally) of 1998 and continued to be a major force in popular culture, immortalized by the vaulted Criterion Collection on home video. It even inspired an elaborate attraction at the Disneyland Paris' Disney Studios Park in Europe. (The space shuttle design from the film also seems to have been used as inspiration for the Mission: Space attraction at Epcot.)
And, truth be told, some 20 years later, "Armageddon" is the more purely pleasurable film, no matter how tumultuous (and morally compromised) the original production was.
With bigger stars (Bruce Willis rules), bigger explosions, and bigger sentimentality. It's easy to admire "Deep Impact," but it's hard to love. "Armageddon" you just want to hug.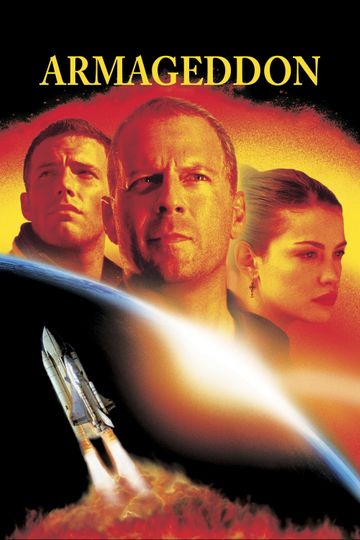 "The Earth's Darkest Day Will Be Man's Finest Hour"
When an asteroid threatens to collide with Earth, NASA honcho Dan Truman determines the only way to stop it is to drill into its surface and detonate a nuclear bomb.... Read the Plot