Tony Gilroy Finally Spills on 'Rogue One' Reshoots: 'Terrible, Terrible Trouble'
"Rogue One" almost went rogue itself, if it weren't for the last-minute intervention of Tony Gilroy.
Much was written and said about the extensive reshoots the "Star Wars" standalone movie went through. Reports said that Gilroy was at the helm for them instead of director Gareth Edwards and that he oversaw huge changes in the movie's final act (like the addition of a key Darth Vader scene).
Gilroy himself hasn't said much about his role in "Rogue One" — until now. He finally opened up on "The Moment With Brian Koppelman" podcast and, wow, he didn't hold back.
Unlike other directors in the franchise, like J.J. Abrams and Rian Johnson, Gilroy was not a fanboy. At all.
"I've never been interested in 'Star Wars,' ever. So I had no reverence for it whatsoever. I was unafraid about that," he said. "And they were in such a swamp ... they were in so much terrible, terrible trouble that all you could do was improve their position."
When he came in to fix the movie, Gilroy focused on the motivations of the characters and their ultimate goals.
"If you look at 'Rogue,' all the difficulty with 'Rogue,' all the confusion of it ... and all the mess, and in the end when you get in there, it's actually very, very simple to solve," he explained. "Because you sort of go, 'This is a movie where, folks, just look. Everyone is going to die.' So it's a movie about sacrifice."
Gilroy was still cagey about exactly how much he contributed to the final version of the film. All he would say was, "I came in after the director's cut. I have a screenplay credit in the arbitration that was easily won."
And while Abrams said after "The Force Awakens" that he wouldn't do another "Star Wars" movie and then accepted the directing job on "Episode IX," don't expect Gilroy to return to that galaxy far, far away.
"It doesn't appeal to me. But I don't think 'Rogue' really is a 'Star Wars' movie in many ways," he said. "To me, it's a Battle of Britain movie."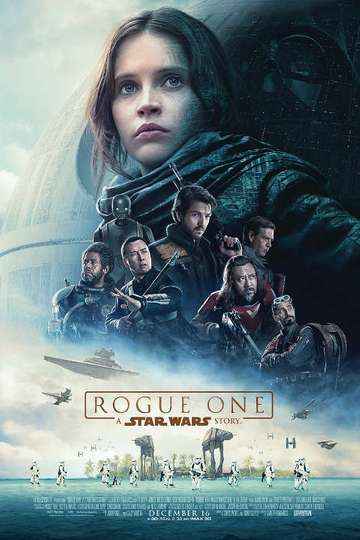 "A Rebellion Built on Hope"
2 hr 13 min
Dec 16th, 2016
A rogue band of resistance fighters unite for a mission to steal the Death Star plans and bring a new hope to the galaxy. Read the Plot