"Tomorrowland" is Disney's new sci-fi adventure starring George Clooney and Britt Robertson. Like the land it's named after in the Disney theme parks, the movie is a tribute to the future and how special individuals who are engineers, makers, inventors (or "imagineers" as Disney dubs them) make a difference not just in the present but in the future as well. Although director Brad Bird has been praised for his ability to shoot action sequences and handle the spectacular future landscapes, the movie is generating mixed reviews, so it's not a universally praised release. The movie does feature some frightening deaths and scenes of violence, but it also espouses so many positive messages, it's hard to find fault with taking a curious kid to see it.
Here are five questions to consider before heading out with your kids to see "Tomorrowland."
1. Do you love Disney?
In case the title doesn't make it obvious, "Tomorrowland" is definitely a Disney love-fest with references to many of the Studio's properties, whether it's literally one of the lands at Disneyland / Disney World to rides, like "It's a Small World" to movies with Disney associations like the "Indiana Jones" and "Star Wars" franchises. The Carousel of Progress ride and its accompanying song, "There's a Great Big Beautiful Tomorrow," is also featured, since it was genuinely part of the 1964 World's Fair in New York. There's more too, but the point is that the movie is a big exercise in synergy for Disney, and that's great for Disney fans but won't work for parents who don't care for consumerism or the legendary Studio's theme parks.
2. How easily does your kid get scared?
There isn't a lot of violence at the beginning of the movie, but once the creepy robot soldiers get involved, there are several shooting sprees that are particularly scary, because the futuristic guns dematerialize people, leaving only a pile of dust (similar to the deaths in the far more terrifying "War of the Worlds"). Kids need to be old enough to be prepared for the kind of violence that leaves various passersby and a few prominent characters dead.
3. How much questionable content is there?
Besides the violence, the movie is fairly devoid of language (just a "piss" here and a "What the ___" or "Son of a ..." that trails away there), and it's definitely free of sex. However, as some critics have pointed out, the love Frank feels for Athena is completely appropriate -- in the flashbacks -- but Frank is no longer an 11 or 12 year old but is in fact George Clooney (Athena is an AI), their relationship may skirt the edge of creepy for some viewers. But most kids may not pick up on that, and really Athena isn't even human. Still, we had to mention it.
4. Who will enjoy the movie most?
The ideal audience is older elementary-aged kids, tweens, and young teens who love Disney, sci-fi adventures, and the themes of innovation and futurism. Budding engineers and makers will particularly dig the "Dreamers need to stick together" message. Although little kids will be dazzled by the spectacle of the visuals, they may be frightened by the unexpected intensity of the violence.
5. What are critics saying about "Tomorrowland"?
The Disney adventure gets mixed reviews, with a (rotten) 54 percent at Rotten Tomatoes and a mixed score of 60 at Metacritic. Amy Nicholson of The Village Voice raves: "Bird layers on plenty of dazzle... But his heart is what keeps the story motoring and the ending is perfectly engineered, including a coda that encourages all of us to try harder. " Ty Burr of The Boston Globe summed up his mixed feelings as "The thing barely makes a lick of sense. Rapturous on a scene-by-scene basis and nearly incoherent when taken as a whole, the movie is idealistic and deranged, inspirational and very, very conflicted." Joe Williams of the St. Louis Post-Dispatchwasn't impressed: "Disney's gimmick of naming movies for its theme-park attractions crashes and burns in 'Tomorrowland,' a here-and-now caper that will confuse children, bore adults and offend anyone who's ever taken a science class."
"Tomorrowland" is in theaters now.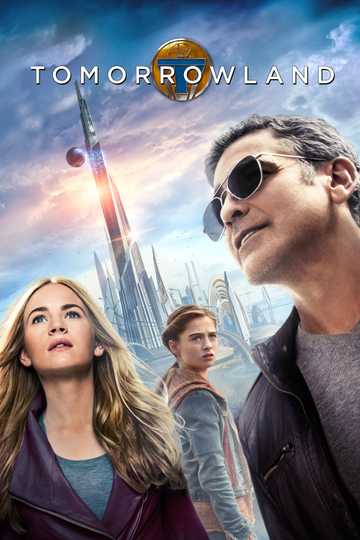 Tomorrowland
Bound by a shared destiny, a bright, optimistic teen bursting with scientific curiosity and a former boy-genius inventor jaded by disillusionment embark on a danger-filled mission to unearth the secrets... Read More