 There was no question that "Beauty and the Beast" would top the box office chart this weekend. The only question was: How big would its opening weekend get?
The answer was an estimated $170 million in North America, making "Beauty" the seventh biggest debut in history, the biggest March opening ever, and the biggest premiere ever for a PG-rated film. It's also the biggest opening weekend for any of Disney's recent wave of live-action remakes of its catalogue of animated classics.
The film's opening weekend was slightly higher than most predicted, and, despite good-but-not-great reviews (71 percent "Fresh" at Rotten Tomatoes), high expectations from fans of the original 1991 film, a star (Emma Watson) who remained unproven outside of the "Harry Potter" franchise, "Beast" managed to net $350 million worldwide over its first weekend. Here's how the tale as old as time pulled it off:
1. Nostalgia "Beauty" is the first of Disney's live-action remakes whose source is a fairly recent film, one from the studio's animation renaissance of the 1990s instead of from when Walt was alive, which was more than a half-century ago. And the 1991 "Beauty" wasn't just any Disney animated feature; it was the first ever to earn a Best Picture Oscar nomination. So it was beloved by critics as well as young and middle-aged adults who grew up watching it and kids who fell in love with it on home video,
Plus, for years, Disney used the musical's "Be Our Guest" as a tourist jingle. So "Beauty" wasn't just a fondly-but-dimly-remembered film from the distant past; rather, it's been both ubiquitous and popular for more than 25 years straight.
Talking to Moviefone, Disney's Executive Vice President for Theatrical Distribution, Dave Hollis, cited nostalgia first among "Beauty's" strengths. He said the company found the 25-year interval since the first film to be the "perfect distance" to capitalize on the affection for the film held by viewers who were kids in 1991. Now, he said, those viewers are "parents bringing their children into theaters for the same kind of experience."
2. March Is the New Launchpad for Blockbusters March madness isn't just a basketball thing anymore. It also describes how crowded the late-winter month has become with summer-worthy blockbusters.
It's a trend that started with Disney's live-action update of "Alice in Wonderland" seven years ago, a film whose $116 million opening proved once and for all that you could open a blockbuster in March as easily as in May or June. Indeed, instead of releasing "Beauty" on staggered dates throughout the world, Disney put out the film on the same day in all but three major world markets (Australia, France, and Japan), allowing the movie to take advantage of spring break in the U.S. and similar springtime holidays around the globe. As a result, "Beauty" enjoyed similar record-breaking openings in many countries and grossed an estimated $180 million overseas.
The current March may be the most crowded one yet, with at least one new potential blockbuster every weekend, including "Kong" and "Logan." And yet, there seems to be room for everyone so far, with these hit films driving interest in theatrical moviegoing that has benefitted just about every wide release this month. "The market always expands for quality film," Hollis said. He acknowledged how thick with major releases March has become, but he said the month is "still unbelievably less crowded than the summer."
3. Old Story, New Visuals Disney's cartoon-to-live-action adaptations have tried, mostly with success, to be as imaginative and stunning to look at as the original animation. "Beauty" seems to work on this level as well, particularly with all the inanimate objects in Beast's castle coming to vivid, dancing life. As a result, the movie has done especially well in enhanced formats that bring in ticket surcharges.
Some 37 percent of sales went to premium formats, including 26 percent to 3D, eight percent to IMAX (2D and 3D), and 11 percent to other premium large format screens (2D and 3D). Those are large numbers for the high-end tickets, which usually account for 25 percent or less of a 3D movie's opening weekend. In fact, it's the biggest IMAX debut ever for a PG-rated movie, both domestically and worldwide. Hollis says the marketing played up the visuals, partly in order to broaden the film's appeal beyond families. "It's part of how we're positioning the film to general audiences," he said.
4. Good Word-of-Mouth As soft as the reviews were, they didn't do much to depress turnout among older viewers who still read criticism. Maybe that's because word-of-mouth was so strong. Paying customers gave "Beauty" an A CinemaScore, suggesting that they recommended it enthusiastically to others.
5. Families Really Wanted to See the Movie All the grumbling over the last few weeks about the movie's supposedly taboo-shattering depiction of LeFou (Josh Gad) as gay didn't seem to stop families from buying tickets to "Beauty."
Director Bill Condon's remarks about giving LeFou an "exclusively gay moment" at the end of the film had some prominent Evangelical activists up in arms and threatening boycotts of "Beauty" and Disney in general, and one Alabama theater made headlines for refusing to book the film. Nonetheless, advance-sales site Fandango called "Beauty" the fastest-selling family film in its history. Disney reported that families bought 50 percent of the tickets and that 35 percent of tickets went to kids 16 and under.
Asked whether the studio had any concerns about the possible impact of the religion-motivated backlash at the box office, Hollis declined to comment. Still, the movie's $170 million take speaks for itself.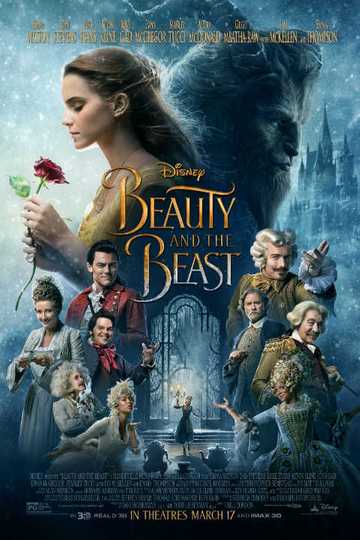 Beauty and the Beast
A live-action adaptation of Disney's version of the classic tale of a cursed prince and a beautiful young woman who helps him break the spell. Read More