 Are you ready for another Marvel movie? We hope so, because your friendly neighborhood Spider-Man is about to return to the big screen in "Spider-Man: Homecoming." The latest entry in the ever-growing Marvel Cinematic Universe explores Peter Parker's struggle to balance the warring pressures of high school and his superhero career.
Here are six key things you should know about the new movie before heading to the theater.
1. It's a follow-up to "Captain America: Civil War." "Homecoming" isn't a follow-up to 2014's "The Amazing Spider-Man 2." Instead, it features the rebooted Spidey who made his debut in last year's "Captain America: Civil War." Tom Holland will reprise the role of Peter Parker/Spidey, a young hero trying his best to live up to his uncle's example and make his city a safer place while also navigating the treacherous world of high school.
2. It's not an origin story. The nice thing about "Spider-Man: Homecoming" being a "Civil War" follow-up (aside from the copious MCU cameos) is the fact that viewers won't be subjected to yet another take on Spidey's origin story. It's possible the film will flash back to the fateful night where Uncle Ben died and Peter learned his important lesson about power and responsibility. But for the most part, this is a story about a hero who's been on the job for several months and confronting the first real challenge in his budding superhero career.
3. It's a high school comedy. Marvel made a point of casting a younger actor this time around. Where the previous two Spider-Man franchises mostly glossed over Peter's high school days (with 2002's "Spider-Man" having him graduate midway through the film), "Homecoming" presents Peter as a 15-year-old charter school student fighting a losing battle to keep his grades up and dealing with all the social pressures of high school.
He'll have a little help in the form of best friend/LEGO fanatic Ned Leeds (Jacob Batalon), who will discover Peter's secret at some point in the film. "Homecoming" will also introduce a new love interest for Peter in the form of fellow geek and introvert Michelle (Zendaya).
4. Iron Man is stopping by. "Homecoming" will be the first Spider-Man movie to feature familiar characters from the MCU. Look for Tony Stark (Robert Downey Jr.) to play a big role in the film as he mentors Peter and helps him make sense of his high-tech new costume. Stark will be accompanied by his faithful bodyguard/driver, Happy Hogan (Jon Favreau).
Don't be surprised if other Avengers mainstays also make cameo appearances here. At the very least, there will surely be a new cameo for the ever-present Stan Lee.
5. Vulture is the villain. Though this is a reboot for the Spider-Man franchise, "Spider-Man: Homecoming" won't be recycling one of Spidey's old villains. Instead, Adrian Toomes, aka The Vulture (Michael Keaton), will be making his cinematic debut. From what we've seen in the trailers, it seems that Toomes runs a salvage company that cleans up after New York's superhuman disasters. When that company is threatened by Tony Stark's bigger, sexier rival, Toomes dons a flight harness and begins terrorizing the city.
Vulture will be joined by at least two other Marvel villains -- Shocker (Bokeem Woodbine) and the Tinkerer (Michael Chernus).
6. There are two more sequels planned. Look for Spidey to remain a fixture in the MCU for the foreseeable future. Not only is the character appearing in 2018's "Avengers: Infinity War," Marvel has at least two direct "Spider-Man: Homecoming" sequels planned. The first of those is already scheduled for release on July 5, 2019.
That's to say nothing of Sony's ambitious plans for the expanded Spider-Man franchise. The studio is developing several spinoff movies, including "Venom" (starring Tom Hardy as Eddie Brock) and another film featuring the characters Black Cat and Silver Sable. There have been conflicting reports as to whether these films will actually be connected to the MCU, but here's hoping Holland's Spider-Man keeps plenty busy in the years to come.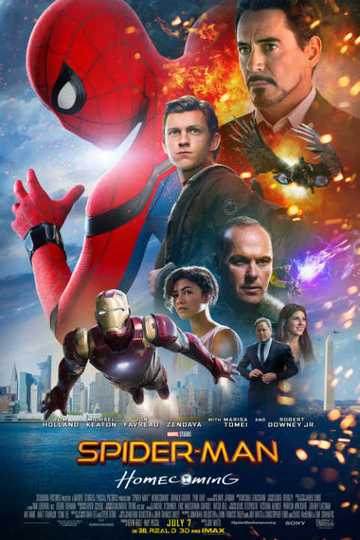 Spider-Man: Homecoming
Following the events of Captain America: Civil War, Peter Parker, with the help of his mentor Tony Stark, tries to balance his life as an ordinary high school student in Queens, New York City, with fighting... Read More