 You'd have to have been living on Jakku or some other remote planet not to have predicted that this week's box office winner would be the premiering "Star Wars: The Last Jedi."
The only real suspense was: How big would it open? Early tracking had it at about $200 million, though anticipation built towards predictions of $220 million. And according to Disney estimates, that's exactly where it debuted, at $220.0 million. That gives "Last Jedi" the second biggest opening weekend of all time, behind only the $248 million earned by "Star Wars: The Force Awakens" two years ago.
Predictable as "Last Jedi"'s box office victory may have been, there was still plenty of drama and plot twists on the weekend chart. Here's who came out ahead and who was left behind in the red dust of rebel base planet Crait.
Winner: Disney
Duh, right? Well, there's something to be said for doing everything correctly, capping off a 2017 slate that, with the release of "Last Jedi," pushed the studio across the $2 billion mark in annual ticket sales for the third straight year. Chalk it up not just to unleashing the usual relentless and ubiquitous marketing campaign (was there a retail establishment anywhere in the galaxy that wasn't hawking "Last Jedi" merchandise?), but also to making a movie that delivered what it promised to both fans and critics.
The key, Disney Executive Vice President for Theatrical Distribution Dave Hollis told Moviefone, is offering a sequel that's both familiar and surprising. "Last Jedi," he said, "delivered an experience that is totally 'Star Wars' and at the same time unexpected, fresh, and new." The familiarity brings in fans and general viewers, while the movie's genuinely surprising twists generate follow-up sales. Of the movie's tendency to astonish, Hollis sais, "We hope it'll turn into a ton of repeat business."
Winner: Social media
To that end, online chatter is more important than ever, Hollis says. When it comes to fans discussing the movie's plot twists and reveals, Hollis says, "Last Jedi" is "amplified in that [social media] space in a way we've never seen before." It's also why business actually grew from $60 million on Friday to $64 million on Saturday, a pattern that doesn't usually happen. "The weekend grew in part because of social media," Hollis said. As successful as pre-sales were, there were still plenty of last-minute sales at theater box office windows on Saturday because social media chatter from Friday viewers "drew more walk-up business" the next day, Hollis said.
Loser: Sequel fatigue
That's been the excuse all year for the failure of various high-profile franchise films. But audiences clearly aren't tired of "Star Wars," as is apparent from the fact that "Last Jedi" opened just 11 percent off from the record-setting debut of "Force Awakens" two Decembers ago and well ahead of the $156 million debut of spin-off "Rogue One" last December. No wonder Hollis isn't worried about the release of the second spin-off "Solo: A Star Wars Story" just five months from now. Disney's own Marvel Cinematic Universe series has proved that the market can absorb more than one installment per year of these mega-franchise movies. As he puts it, "'Star Wars' is everywhere. It's such a deep part of the culture. The appetite exists, and there's no worry about proximity."
Winner: 20th Century Fox
Or should we say Disney (again), which formally announced last week its intent to buy Fox? The studio that distributed all six of the pre-Disney "Star Wars" films countered "Last Jedi" this weekend with the cartoon "Ferdinand," aiming for an audience of very young children who are too young for "Star Wars." It's a strategy that's worked for Fox in the past with the "Alvin and the Chipmunks" movies, and it worked as expected this weekend, with "Ferdinand" debuting with a solid $13.3 million, according to estimates. Will Disney continue to program against itself and play both sides of the fence if the Fox merger goes through? "It's too soon to tell," Hollis said.
Loser: Every other studio
Nobody else dared debut a new film in wide release this weekend, and who could blame them? Most holdover films saw steep declines this weekend; hopes that "Last Jedi" would draw people to the multiplex who would then go see other films if they couldn't get "Star Wars" tickets proved unfounded.
You do have to give Warner Bros. credit for nearly tying Disney in market share for the year. Between the two of them, these studios raked in 40 percent of all ticket proceeds this year, thanks both to Warners franchise hits like "Wonder Woman" and one-off successes like "Dunkirk." Even so, other Warners movies that should have fared better have not. It's got to sting that "Justice League," the studio's big tentpole movie for the year, has earned less in five weeks than "Last Jedi" has grabbed in three days.
Winner: A few Oscar hopefuls
"The Shape Of Water," which topped the Golden Globe nominations last week with seven mentions, enjoyed a modest expansion this weekend, from 41 theaters to 158, and was rewarded with an estimated take of $1.7 million, or $11,000 per screen. That's a hefty average, but it's on a par with the per-theater takes this weekend of "Darkest Hour" ($10,119 per screen), "Call Me By Your Name" ($16,398 average), and "I, Tonya" ($35,238 per venue). Aside from "Last Jedi" ($51,996 per screen), no movie did a better job than these of filling theaters. True, none of them, except "Shape of Water," is currently playing on more than 100 screens, but these averages bode well for when these films expand into nationwide release in the coming weeks.
Loser: The rest of the awards-seekers
The season's other critical favorites, including "The Disaster Artist," "Lady Bird," "Three Billboards Outside Ebbing, Missouri," and "The Florida Project," all seem to have peaked and saw drastic declines this weekend, even before most of them had had a chance to be seen by nationwide audiences. Most saw drops of about 40 percent this weekend, but "Disaster Artist," which added 170 theaters to last week's tally of 840, dropped a heavy 59 percent. The three-week old comedy still made an estimated $2.6 million, good for eighth place and a total to date of $12.9 million. But a movie that makes fun of another movie ("The Room") for being a cult failure apparently has a natural ceiling, and "Disaster Artist" seems to have hit that ceiling.
Winner: Premium formats
Some 30 percent of "Last Jedi" sales came from theaters that made viewers cough up extra to rent 3D glasses. That's a fairly high number, but it reflects Disney's success in convincing viewers that "Last Jedi" was the kind of movie that needed to be seen in a theater, in the most immersive experience possible. Indeed, the movie did well from all premium formats, generating 11 percent of its sales from giant IMAX screens and another 14 percent from other premium large format screens. So, not only did a near-record number of moviegoers decide that they needed to see "Last Jedi" on a larger screen than they had in their living rooms, but one in four of those viewers decided they needed to see it on an even bigger screen than the standard wall at the multiplex.
Loser: 2017
For all of "Last Jedi's" success, including making this the biggest box office weekend of the year, it wasn't enough to counter the months-long slump that plagued the multiplex throughout the summer and fall. The total box office remains 3 percent behind this time last year, and it's not likely that the year's receipts will catch up to 2016's in the two weeks of 2017 that remain. Rey may be able to use the Force to lift giant boulders, but not even she has the strength to lift enough couch potatoes off their sofas to make up for all the doldrums of 2017.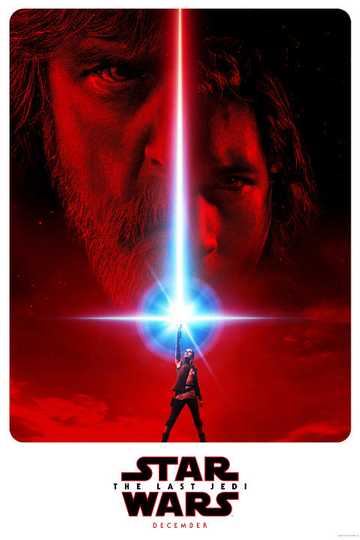 Star Wars: The Last Jedi
Rey develops her newly discovered abilities with the guidance of Luke Skywalker, who is unsettled by the strength of her powers. Meanwhile, the Resistance prepares to do battle with the First Order. Read More