A 'Mighty Ducks' TV Show Is in the Works: Report
Prepare your best Flying V formation: "The Mighty Ducks" is reportedly set to become a TV series.
The Hollywood Reporter has the scoop that ABC Signature Studios, the cable and streaming wing of ABC TV, is currently developing a 30-minute series based on the beloved children's movies from the '90s about a rag-tag youth hockey team. According to THR, it's an ongoing mission of ABC Signature head Tracy Underwood to "identify Disney titles and intellectual property that can appeal to a global audience," and an opportunity presented itself when Underwood was approached by the film's original creative team about transforming the films into a series.
Steven Brill, who wrote the movie trilogy, and Jordan Kerner, who produced, are returning to those roles for this new project, though THR notes that it's still very early in the planning stages, with no script in place yet and no indication whether it's a reboot or sequel series. It's also unclear just where the show will be shopped, since it could go to either a traditional broadcast or cable network, a streaming service, or even find a home on Disney's own streaming service, set to launch sometime next year.
This is the second time that the "Ducks" will fly on the small screen, following an animated series (featuring actual ducks) which aired 26 episodes from 1996 through 1997. The original "Mighty Ducks" movie hit theaters in 1992, followed by sequels "D2: The Mighty Ducks" in 1994 and "D3: The Mighty Ducks" in 1996. Those flicks inspired the creation of the real-life Anaheim Ducks NHL franchise.
[via: The Hollywood Reporter]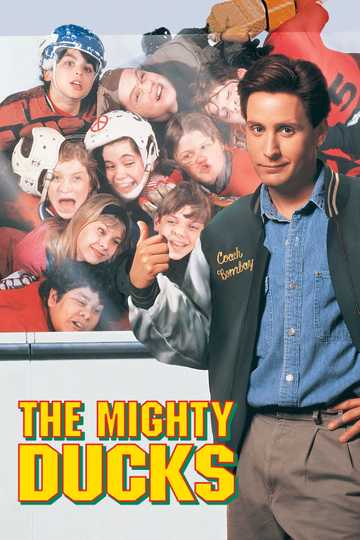 "They can't skate. They can't win. They can't be serious."
After reckless young lawyer Gordon Bombay gets arrested for drunk driving, he must coach a kids hockey team for his community service. Gordon has experience on the... Read the Plot