 The lackluster opening weekend box office haul of spinoff flick "Solo: A Star Wars Story" has shocked the suits at Disney and Lucasfilm, so much so that the studio is reportedly rethinking its release strategy for the series going forward.
That's according to The Hollywood Reporter, which spoke with industry analysts about the film's disappointing $103 million four-day total over Memorial Day weekend. According to the trade, sources at Disney have chalked up most of the problem with the film's underperformance to a case of poor scheduling, with "Solo" bowing only five months after the last "Star Wars" flick, "The Last Jedi."
THR reports:
While the studio isn't abandoning its plan to release one Star Wars feature per year, insiders concede Disney and Lucasfilm aren't likely to release two Star Wars movies so close together again, regardless of whether they are anthology films, like Solo, which tells of Han Solo's beginnings, or part of the official episodes, like Star Wars: The Force Awakens and its follow-up, The Last Jedi.
Setting aside the "Star Wars" fatigue factor, another problem plaguing "Solo" is all the current competition at the multiplex. There's a reason why "Deadpool 2" moved up its release date: avoid competing for eyeballs with the folks at Lucasfilm. That strategy actually wound up being smarter than Fox could have predicted, since the demand for "Deadpool" was incredibly high, and continued to be during "Solo's" debut outing, perhaps part of the reason why the latter flick fell short of early estimates.
Disney execs are pointing to that exact problem, with the studio's distribution chief, Dave Hollis, telling THR he thinks that "Deadpool 2" and "Avengers: Infinity War" hitting theaters so close to "Solo" certainly cut into its business.
"There's a question of frequency, and how many times people will go to the movies," Hollis told THR. "Is this too much and too soon for a third time in a five-week period?"
That may be, but luckily for Disney, it has well over a year to figure out its issues: "Star Wars: Episode IX" isn't due for release until December 2019. That should give fans plenty of time to yearn for a return to a galaxy far, far away.
[via: The Hollywood Reporter]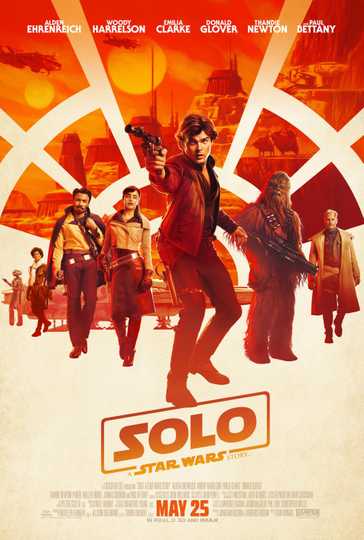 Solo: A Star Wars Story
Through a series of daring escapades deep within a dark and dangerous criminal underworld, Han Solo meets his mighty future copilot Chewbacca and encounters the notorious gambler Lando Calrissian. Read More