 "Ocean's 8" stole the box office crown this week from "Solo," pushing it down -- and way down at that -- to No. 2.
The Sandra Bullock/Cate Blanchett-fronted "Ocean's" sequel opened to $41.5 million. That's a bit higher than the best opening of the George Clooney/Brad Pitt trilogy, "Ocean's Twelve" in 2004, with $39.1 million.
Second place went to "Solo: A Star Wars Story," but it didn't even get half of the "Ocean's 8" money this week, settling for $15.1M at second place. (Last week it topped the box office with a sad second week tally of just under $30 million.)
"Deadpool 2" edged out new horror-thriller "Hereditary," but barely. The "Deadpool" sequel reported $13.65 million for No. 3 on this week's box office chart, with Toni Collette's horror at $13.03 million for No. 4.
Still, that was a record for indie studio A24; as Deadline noted, "Heredity" topped their previous big opener -- "The Witch" -- by nearly 40 percent. "Hereditary" is riding rave reviews from critics, although audiences don't seem quite as sold. ("Hereditary" actually ended up with a savage D+ CinemaScore, which ... actually, the dichotomy of rave reviews and a D+ may help sell even more tickets. At least you won't just shrug it off!)
The other major newbie of the week, "Hotel Artemis," had to setting for No. 8 at the box office, with $3.1 million. That's below the indefatigable "Avengers: Infinity War" at No. 5 with another $6.8 million (putting it *thisclose* to $2 billion), last week's debut "Adrift" at No. 6 with $5.05 million, and "Book Club" still in the game with $4.2 million at No. 7. Meanwhile, "Jurassic World: Fallen Kingdom" is already devouring prey at the international box office, which is a good way to get itself early headlines. It won't open in North America until June 22 -- after "Incredibles 2" takes over next week -- but the "Jurassic World" sequel debuted in 48 markets overseas, earning itself a hefty $151.1 million for its international opening.
What's next? "Incredibles 2" has every plan to beat "Finding Dory" for the record of best animated opening, when it arrives in U.S. theaters this coming Friday, June 15. And then "Jurassic World 2" will probably take the crown for its North American debut on June 22, but it may still be a close race between supes and dinos.
[Via: Deadline, Box Office Mojo]
Want more stuff like this? Like us on Facebook.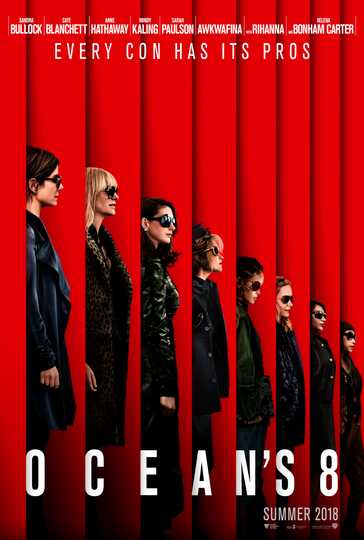 Ocean's Eight
Debbie Ocean, a criminal mastermind, gathers a crew of female thieves to pull off the heist of the century at New York's annual Met Gala. Read More