 The sequel to "Spider-Man: Homecoming," called "Spider-Man: Far From Home," will officially launch Phase 4 of the Marvel Cinematic Universe. It comes out two months after "Avengers 4."
It'll be a bold new world, with Peter Parker (Tom Holland) showing us the way.
The "Avengers" directors and Marvel Studios boss Kevin Feige have been trying to play coy about the timelines, now that we've all seen "Avengers: Infinity War" -- (RIGHT? Spoilers, if not) -- and know that Peter Parker felt funny and then disappeared.
How can he have a sequel after that? Here's Feige trying to deflect with io9, while explaining more on when and where "Far From Home" is set:
"Well, when does that movie take place? We know it's the summer. I think it's summer vacation. I think he's going to Europe with his friends. I don't know what summer... I mean, I do know [but you don't]."
Feige already said that it would take place after the "Avengers" movies, so it's too late to backtrack. He also said "Far From Home" had multiple meanings, including that it literally sends Peter far from his New York home. So we know he's going to Europe with friends over the summer -- maybe on a summer school trip?
Back in June 2017, Feige told io9 why they set the "Spider-Man" sequel right after "Avengers 4" (aka Untitled Avengers) to launch the next phase of the MCU:
"So much happens in [the 3rd and 4th Avengers movies], as you can imagine, and so much is affected by it that we felt what better person to hold your hand and lead you into the next incarnation of the MCU, in a grounded, realistic manner, than Peter Parker? So, coming out two months after Untitled Avengers, [that's what] much of what the next Spider-Man film will be about.

It was purposefully done like this. Like how the events of Captain America: Civil War impacted Peter as he was dropped off by Tony and expected to go back to continue his sophomore year, how the hell are the events of Infinity War and Untitled [Avengers] going to affect him as he, yes, goes back to his junior year?"
He's still only a junior! There will be a third movie to complete Holland's Peter Parker trilogy, presumably with his graduation. Feige also shared this Spidey sequel tease, more recently, to io9:
"The way Civil War and the fact that he went to Leipzig Airport and then has to go back to school, informed Homecoming, the two Avengers films that precede [the sequel] will greatly inform, probably even more so, the next movie."
"Spider-Man: Far From Home" starts filming this July for its release on July 5, 2019. "Avengers 4" opens May 3, 2019. (Feige said we'd get the official title around when we'd also get the first "Captain Marvel" teaser.) "Captain Marvel" opens March 8, 2019. So next summer is just going to be back-to-back-to-back MCU movies. We're ready!
Want more stuff like this? Like us on Facebook.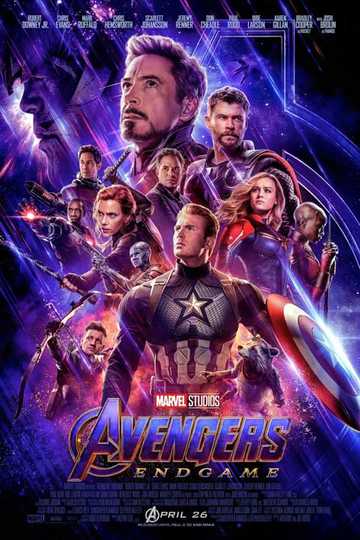 Avengers: Endgame
After the devastating events of Avengers: Infinity War, the universe is in ruins due to the efforts of the Mad Titan, Thanos. With the help of remaining allies, the Avengers must assemble once more in... Read More