Sony shuffled a bunch of film dates around last night, including moving Quentin Tarantino's "Once Upon a Time in Hollywood" away from the anniversary of Sharon Tate's August 9 murder.
The star-studded film costars Margot Robbie as Sharon Tate, with the project intentionally arriving 50 years after her 1969 death.
But now it won't arrive *exactly* 50 years later. That's probably a good idea -- rather than looking like your Hollywood blockbuster is capitalizing on someone's death day -- but TheWrap was told that the anniversary had nothing to do with the film's release date change. Instead, the studio wanted to give the film a full month of summer play at the box office. It's just a two-week change, but sometimes that does make all the difference.
Now that it's opening July 26, 2019, "Once Upon a Time in Hollywood" is currently opening one week after "The Lion King" and a week before "Hobbs and Shaw."
TheWrap said this QT move would put the Leonardo DiCaprio/Brad Pitt drama opposite the Dwayne Johnson/Jason Statham "Fast" spinoff, but Deadline reported that Universal moved "Hobbs and Shaw" a few months ago -- from July 26 to August 2. August 2 also has "The New Mutants" and it's a week before "Artemis Fowl."
"Hobbs and Shaw" wouldn't like going opposite "Once Upon a Time in Hollywood" since they are likely to share audiences. So having QT's film open one week earlier gives it a bit of breathing room, but not much.
Honestly, next summer is jammed -- July alone also has "Spider-Man: Far From Home" and "Top Gun: Maverick." The month before, "Toy Story 4" will be packing theaters. That whole summer is crazy. And that's not even accounting for "Avengers 4" opening in May and probably dominating the box office charts all summer.
Want more stuff like this? Like us on Facebook.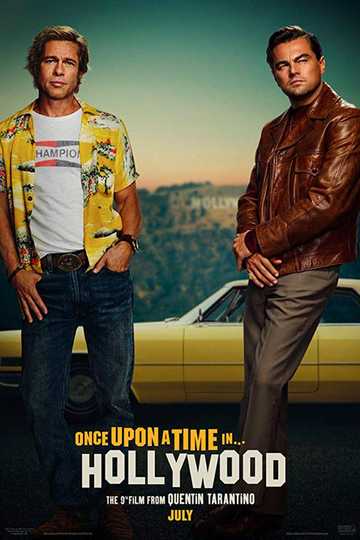 Once Upon a Time… in Hollywood
Los Angeles, 1969. TV star Rick Dalton, a struggling actor specializing in westerns, and stuntman Cliff Booth, his best friend, try to survive in a constantly changing movie industry. Dalton is the neighbor... Read More