"Avengers 4" should be starting up its reshoots pretty soon, and it looks like some asses are on the line.
ComicBook.com noticed a new Central Casting call out of Georgia for "Mary Lou," which is the working title of "Avengers 3" and "Avengers 4," which filmed back-to-back. (They were originally going to be "Infinity War - Part 1" and "Part 2.")
"Avengers 4" is apparently looking for a Photo Double, specifically a body/butt double for a petite blonde woman. That makes it seem like it might be for Scarlett Johansson's Black Widow, although that's just a guess.
The schedule has this person starting in September and working multiple days "through October," which is longer than we thought "Avengers 4" additional photography might go.
"****FEATURE FILM - Mary Lou****
BODY/BUTT DOUBLE
Working multiple dates starting September
Location: Fayetteville, GA
Rate: $125/10

Central Casting is looking for a Photo Double to work on this exciting project. Filming will likely begin in early September; you should have a flexible schedule and ability to work multiple days a week through October. An interview and fitting will be required within the next 2 weeks. Filming will mostly take place in Fayetteville & the Greater Atlanta Area. Experience is preferred. You MUST fit these size requirements:

-Woman #1: Looking for a female who appears to be Caucasian, 20's-30's. Height 5'2 - 5'4, Bust 32B - 32D, waist 25 – 27, hips 36 – 38, dress size 0-4. Hair color: BLONDE

ONLY SUBMIT IF YOU FIT THIS DESCRIPTION! And follow the instructions carefully or you will NOT be considered! To submit, send an email to MaryLou@CentralCasting.com and include: your name, phone number, height, weight, sizes, current photo(s) and a resume of any relevant experience. For photos, you MUST include:

1. a headshot
2. full body shot of your front side, head to toe
3. full body shot of your back side (wearing ALL BLACK, leggings or yoga pants- must be form fitting).

Please put "BODY DOUBLE" in the subject line."
Central Casting posted what it means to be a double versus a stand-in, etc.:
"Unlike Stand-Ins, doubles take the place of an actor on screen, though their faces are rarely (if ever) seen. Central Casting casts a variety of doubles to work on our productions.

Photo Double
A photo double must resemble an actor as closely as possible in height, build, hair color, and complexion. They often need to look like they could be the actor's twin. A photo double can be used when a principal actor is in a scene but is not the focus and is essentially functioning as a Background Actor. Since the photo double looks like the actor from a distance, they can film in the actor's place while they prepare for other scenes.

Body Double
Body doubles can be used in instances where an actor plays two or more characters who appear in the same scene. While filming, the double will take the place of one of the characters and their face will be replaced with the actor's in post-production.

Body doubles may also be used to replace a principal actor for nude scenes, to perform special skills, or for second unit or insert shots to free up the actor to film other scenes."
This is Marvel/Disney, so it's not for a nude scene. This is just the latest "Mary Lou" casting, and you never know what might still pop up on this schedule, or for the next Marvel movie -- since they tend to base filming in the Atlanta area. Maybe the next one will be for a male butt double, although the people who make the posters seem happy with the existing male butt shots.
"Avengers 4" is scheduled for release May 3, 2019.
Want more stuff like this? Like us on Facebook.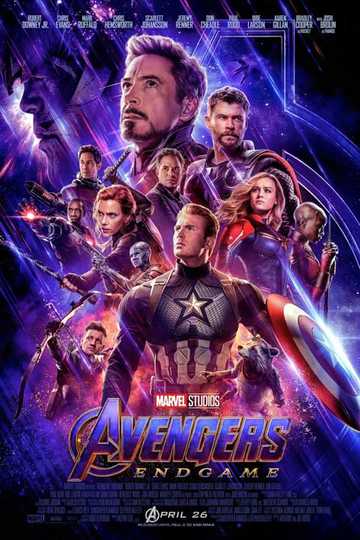 Avengers: Endgame
After the devastating events of Avengers: Infinity War, the universe is in ruins due to the efforts of the Mad Titan, Thanos. With the help of remaining allies, the Avengers must assemble once more in... Read More