Fans get to see Luke Perry in a final role.
The late actor died Monday after suffering a stroke the previous Wednesday. Perry was hospitalized but sadly never recovered. At the time of his death, he was starring as Fred Andrews in The CW's hit teen drama series "Riverdale." He had also completed his work on Quentin Tarantino's ninth film, the upcoming "Once Upon a Time in Hollywood," as Entertainment Weekly reports.
The upcoming Tarantino film is a high-profile project that centers on an actor and his stunt double as they get involved in the film industry in the late 1960s. At least one of the Charles Manson murders -- the Tate murders -- ties into the story. Perry's character is an actor on a Western TV series. His co-stars include the likes of Leonardo DiCaprio, Brad Pitt, Al Pacino, Kurt Russell, and Margot Robbie.
DiCaprio tweeted a heartfelt message about Perry following his death, noting that he was "a kindhearted and incredibly talented artist," and that it "an honor to be able to work with him."
Luke Perry was a kindhearted and incredibly talented artist. It was an honor to be able to work with him. My thoughts and prayers go out to him and his loved ones.

— Leonardo DiCaprio (@LeoDiCaprio) March 4, 2019
A number of other Hollywood figures -- many of whom had worked with Perry -- also posted tributes.
My heart is broken. I will miss you so much Luke Perry. Sending all my love to your family. ❤️ #LukePerry

— Molly Ringwald (@MollyRingwald) March 4, 2019
Luke Perry... you were a joyful and vibrant soul. You will be missed but most certainly your legacy will be remembered forever. Rest in love and peace, friend. #Riverdale

— Riverdale Writers Room (@RiverdaleWriter) March 4, 2019
RIP Luke Perry. ? pic.twitter.com/g6rR5lqLUG

— Mayim Bialik (@missmayim) March 4, 2019
Dearest Luke,
I will forever bask in the loving memories we've shared over the last thirty years. May your journey forward be enriched by the magnificent souls who have passed before you, just like you have done here, for those you leave behind.

— Ian Ziering (@IanZiering) March 4, 2019
The first time I met Luke Perry we talked about what kind of movie we wanted "Buffy" to be. I asked if he'd ever seen "Near Dark" and he gave me a look of HOW DARE YOU SIR and I knew we'd get along. Funny, committed, and always gracious. He shouldn't be gone.

— Joss Whedon (@joss) March 4, 2019
Luke Perry. My teen crush. I'm glad I got to tell you. Sheepishly red faced and all. You were lovely and you gave great hugs. Grateful to witness and experience your kindness and warmth. #RestInPeace love. Blessings to your family.

— Rosario Dawson (@rosariodawson) March 4, 2019
Absolutely devastating news. Luke Perry~ you left us way too soon. Such a kind soul. My prayers are with his family and dear friends. ?

— Debra Messing (@DebraMessing) March 4, 2019
Luke Perry was a great actor and truly one of a kind. Watching him on 90210 was one of the reasons why I wanted to move to LA. Thinking of his family and friends on and off the set. Rest in peace.

— Ryan Seacrest (@RyanSeacrest) March 4, 2019
Perry's final film, "Once Upon a Time in Hollywood," hits theaters July 26.
[h/t: EW]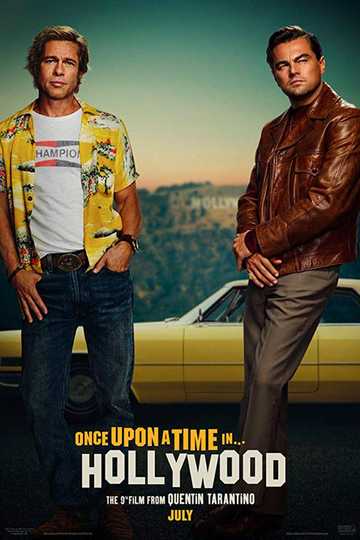 Once Upon a Time… in Hollywood
Los Angeles, 1969. TV star Rick Dalton, a struggling actor specializing in westerns, and stuntman Cliff Booth, his best friend, try to survive in a constantly changing movie industry. Dalton is the neighbor... Read More