Every Disney Live Action Remake, Ranked
Disney-Live-Action-collage This summer has been dominated by Disney's live-action remakes, with the over-$1-billion box office of "Aladdin" and "The Lion King." It was enough to make us look back at all of the studio's live-action remakes to see what really soars and what just stinks.
13. 'Maleficent' (2014) What makes "Maleficent" the worst Disney live action remake of an animated classic is that the premise is so undeniably delicious and the finished product so utterly bland. In updating 1959's animated masterpiece "Sleeping Beauty," the filmmakers decided to tell the story from the point of that film's iconic antagonist (now played, with gleeful devilishness, by Angelina Jolie). That is a GREAT IDEA. Unfortunately the movie is totally boring and stylistically inert (an even greater crime considering how gorgeous the animated original is), directed with little flair by first timer Robert Stromberg (a production designer who was promoted after Tim Burton rightfully passed). One of Disney's biggest hits, it'll get a sequel later this year with "Maleficent: Mistress of Evil." Whatever.
12. 'Beauty and the Beast' (2017) Whew boy. "Beauty and the Beast" is the rare remake that feels totally beholden to the original, oftentimes clumsily recreating entire sequences almost shot-for-shot, but also itchy enough to festoon lots of unnecessary nonsense on an otherwise perfect narrative frame. This movie is 45 minutes longer than the original. But what does it actually add? Some bad new songs and a subplot about Belle's mother dying from the plague!?! Cool! For all of its technological wizardry, it is flat and unconvincing, with phoned-in performances and poor production design (that is what they thought the Beast should look like? Have they seen Glen Keane's original drawings? They're jaw-droppers!) Anyway, it made $1.2 billion.
11. '102 Dalmatians' (2000) It's unclear why, exactly, a sequel to "101 Dalmatians" was pushed through the production pipeline, besides the fact that Glenn Close had a blast playing Cruella de Vil. (She's the only one, in front of or behind the camera, that returned for the sequel.) Animation director Kevin Lima's first live action feature is appropriately cartoon-y and kid friendly (it was rated G) but doesn't offer much in the way of entertainment value or even adorable cuteness (although all-white dog Oddball is a genuinely scene stealer). The first "101 Dalmatians" might have seemed crass and not-that-fun … until you watch the follow-up. Then it feels like poetry.
10. 'Alice Through the Looking Glass' (2016) A weirdly delayed sequel to a certifiable smash (Burton, who struggled with the technological complexities of the first film, passed), "Alice Through the Looking Glass" is pointless and dated. Everything that made the first film so much fun, from the overall look of the production to the characters to Johnny Depp fully embracing the "mad" aspect of the Mad Hatter, by the time the sequel arrived, was passé. Mia Wasikowska tries her best, swimming through chintzy CGI and maneuvering a needlessly complicated time travel plot. (One highlight: you get to see the Cheshire Cat as a Cheshire Kitten!) What could have been a nifty little franchise was murdered after this follow-up bombed at the box office. Oh well.
8. 'Christopher Robin' (2018) It cannot be overstated just how cute the computer-animated versions of Pooh (once again voiced by Jim Cummings) and the rest of the Hundred Acre Wood crew are, especially when they're interacting with real people (principally Ewan McGregor's grown-up, shell-shocked Christopher Robin). But the rest of the movie is a real dud. For some reason, director Marc Forster and his small army of screenwriters (including Alex Ross Perry and the great Tom McCarthy) decided to depict the magical land of the Hundred Acre Wood and post-World War I England with the same slapdash, fog-soaked visuals. There was nothing that harkened back to the original animated featurettes that the new movie was based off of, leading to a cheap, ugly-looking film.
8. 'Alice in Wonderland' (2010) The film that effectively kicked off the whole animation-to-live-action craze, Tim Burton's "Alice in Wonderland" was the right film at the right time. It was able to capitalize on the insane commercial interest in 3D (it was released just months after "Avatar") and at a time when the commodified Burton brand of wacky fantasy hadn't totally worn out its welcome. And you know what? It's a pretty solid movie. Aside from some visual effects that haven't totally aged well, it's got a fairly simple, easy-to-follow storyline, some nifty flourishes, and a committed lead performance by the always-great Mia Wasikowska. And like all the best films on the list, it paid homage to the original classic while never feeling slavishly indebted to it.
7. '101 Dalmatians' (1996) Back before there was a concerted effort to systematically remake all of the Disney animated classics, the studio dabbled in live action adaptations, including this well-regarded updated of "101 Dalmatians." The thing that most people remember from this movie is Glenn Close's wonderfully over-the-top performance at Cruella DeVil, but few know that Sigourney Weaver was originally courted for the role. (It's true!) This sturdily made film, with a script by John Hughes and some nifty physical effects work courtesy of Jim Henson's Creature Shop, is charming and warm, if also slight and forgettable. Returning to it reveals some hidden surprises, like Hugh Laurie playing one of the goons and how nimble Adrian Biddle's camerawork is. "101 Dalmatians" is a trailblazer, through and through.
6. 'The Lion King' (2019) Disney counts "The Lion King" as a live-action remake, although there's only a single shot that features actual photography. But considering it's one of the recent, high-profile remakes (and now the most profitable Disney movie ever, live-action or animated), we figured we'd include it. While the critical reception to "The Lion King" was largely indifferent, clearly audiences ate it up, and as they should: it's an absolutely gorgeous accomplishment, full of animation so realistic that you'd swear the animals were real. And while there aren't any major changes to the original text, star Billy Eichner described it as like a Broadway revival, essentially the same but with new twists and a brand-new cast. As far as an aesthetically bold reinvention, it's a beautiful distraction.
5. 'Cinderella' (2015) Kenneth Branagh turned out to be the perfect filmmaker to update 1950's "Cinderella" for modern audiences, mostly by maintaining the movie's very classical feel. Lily James is a perfect Cinderella, still put-upon and romantic, but much more agency and nuance. And Cate Blanchett, as Lady Tremaine, the evil stepmother, is given more complexity while still retaining her larger-than-life theatrics. (She's a perfect foil.) Much of the more outwardly "animated" aspects of the film are stripped away (no talking animals, sadly), replaced with a bedazzled kind of elegance.
4. 'Aladdin' (2019) For those who find the marketing materials unappealing, just see the movie. Nothing about the movie works in short, easily digestible, commercial-break-during-"The Bachelorette" lengths; instead, you just have to let the new "Aladdin" wash over you, in all of its candy-colored glory. And, truth be told, it's a fizzy delight, anchored by a pair of wonderful young stars (Mena Massoud and Naomi Scott) and a genuinely dazzling performance by Will Smith in the kind of role that reminds you of how much you used to love Will Smith. Energetically directed by Guy Ritchie, it's the kind of live-action remake that adheres to the original enough to make sure it hits all those beats, but, when it wants to, is still able to take you to a whole new world.
3. 'Dumbo' (2019) The latest Disney live-action remake is also one of the best. After struggling with the technological complexities of "Alice in Wonderland," Tim Burton took a decidedly more classical approach to his remake of 1941's brilliant "Dumbo," relying mostly on practical sets and physical effects. Instead of following familiar story beats, he used the original as a jumping off point (which is fair considering it's only an hour long), focusing on a troubled outsider (Dumbo) who makes a connection with similarly damaged folk (from Colin Farrell's war veteran to Eva Green's trivialized trapeze artist) and empowers just about everyone he encounters. It's a remarkable story, told simply but with style and soul. (The central character, brought to life by the wizards at MPC, is a heartfelt marvel.) Plus, it's an absolute hoot to see "Batman Returns" costars Michael Keaton and Danny DeVito returning to the director's playground. The resulting film, affectionately paying homage to the original (without the racist stuff) while taking it in a whole new direction, isn't just one of the best Disney animation-to-live-action transitions but one of Burton's best films, period.
2. 'The Jungle Book' (1994) For their first live action adaptation, Disney swung about as far away from the animated original as they could. Instead of a freewheeling, cheery take on Rudyard Kipling's original stories, this new, 90s "The Jungle Book" was properly dark and respectful of the source material, making room for historical and sociopolitical context (boo, colonialism!) The animals didn't even talk. Instead of a broad, colorful musical, this was pulpier and more action oriented (writer-director Stephen Sommers would perfect this formula with his first two "Mummy" movies for Universal). Jason Scott Lee plays an older Mowgli who is dealing not only with the creatures of the jungle (including a very scary Kaa) but British intrusion into said jungle and his burgeoning feelings for a woman from his past (played now by "Game of Thrones" star Lena Headley). It's a sophisticated, soaring adventure and, back when these were just one-offs, a preview of everything that would come.
1. 'The Jungle Book' (2016) The only reason this is even considered a "live action remake" is that there is a live human child (Neel Sethi) at the heart of the movie. Everything in Jon Favreau's deeply expressive masterpiece was conjured inside a computer and instead on insisting everything look real, it instead feels real and, more importantly, like a cartoon. He wisely kept the animals at the same scale as they were in the animated film (so HUGE) and didn't get caught up in the details, folding in a number of nifty Disney Easter eggs in the process (like his decision to do the sound mix in Fantasound, a multi-channel process designed for "Fantasia"). Also, it can't be understated just how terrific his voice cast is, from Bill Murray's Baloo to Ben Kingsley's regal Bagheera and everybody in between (Idris Elba as Shere Khan?! Be-still our hearts!) "The Jungle Book" showed that with the right filmmaker and the perfect understanding of technology, a remake cannot usurp the original, exactly, but it can sit proudly alongside it.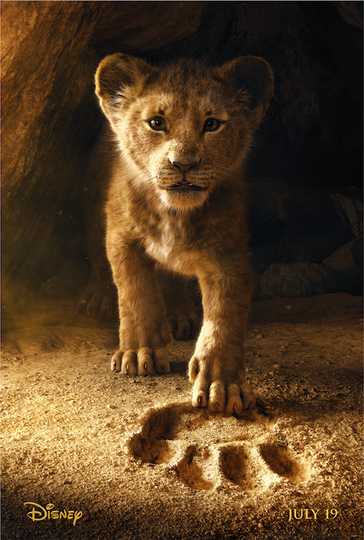 "The King has Returned."
1 hr 58 min
Jul 19th, 2019
Simba idolizes his father, King Mufasa, and takes to heart his own royal destiny. But not everyone in the kingdom celebrates the new cub's arrival. Scar, Mufasa's... Read the Plot