Female Filmmakers in Focus: Charlène Favier's 'Slalom' & Chloé Zhao's 'Songs My Brothers Taught Me'
Welcome to Female Filmmakers in Focus, where you will find a recommendation for films directed by women to seek out each week. This week features a look at the new film 'Slalom', plus an interview with director and co-writer Charlène Favier.
'Slalom' (2020) - Directed and co-written by Charlène Favier
At age 24 Charlène Favier started a production company called Char­lie Bus Pro­duc­tion. She studied act­ing at the Jacques Le Coq School in Lon­don and directing at the Asto­ria Stu­dio in New York. She has directed four narrative shorts and a documentary. 'Slalom' is her first feature film.
Selected for the cancelled 2020 Cannes Film Festival, 'Slalom' follows Lyz, a 15-year-old girl who is training to become an Olympic athlete specifically a slalom skier. With her father out of the picture and her mother starting a new job in Marseilles, Lyz lives alone. She struggles to balance her schoolwork with her intense training. Finding a mentor in her trainer Fred (Jérémie Renier), their relationship escalates in a way that Lyz is not prepared for and does not fully understand. Anchored by Noée Abita's first performance, 'Slalom' is an empathetic look at the struggles of teenage girls, as well as a searing condemnation of the way in which adults often take advantage of uneven power dynamics.
'Slalom' is out now in virtual cinemas through KinoMarquee.com. It is also playing at the Quad Cinema in New York City and Laemmle Monica Film Center in Santa Monica and Laemmle Playhouse 7 in Pasadena.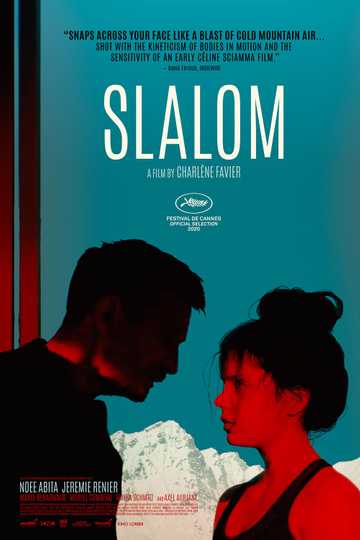 Read on for an interview with 'Slalom' director/co-writer Charlène Favier
Moviefone: What was the initial inspiration for this film?
Charlène Favier: The story came from my memories and experiences. It was really a necessity to make this film. It was also a therapy for me, this five year process of writing and shooting and editing. Telling this story was really important to me. I was in a writing workshop in La Fémis cinema school, which is a cinema school in Paris. I knew a little bit of what I was writing because I always tell the same story in my short films. Not about sexual abuse, but about resilience, about a young heroine who tries to find her identity. The sexual abuse story came afterwards. I was very shy to talk about that, but the students around me and my teacher, and later my producer told me, "you are telling a story about sexual abuse in sports." I was really, really afraid of this idea. I didn't realize what I was writing. It was really just coming out of me on my computer. I couldn't keep it in me. When I started to write about that, I had to tell everything.
MF: How did you cast Noée Abita?
CF: I discovered Noée Abita who plays Lyz in 'Ava' [directed by Léa Mysius]. She had the wild side I was looking for. She was shy, she was fragile and at the same time she was really powerful. That's what instinctively saw in her. Before shooting my feature, because we didn't have the money to shoot it right away, I decided to shoot a short film ['Odol Gorri']. I asked Noée to pay Eva in it, a character that was very similar to Lyz. It was a way for me to test out how directing would be, the mise-en-scène, and a way for me to test out filming the abuse scene. We became straight away like sisters. It was a really powerful relationship we built making that short. It was very natural for us to meet. It was something cosmic. Something from the universe to bring us together and tell this story.
MF: Can you talk a little about casting Jérémie Renier as Fred?
CF: Jérémie I knew for a long time. I love his work. I think he really acts with his body. He is able to really enter into his characters. He transforms himself the way American actors do, which I don't see enough with French actors. So he is able to play contradictory characters. With this character there are some sides to him which are teenage like, and yet are also so grave and so harsh. For Noée it was the same thing, so the three of us we became really a trio. We were like brothers and sisters, like siblings.
MF: How did you shoot the skiing sequences?
CF: It was all from the point of view of Lyz. On the skis I really wanted to be with her. I want to film the sensation; the vertigo and fear, but also the joy of sliding on the snow. We had cameramen who followed Lyz and ski next to her, filming the movements. There was also a lot of work in post-production to get this feeling because it has a lot to do with the sound. The sound of the ski, the sound of the breeze, the breathing. I really wanted the viewers to be with her.
MF: Were there any visual inspirations for the film?
CF: Mostly I looked at art and photography for the light, like Edward Hopper and Todd Hido or Bill Viola, but his is more experimental visual art. I am more inspired by photography and art than cinema, but I have to say I am very inspired by Jane Campion. Her cinema that puts emotion next to nature is very organic and instinctual. That is something that inspires me a lot.
MF: What do you hope audiences take away from the film?
CF: I think it's very important that the viewer experience this story through Lyz's eyes. I want them to feel what a 15-year-old girl goes through so that they will understand the importance of being able to say no, to be able to respect oneself, to be able to then tell the world who you are. I didn't want to pass any judgement. I want for people to be able to get into Lyz's body and to be with her as goes through these experiences.
MF: Can you recommend a film directed by a woman that readers should seek out?
CF: I'm always going to recommend Jane Campion. 'The Piano' is a fantastic movie that I could watch over and over. I also love her television show 'Top of the Lake.' I adore it. It's magnificent. A few other unique films that I adore I saw at the Deauville Film Festival a few years ago, the first two films of Chloé Zhao: 'Songs My Brothers Taught Me' and 'The Rider'.
---
'Songs My Brothers Taught Me' (2015) - Written and Directed by Chloé Zhao
Zhao's debut film premiered at the 2015 Sundance Film Festival, before screening at the Directors' Fortnight section at the Cannes Film Festival that same year. Set in the Pine Ridge Indian Reservation in South Dakota, the film follows teen siblings Jashaun Winters (Jashaun St. John) and Johnny Winters (John Reddy), whose father has just died in a house fire. At his funeral they discover he had 25 children with nine different women. Johnny is counting down the days until he graduates from high school with plans to move to Los Angeles with his girlfriend, while Jashaun comes of age observing the struggles of those around her. Zhao uses non-professional actors to tell her story, partnering with cinematographer Joshua James Richards to capture the wild beauty of western skies. 'Songs My Brothers Taught Me' is a lyrical, emotionally rich debut from a visionary talent.
You can learn more about Chloé Zhao in this previous column about her most recent film, the Oscar-nominated 'Nomadland'.