Female Filmmakers in Focus: Shari Springer Berman talks 'Things Heard & Seen' and 'Smithereens'
Welcome to Female Filmmakers in Focus, where you will find a recommendation for films directed by women to seek out each week. This week features an interview with filmmaking duo Shari Springer Berman and Robert Pulcini about their new horror thriller 'Things Heard & Seen,' plus Berman on Susan Seidelman's groundbreaking debut feature 'Smithereens'
Things Heard & Seen (directed by Shari Springer Berman and Robert Pulcini)
Shari Springer Berman and Robert Pulcini were both raised in New York City. They received master's degrees in film from Columbia University. They married in 1994 and have alternated whose name comes first in the credits of their films ever since. After making several documentaries, Berman and Pulcini received an Academy Award nomination for Best Adapted Screenplay for their first narrative film 'American Splendor' in 2003.
Based on the novel All Things Cease to Appear by Elizabeth Brundage, 'Things Heard & Seen' stars Amanda Seyfried and James Norton as Catherine and George, a couple who move to a remote home in the Hudson Valley, New York. While George starts a professorship at a small liberal arts college teaching art history, Catherine has given up a promising career in art restoration to raise their daughter Franny. Things get a bit weird when both Franny and Catherine suspect they are not alone in their home. Both the novel and film are inspired by the theological writings of 18th century thinker Emanuel Swedenborg, who in turn inspired many of the painters from the area's Hudson River School of painters in the mid-19th century. Unique in its use of Swedenborgian theory to create a sense of unease, the film also features stunning cinematography, and is anchored by a strong performance from Seyfried, fresh off her first Oscar nomination.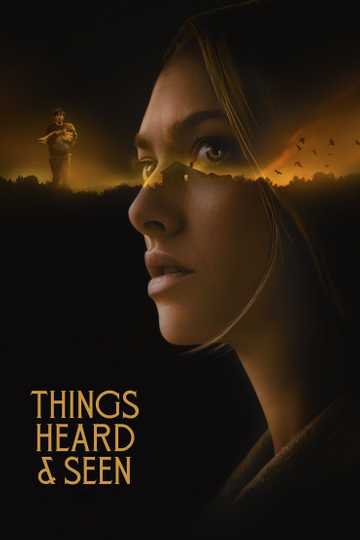 ---
Shari Springer Berman and Robert Pulcini spoke to Moviefone about their latest film.
Moviefone: How did you first get involved in this project?
Robert Pulcini: For decades now we have been talking about a movie to film in the Hudson Valley because we live there part time. We spent a lot of time talking about the light, the landscape, and the history of the Hudson River School of painters. All these things came together in this one book ['All Things Cease to Appear 'by Elizabeth Brundage] that I found.
MF: How did you discover the book?
RP: I was reading the local paper and there was a profile of the writer and it got a wonderful New York Times review, so I bought it. Once Shari signed off on it, we reached out. Elizabeth had been a fan of our movies.
MF: How did you find the locations in the Hudson Valley to shoot?
Shari Springer Berman: The real challenge of this movie was finding the right house. It's a character in the story. We looked at hundreds of farm houses all up and down the Hudson Valley. We didn't want it to look like your classic haunted, scary house. We didn't want Second Empire. We didn't want anything Victorian. We wanted something very simple, which was the way it was described in the book. It needed to be on a lot of land, somewhat in the middle of nowhere, or else there wouldn't be this feeling of abandonment. It needed to have a big huge barn. We were really getting frustrated and then Bob sent me a text: "We're going to go look at a house on Skunk's Misery Road. I really think this is going to be it." I thought it was a joke. The minute we got there, everybody knew this is our house.
MF: Before working on this project had you heard of Swedenborg?
SSB: I vaguely was aware of him, but after we read the book we went down the Swedenborg rabbit hole. There's still a community of people who follow him. They do these tutorials online that are really amazing, but complex. You could spend hours and hours listening and studying his philosophy and his spiritualism. He was remarkable. We tried to make it more of a metaphysical movie, make it more about the continuum of life and death.
RP: You see a lot of horror movies that use a Catholic framework for their horror, but I'd never seen Swedenborgian spirituality in a story like this.
MF: Besides George Inness, were there any other visual references for the film?
SSB: One day when we got the green light to make the movie, I'm a member of the Met, so I was like "Let's go to the Met!" They had a Thomas Cole exhibit. We felt like it was a weird Swedenborgian, like cosmic coincidence. Cole was a contemporary of Inness, and one of the founders of the Hudson River School.
RP: Also, we watched the movie 'Barry Lyndon,' even though it's referencing a different style of painting, it's the ultimate landscape painting movie. It's miraculous. Oddly enough, that was the first movie our cinematographer Larry Smith worked on. He came up under Stanley Kubrick, so we talked a lot about how that movie was made.
MF: How did you achieve the Inness-like visuals?
RP: We wanted the landscape to be soft. We talked about how much detail we want to see. There was one painting in particular, called Kaaterskill Falls. We basically replicated it with exactly where Thomas Cole had stood when he painted it.
SSB: We sent the cinematographers out there. It was hard to get there. They had to hike up a mountain to get there. They were able to recreate the exact frame of the painting. It's in the movie, we cut to the actual Kaaterskill Falls and then later when George is teaching one of the slides is the painting. Bob always says he thinks about what people will see the second time they watch a movie, so that's the kind of thing you might catch on a second viewing.
MF: Can you talk about working with Amanda Seyfried and F. Murray Abraham?
SSB: I mean obviously 'Mean Girls' is like a revelation. I remember really way back she was in this HBO series called 'Big Love'. She was brilliant in it and it was right after 'Mean Girls'. She's got endless talents. So, she was someone I always wanted to work with. Elizabeth, the writer of the book, when we told her that we cast Amanda she flipped out and said that was the face she had imagined when she wrote the book.
RP: One of things the novelist did so well is she presented this community of characters, and you really don't know quite how to feel about them as you're experiencing them. So, Murray has that kind of twinkle in his eye. He's such a charismatic actor, aside from being such a fantastic actor, that I felt like he really fit the bill perfectly. I think what's interesting is you end up sympathizing with people in the story that you don't initially think you're going to. He was just a dream to work with. He brought the gravitas that he brings to everything. It was just a perfect match.
Smithereens (directed by Susan Seidelman)
MF: Can you recommend another film directed by a woman for our readers to seek out?
SSB: This is a love letter to New York, Susan Seidelman's first movie 'Smithereens'. It's like New York in the late-70s/early-80s. New York is completely a mess. It's the very beginning of independent filmmaking. It's just a movie that inspired me to want to be a director. A woman made it. It was the New York that I grew up in. It was very inspiring and real. I remember seeing that movie, and it really did inspire me to want to be a director, or to think that I could be a director. It made me think, "Oh, I could do that!" I met her once, and I was fangirling like crazy. I was like, "Oh my god, you have no idea." and she seemed so lovely. I told her she really inspired a lot of people, a lot of women of my generation to become directors. She deserves her props. "She was a legend in her own mind."
1 hr 34 min
Nov 19th, 1982
---
'Things Heard & Seen' is now available on Netflix.