James Bond Producer Barbara Broccoli on the Series' Past, Present and Future
Broccoli discusses Daniel Craig's decision to go out with a bang, keeping Bond in theaters and whether Idris Elba could take the role.
The 25th Bond movie, 'No Time to Die' has been a huge hit, making more than $774 million worldwide in ticket sales at a time even as the pandemic continued to stifle the box office.
Now, producers Barbara Broccoli and Michael G. Wilson, who have shepherded the film series since 1995's 'GoldenEye', have been talking about the decision to kill off the character (yet keeping the "James Bond will return" caption at the end), their insistence that 'No Time to Die' remain a purely theatrical release, and the future of the character.
'No Time to Die's biggest shocker, of course, was Daniel Craig's Bond sacrificing his life to save Madeleine Swann (Léa Seydoux) and their young daughter. He literally goes down in a blaze of, well, not quite glory, but missile explosions. According to Broccoli, the decision to kill Bond came early in Craig's tenure.
"The conversation began when we opened 'Casino Royale.' Daniel and I were in Berlin," Broccoli tells 'Deadline's Crew Call Podcast. "It was a big success, and everybody embraced him and there was a lot of excitement. He and I were in the back of a car in Berlin going from the screening to the hotel. And he brought the idea up then. He said, 'what about if I die?' Well, first of all, he said, 'how many of these pictures have I got to do?' Which made me laugh after all the negotiating we'd been doing with agents and everybody.
"Stupidly, I said, 'four…' I should've said 'nine or 10'! I should've lied, but I said four because that was the deal at the time. And he said, 'what if we kill him off?' I said, 'sure, let's do that. We'll talk about it.' That's when the seed was planted, and I discussed it with Michael a lot. We had discussed it over the years because Fleming had tried to kill Bond off in books and things, but Daniel planted that idea."
The idea grew through the rest of Craig's time as Bond, via 'Quantum of Solace', 'Skyfall', 'Spectre' and now 'No Time to Die', all more serialized than the movies had been in the past. Everything almost ended with 'Spectre' on a more upbeat note with Bond driving off into retirement with Madeleine at his side.
"Daniel decided that that was the end of his tenure. But after several months, Michael and I approached him, once he'd had some rest, and time to think, and we said, 'it's not really the end of your story, we still have another chapter. So that's when the discussions came up that if he were to do another one, what is left in his portrayal of Bond and where to go with it? This became the obvious conclusion."
So what's next for Bond? Broccoli isn't ready to really name names yet. "People always ask, 'Oh, who's the next James Bond?'" she tells The Hollywood Reporter. "It's like asking a bride as she's going up to the altar who's her next husband going to be. I don't really want to think about who is going to be the next person until I absolutely have to."
One name that has cropped up in conversation at lot for the role is Idris Elba, though Broccoli and Wilson are coy on the idea. "Well, we know Idris – I'm friends with him and he's a magnificent actor," Broccoli says. "It's been part of the conversation, but it's always difficult to have the conversation when you have someone in the seat," she continued. "I think we have decided that until 'No Time to Die' has kind of had its run and Daniel has been able to – well, we've all been able to – reap the benefits of Daniel's wonderful tenure, we're not gonna think about or talk about anybody else, actors to play the role or storylines or anything. We just wanna live in the moment, the present."
One part of the decision has led to some controversy, with Broccoli adamant that there won't be a female Bond as long as she's running the show. "I think it will be a man because I don't think a woman should play James Bond," she explains. "I believe in making characters for women and not just having women play men's roles. I don't think there are enough great roles for women, and it's very important to me that we make movies for women about women. He should be British, so British can be any ethnicity or race."
Regardless of who plays Bond going forward, it's hard to argue with the success so far. The 25 official movies have earned more than $7 billion. And even as the pandemic forced delays and shifts by other movies to streaming, Broccoli and Wilson stayed firm in the belief that 007 should stay theatrical only.
"I never thought of it as power and control. I mean, these films are made by a group of people that had started in 1962, and it's always been a group of people working together to make these films," she says. "We make theatrical films and go to great pains to make them as cinematic as possible. We have always worked with great directors and cinematographers and production designers who do their utmost to create a visual feast for people to enjoy. I think that's what we intend to do, but things change, so who knows? Down the road, it may be different."
The future also holds the prospect of Amazon completing its purchase of studio MGM, which owns some of the rights to Bond. But don't go expecting a Marvel or Lucasfilm -style exploitation of side characters on big screens or TV.
"Sure, there are other main characters like M and Q and all that," says Broccoli. "But we haven't really wanted to make a Bond film without Bond. It would be like making 'Hamlet' without Hamlet."
As part of the celebration for Bond's 60th anniversary, 'No Time to Die' will return to IMAX screens on Friday January 27.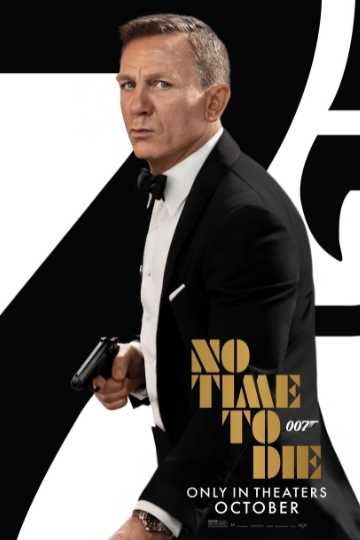 "The mission that changes everything begins…"