A Bruised Brad Pitt Pitches Train Travel in a New Promo for 'Bullet Train'
'Atomic Blonde' and 'Deadpool 2' director David Leitch is making the new action thriller, which also features Sandra Bullock, Aaron Taylor-Johnson, and Brian Tyree Henry.
When is a commercial for a relaxed-looking transportation service not a commercial for a relaxed-looking transportation service? When it's very clearly also a viral marketing video for new action thriller 'Bullet Train.'
And how do we know this? Why don't we think this is simply Brad Pitt in one of those famous commercials featuring a Hollywood star pitching a product to Asian audiences they hope Western eyes never see? Because A) Pitt is the star of 'Bullet Train' and B) it's about a Bullet Train, which is about a big a clue as you could possibly ask for.
Yes, while this purports to promise a smooth ride and a comfortable journey, the quick glimpse at Pitt's battered face near the end is a real giveaway. Plus, you can imagine that fake train company Nippon Speed Line is the carrier on whose train major mayhem will break out.
'Bullet Train', which is on track to arrive this summer via Sony, has a script from 'Fear Street Part 2' writer Zak Olkewicz, who adapts Kôtarô Isaka's novel 'Maria Beetle'. While the movie has yet to post an official synopsis, we can intuit some of what may make it to screen based on the book's plot description.
Nanao, nicknamed Lady Bird — the self-proclaimed "unluckiest assassin in the world" — boards a bullet train from Tokyo to Morioka with one simple task: grab a suitcase and get off at the next stop. Unbeknownst to him, the deadly duo Tangerine and Lemon are also after the very same suitcase, and they are not the only dangerous passengers onboard.
Satoshi, "the Prince," with the looks of an innocent schoolboy and the mind of a viciously cunning psychopath, is also in the mix and has history with some of the others. Risk fuels him as does a good philosophical debate… like, is killing really wrong? Chasing the Prince is another assassin with a score to settle for the time the Prince casually pushed a young boy off of a roof, leaving him comatose.
When the five assassins discover they are all on the same train, they realize their missions are not as unrelated as they first appear.
Pitt's character in the film is named Ladybird, while Aaron Taylor-Johnson plays Tangerine and Brian Tyree Henry is Lemon. Then there's Joey King, who seems to be a gender-swapped Prince, and while they don't have official character names yet, Logan Lerman, Zazie Beetz, Hiroyuki Sanada, Michael Shannon, Masi Oka and Andrew Koji are all in the ensemble. Oh, and not forgetting Sandra Bullock (who replaced Lady Gaga), as Maria Beetle.
David Leitch, the stuntman-turned-filmmaker, has a reputation for inventive action, and we can't wait to see how he pulled off the set-pieces in the tight confines of a train carriage while also observing pandemic protocols. And was the craft service in the restaurant car? Enquiring minds and all that.
The March 2nd date suggests the trailer is due next Wednesday. Assuming there are no problems with the route, 'Bullet Train' should chug into theaters on July 15. Best get your tickets in order.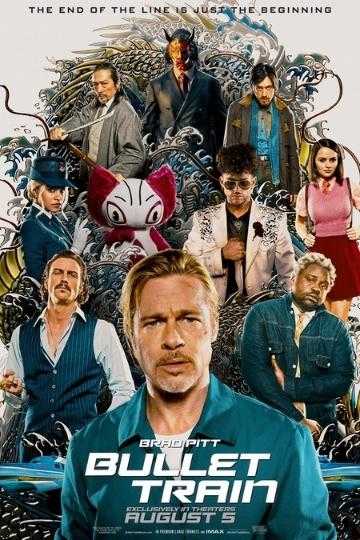 "The end of the line is just the beginning."
Five assassins find themselves on a fast-moving bullet train from Tokyo to Morioka with only a few stops in between. They discover their missions are not unrelated... Read the Plot