Bradley Cooper Wants to Cook His Way to Immortality in 'Burnt' Trailer
Food can transport you to another time and place. In "Burnt,"Bradley Cooper hopes it'll take him to immortality.
In the new trailer for the drama, Cooper plays Adam Jones, a bad-boy chef with two Michelin stars. His temper and drug problem cause him to lose everything, but now he's back to open his own restaurant, get that third Michelin star, and gain the glory he's sought his entire life.
"The kitchen's the only place I've ever felt like I belonged," he says. "I love every minute of it — the heat, the pressure, the violence."

The story sounds a lot like that of Anthony Bourdain, one-time bad-boy chef who wrote about his experiences in a book called "Kitchen Confidential," that was then turned into a short-lived TV show of the same way. Which Cooper starred in. So, he had some experience for this movie.
"Burnt" also stars Sienna Miller, Matthew Rhys, Uma Thurman and Emma Thompson, and opens in theaters October 23.
Want more stuff like this? Like us on Facebook.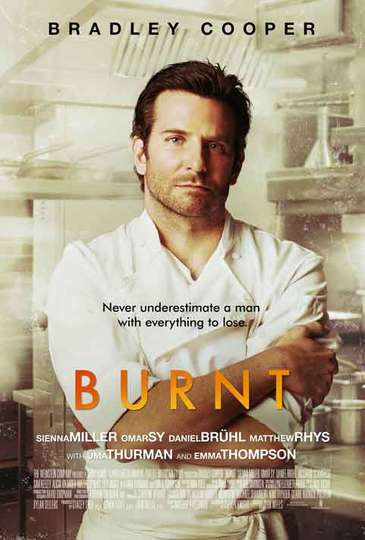 "Never underestimate a man with everything to lose."
1 hr 40 min
Oct 30th, 2015
Adam Jones is a Chef who destroyed his career with drugs and diva behavior. He cleans up and returns to London, determined to redeem himself by spearheading a top... Read the Plot