Female Filmmakers in Focus: 'Night Raiders' Director Danis Goulet Discusses Her New Sci-Fi Thriller
Welcome to Female Filmmakers in Focus, featuring recommendations for films directed by women to seek out each week. This week, Cree-Métis filmmaker Danis Goulet talks about her dystopian film 'Night Raiders' and recommends the work of other indigenous filmmakers.
Night Raiders - directed by Danis Goulet
Originally from La Ronge, Saskatchewan, Cree-Métis filmmaker Danis Goulet first appeared in 1998's made-in-Saskatchewan production Big Bear, an Indigenous-led miniseries directed by Meti filmmaker Gil Cardinal. In the 2000s, she moved to Toronto to work as a casting director, but decided to go back to school for filmmaking after being asked to cast indeginous women in 'Pocahontas' type roles. After participating in a film workshop in New York, she directed a seven-minute short called 'Spin' that played at the Sundance film festival in 2004. There she met a then little-known Indigenous filmmaker from New Zealand: Taika Waititi, who would later serve as the executive producer on her feature film debut 'Night Raiders'. Goulet has directed five short films and served as the artistic director of the imagineNATIVE Film and Media Arts Festival in Toronto for many years. Her next project will be the Netflix thriller 'Ivy'.
Set in the near future, 'Night Raiders' follows Niska (Elle-Máijá Tailfeathers), a Cree woman who has lived off the grid in the forest for years with her daughter Waseese (Brooklyn Letexier-Hart). When Waseese is injured, Niska must make a decision that could rip their family apart. Using science-fiction as an allegory to comment on the lasting trauma of colonialism, and specifically Canada's residential school system, Goulet deftly weaves social realism into a grand sci-fi spectacle.
The sci-fi thriller 'Night Raiders' is currently in theaters and available on Digital and On Demand.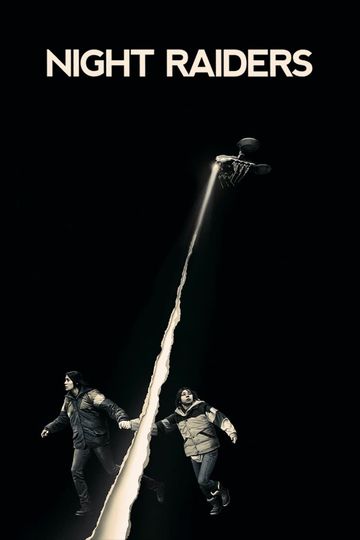 1 hr 37 min
Nov 12th, 2021
---
Danis Goulet sat down with Moviefone to talk about her new film.
Moviefone: 'Night Raiders' is dystopian, what led to creating this world and this conflict?
Danis Goulet: I'm indigenous. I'm Cree-Métis, originally from northern Saskatchewan, so all of my work deals in some way with my people, our stories, our storytelling. But all of it also deals with the impact of colonization on indigenous families and communities. So I knew I wanted to talk about that. I just made a genre short around the time that I started writing 'Night Raiders', and there was something about moving into the genre space that just opened up all of these exciting possibilities, to talk about the things I wanted to talk about, but to do it in this different container.
MF: Were there any sort of works in the futuristic genre space that inspired the way you framed your story?
Goulet: I would say 'Children of Men' was absolutely a touchstone. Not just because there are no children in the world, but also it's also set in the near future. So everything in the film feels like it's just a little beyond where we're at now. There was something about the realism in the film that felt like that was the space that I wanted to be in. I love how much that movie really makes you feel as an audience member so tethered to the main character's emotional journey. I felt like that comes across so strongly in the film. Another film that I thought was really amazing was 'District 9', but for totally different reasons. Tonally, it's completely different and has almost like comedic elements at times, too. But it was talking very specifically about the history of apartheid in South Africa. And I just thought it was such a fresh way to talk about all of that and to get into it. I liked the way it used sci-fi as an allegory.
MF: How did Elle-Máijá Tailfeathers join the cast?
Goulet: I actually knew Elle-Máijá as more of a filmmaker because she was one of the co-directors behind 'The Body Remembers When the World Broke Open'. I had followed her since her early short films as a director. So by the time it came around to cast 'Night Raiders', I think I'd sort of forgotten that she was also an actor. She sent in a tape to be considered, and I was like oh my God Elle-Máijá. Then by the time we got to the callbacks, she just made me cry in the audition. So I just knew that she was it, and she does such an incredible job of bringing the kind of emotionality, the complexity of this character to the screen, and she really is carrying the movie on her shoulders, and she's so brilliant.
MF: How did you cast Brooklyn Letexier-Hart as her daughter? Did you do chemistry reads?
Goulet: I do know we went through a process of matching people in auditions. By the time Elle-Máijá was cast, we were still looking for someone to play Waseese. So we were looking kind of North America wide. Then I think we did reads with different kids who were on the shortlist. So they were such a great match.
MF: How did you film the scene where the kids get into a fight at the academy?
Goulet: That was the first week of shooting. I'd never directed a lot of big action before. We had a number of kids there. We were shooting in a former asylum, actually, that had since closed down in Ontario. It had a very heavy energy. There were seven complexes. It was like an industrial complex for people that would have just been sent away. There was something so horrible about that space that made it really heavy to shoot in. But certainly that scene, and all of the action we were doing, made for a very intense first week of shooting.
MF: What sort of vibe were you looking for in terms of the forest locations?
Goulet: I come from the boreal forests. Those are my homelands in northern Saskatchewan. So that is something that really resonates with me. But we were shooting in Ontario, so I was energetically looking for something that felt that way, like when you go into a space, and you immediately feel that it's like a warm blanket of protection around you and that it's soothing and soft and protective. Those were sort of the elements I was looking for. To me, the boreal forest just naturally has that kind of energy. But because we were shooting in Ontario, we were actually shooting in Anishinaabe territory, which is a different nation. In their nation, and in Cree, they both regard cedar as a sacred medicine. During scouting we walked into this cedar forest, and it was just - cedars can be almost hundreds of years old - and there was just this like, peace and serenity and all of those characteristics that I was looking for. You just felt like everything would be okay the minute you walked into that cedar forest, and it meant a lot to shoot there for a lot of different reasons.
MF: Did you build the dilapidated buildings in the shanty town?
Goulet: We went into a space, which was formerly a cotton factory in Hamilton, Ontario. Hamilton is a very industrial town. So there's factories and all kinds of industrial infrastructure. But so the base of everything was there, but then the shanty-ness of it was totally built from scratch. That was completely by the hands of our brilliant production designers, Zazu Myers. Zazu and Daniel, the cinematographer, and I would walk into a space, and we would just start imagining, we'd be like, this could go there, this could go here, and then she'd throw down a piece of paper, and she'd start sketching what could happen here and there. She just completely built that, and it's part of why she's so incredible at what she does.
MF: Could you talk a bit about developing the robot drones?
Goulet: So with the robot drones are tied to this story about mosquitoes. We wanted them to look like believable drones. So we obviously took inspiration from drones that already exist in our world, because drones are not science fiction, they already exist. But we just wanted it to have characteristics of something organic, and especially mosquitoes. It was sort of like a marriage of those two things. So its legs, we kind of designed to be sort of similar to the way mosquito legs kind of jump jet out at the bottom. And then also that when you looked at it, that would almost feel like it had a little bit of a face; so there was something organic or lifelike about them. We built a prototype, and then from the prototype, we recreated it digitally, and then built the real thing - we actually built the drone. And she was so beautiful. We had built her from scratch so that we have practical drones to work with. So the drone that the kids kick in the beginning of the movie, that is that was the practical drone. It really did have a light that moved and did all the things. It was super cool.
MF: Could you talk about the significance of Niska being the prophesied guardian?
Goulet: The idea of a guardian actually just came from the Cree word "okanaweyimiwew" which is a word in Cree that means keeper or guardian. It has a bunch of different layered meanings. Sometimes it can be someone that is entrusted with looking after others. Sometimes it can be caregivers, but it is generally thought of as someone who is protective, and also someone who is highly regarded. I think in a lot of the action or sci-fi space, it's not considered to be like the sexiest thing to be like a protector of children. Everyone might think of that as just a glamorous babysitter. So from a values perspective, I thought it was really important that what the community is asking Niska is tasking her to look after children, because what could be a higher honor than to be told you're entrusted with this? Part of that came from the idea of a guardian and what she was there to do, and how highly regarded it was that you would be entrusted with the lives of children.
MF: What do you hope people take away from this film when they've finished it?
Goulet: Yeah, I hope that they understand more about the impact of horrible policies, like the residential school system, and what these policies did to indigenous people, and to mothers and daughters and families on a very basic level. Then I also hope that they empathize and understand the humanity of those who survived, but also the love that is so present amongst the people and in the community.
MF: Could you share some women directors that inspired you or that you think others should seek out?
Goulet: I mean, Elle-Máijá Tailfeathers as a director in her own right, definitely seek out her work. There's another film that was just released prior to mine the year before called 'Beans' by an indigenous woman named Tracey Deer. That's incredible. It's a coming of age movie about the Oka crisis. There's another one coming out soon called 'Slash/Back' by Nyla Innuksuk. She is Inuit from the far north, and I describe it as like 'Attack The Block' in the Arctic. It's an alien invasion movie. I'm so excited for that. But I've been inspired by so many incredible women, I would say early in my career I grew up on the activist documentaries in the indigenous community by the Queen of documentary filmmaking, who's Alanis Obomsawin, and she's kind of like all of our grandmother. Social realism continues to be really important to me as a mode of storytelling. So I try to pull from social realism, even when I'm working in the genre space. So directors like Andrea Arnold and Lynne Ramsay, I think, have had a profound effect on what I'm trying to do.
---
Kanehsatake: 270 Years of Resistance - written and directed by Alanis Obomsawin
Born in New Hampshire but raised primarily in Quebec, Canada, Abenaki filmmaker Alanis Obomsawin has spent her career uplifting indigeounos voices, stories, and history through her work in documentary cinema. Working as a singer and activist in the 1960s, she came to the attention of the National Film Board of Canada after holding fundraising concerts to build a pool because the children in her community could no longer swim in Saint Francis River but were only able to swim in the white only neighborhood pool. Obomsawin has directed 50 films since directing her first film for the NFB in 1971.
'Kanehsatake: 270 Years of Resistance' chronicled the 1990 Oka Crisis, which began on July 11, 1990, and lasted 77 days until September 26, 1990. The land dispute between a group of Mohawk people and the town of Oka, Quebec, Canada was the first late 20th century widely-documented violent conflict between First Nations and the Canadian government. Filmed over seventy-eight days, Obomsawin and a cameraman remained embedded in the encampment throughout the dispute, during which time the Canadian government often withheld essentials like food and medical treatment. Before its broadcast, Obomsawin fought with the CBC, who had demanded she remove thirty minutes of footage to accommodate commercials. Backed by her executive producer Colin Neale and due to mounting public interest in the incident, Obomsawin won, and the footage stayed in. 'Kanehsatake: 270 Years of Resistance' won Best Canadian Feature Film at the 1993 Toronto International Film Festival, and recently played at a retrospective program of Obomsawin's films at the 2021 edition of the festival.