Disney's 'Pinocchio': 25 Things You Didn't Know About the Animated Classic
Given how revered Disney's "Pinocchio" is today, it's hard to believe it was a flop when it was first released exactly three quarters of a century ago. Upon its New York City premiere, on February 7, 1940, critics hailed the film as a masterpiece, and even to this day, many prefer it to Disney's pioneering first animated feature, 1937's "Snow White and the Seven Dwarfs." Yet it took the film many years and multiple re-releases to make a profit.
Today, of course, the legacy of "Pinocchio" is inescapable. Everyone's image of the puppet-boy with the nose that grows when he lies comes not from Carlo Collodi's original novel but from the kid with the Tyrolean hat and the Mickey Mouse gloves, as drawn by Disney animators. And the opening tune, Jiminy Cricket's "When You Wish Upon a Star," is ubiquitous as the theme music played before every Walt Disney movie and home video release.
Still, as indelibly as "Pinocchio" has been imprinted on your memory, there may be plenty you don't know about the film, from who voiced the characters to the technical breakthroughs behind it to the unusual lawsuit threatened by the author's nephew. Here, then, are 25 things you probably didn't know about "Pinocchio." May our noses grow if we're lying.
1. Carlo Collodi wrote the original novel in installments in an Italian magazine in 1881. It was published as a book two years later.
2. The name "Pinocchio" literally means "little wooden head."
3. The hardest part of the production was making Pinocchio a sympathetic character. Collodi's story was rewritten to remove the wooden boy's mischievous (even malicious) streak and make him more passive. But the trickier part was making him look more like a human boy than a block of wood.
4. According to a 1938 New York Times article, Walt Disney tossed 2,300 feet of footage, representing five months work, "because it missed the feeling he had in mind."
5. It took 12 artists 18 months to come up with a look for Pinocchio that was rounded and cute enough to pass muster. Animator Milt Kahl finally hit upon the idea of drawing him as a human boy and then adding the puppet's nails and joints.
6. In Collodi's story, Pinocchio kills the cricket with a hammer, though the insect comes back as a ghost. Nonetheless, Walt included him and decided to let him live. He came up with the name Jiminy and the idea to make him wear clothes and walk and talk like a person.
7. Other differences from the source material: In the book, the Blue Fairy has a team of animals working for her, including a poodle (her coachman), a group of mice (to pull the coach) and a snail (a messenger). Impresario Stromboli is called "Mangiafoco" ("fire-eater") in the novel, and Pleasure Island is called "Toyland." And the sea creature that swallows Geppetto and Pinocchio is a giant shark, not a whale.
8. Cliff Edwards, a.k.a. Ukelele Ike (the name he used as a popular novelty-tune singer in the 1920s and '30s) auditioned for the voice of Pinocchio, but the 43-year-old had too much grown-up in his voice, so he was cast instead as Jiminy Cricket.
9.Dickie Jones, a 12-year-old who had also appeared in Frank Capra's "Mr. Smith Goes to Washington," landed the role of Pinocchio. He also voiced Alexander, one of the boys on Pleasure Island.
10. Future Broadway dance legend Marge Champion, then married to Disney animation director Art Babbitt, was the physical model for the Blue Fairy, acting out the character's movements on film for the animators to study. She had performed a similar task for Disney's Snow White.
11. The voice of the Fairy was provided by Evelyn Venable, an actress best known for her roles in "Death Takes a Holiday" (opposite Fredric March) and "The Little Colonel" (alongside Shirley Temple). She was also the model for the initial Columbia Pictures logo of a woman holding a torch.
12. According to the Times, character actor Walter Catlett, who voiced the theatrical con artist Honest John the fox, based his characterization on two famous acting brothers whose name started with B -- presumably, John and Lionel Barrymore.
13. Honest John's sidekick, Gideon the cat, was initially a speaking character, voiced by Mel Blanc, better known today as the voice of Bugs Bunny, Daffy Duck, and most of the other "Looney Tunes" characters from rival studio Warner Bros. But then the filmmakers decided to make Gideon a mute, like Dopey in "Snow White," and all of Blanc's voice work as Gideon was cut from the film, save for three hiccups. Blanc also voiced Geppetto's pet cat Figaro, in the scene where the feline sneezes.
14. Voicing the roars of Monstro the whale was Thurl Ravenscroft, later best known as the voice of Kellogg's Frosted Flakes mascot Tony the Tiger.
15. Ravenscroft and his singing group, the Mellomen, also performed a song called "Honest John," which was ultimately cut from the film.
16. Some 2,000,000 drawings were used in the creation of the film, 300,000 of which appear in the final print.
17. Much of the film's visual richness comes from Disney's famed multiplane camera, used to give the painted environments an illusion of depth. In "Snow White and the Seven Dwarfs," which gave the multiplane camera its first real workout, the cinematographer could approach the multiplane set-up only from above. But for "Pinocchio," the Disney team developed what it called a universal crane that could approach the set-up from any direction, like a crane-mounted camera on a live-action set.
18. The studio thought highly enough of the film's visual artistry that it staged exhibitions of original artwork at the Brooklyn Museum and two other New York galleries to coincide with the film's Big Apple premiere in February 1940.
19. The film cost $2.3 million to make, about twice as much as "Snow White." It earned back less than $2 million during its initial run.
20. Some theorized that the movie did poorly initially because it's so grim. Pinocchio is terrorized throughout the movie, and four of the five villains who torment him get off unpunished.
21. The film eventually made a profit during its re-release in 1945. Disney would put the film back into theaters a total of seven times between 1945 and 1992.
22. Paolo Lorenzini, Collodi's nephew, asked the Italian ministry of popular culture to sue Disney for overly Americanizing his uncle's creation. "Pinocchio's adventures are an Italian work of art and must not be distorted to make it American," he stated. There's no evidence that any action was ever taken toward his complaint.
23. The film won two Academy Awards for its music: an Oscar for Best Original Score (credited to Leigh Harline, Paul J. Smith, and Ned Washington) and a Best Original Song prize for Harline and Washington's composition, "When You Wish Upon a Star." It was the first animated feature to win competitive Oscars.
24. Ravenscroft would land singing and speaking roles in many other DIsney animated features over the next half-century, from "Dumbo" to "The Brave Little Toaster." His voice can still be heard on such Disneyland attractions as The Haunted Mansion, Country Bear Jamboree, and Pirates of the Caribbean.
25. Edwards went on to voice the role of Jim Crow in Disney's "Dumbo" (1941), where he sang "When I See an Elephant Fly." He reprised the role of Jiminy Cricket in numerous Disney cartoons over the next two decades.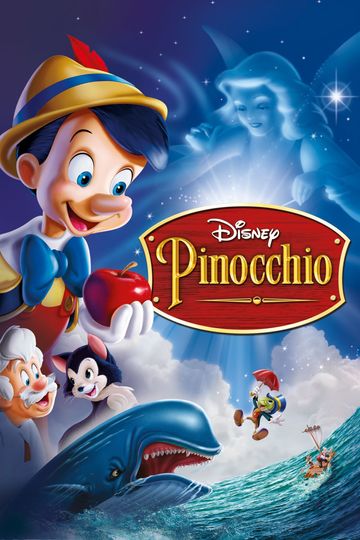 "When you wish upon a star, your dreams come true."
1 hr 28 min
Feb 23rd, 1940
Lonely toymaker Geppetto has his wishes answered when the Blue Fairy arrives to bring his wooden puppet Pinocchio to life. Before becoming a real boy, however, Pinocchio... Read the Plot